Wednesday 22 July 2009, AM
Dragons Den on HD
Thanks to my PVR I was able to catch up on the first HD episode last night. Watching it confirmed my view that HD brings real benefits to programming which is about people and their emotions, and where the viewing experience is about support and empathy. Yes, at one level Dragons' Den is a business show, about projects, profts and margins. - bbc.co.uk
www.bbc.co.uk
Tuesday 21 July 2009, PM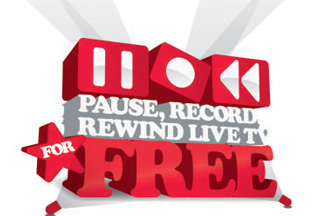 Freeview assigns switchover task to WDMP - Marketing news - Marketing magazine
WDMP was appointed following a three-way pitch against undisclosed agencies. The process was overseen by Tim Hunt, director of marketing communications at Freeview. The agency's brief will be to provide direct marketing support in designated 'Digital Switch Over' areas as regions across the UK progress with digital switchover. - marketingmagazine.co.uk
www.marketingmagazine.co.uk
Tuesday 21 July 2009, AM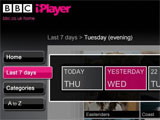 iPlayer on Freeview as soon as possible - Digital Spy
The industry body is currently overseeing the technical development of new set-top-boxes for receiving high definition Freeview when the service launches at the end of the year. However, there are concerns that many areas will not have sufficient internet speeds to effectively access VOD content in the medium term. - digitalspy.co.uk
www.digitalspy.co.uk
Carphone Warehouse to become IPTV Warehouse?
The latest figures from Googles Android developers website, concerning the market share of the various different versions of the mobile OS, have arrived and the good news is Jelly Bean is making swift forward strides. In fact, Jelly Bean is now on 10.2 per cent.. more - iptv-watch.co.uk
www.iptv-watch.co.uk
The Bill joy for Scottish fans | The Sun |Showbiz|TV
Scottish channel STV had sparked fury by announcing it would not be showing the new series. Scottish fans with digital or Freeview will be able to catch it at 11pm on ITV3. - thesun.co.uk
www.thesun.co.uk
Oldest TV found in London home
What is thought to be Britain's oldest working television has been tracked down in a house in North London. The set belongs to Jeffrey Borinsky, an electrical engineer and collector of antique television and radio sets. Despite its age, it can show modern TV channels broadcast on Freeview. - news.bbc.co.uk
news.bbc.co.uk
Monday 20 July 2009, PM
Tim Berners-Lee says television channels are history
-
informitv.com
BBC Interactive TV Executive, Rahul Chakkara, to Step Down | InteractiveTV Today
According to Broadcast, only around a third of the approximately 100 employees of the Platforms Group have agreed to date to make the move they have until September to make their decision. Neither Chakkara nor the BBC has been commenting publicly on his decision to step down. - itvt.com
www.itvt.com
Project Kangaroo bounces back on teeV.co.uk
-
blog.wotsat.com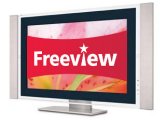 Freeview HD boxes in shops by year-end - Digital Spy
With the increase of HD adoption, the market for Freeview HD will also most likely grow by around four million homes each year. - digitalspy.co.uk
www.digitalspy.co.uk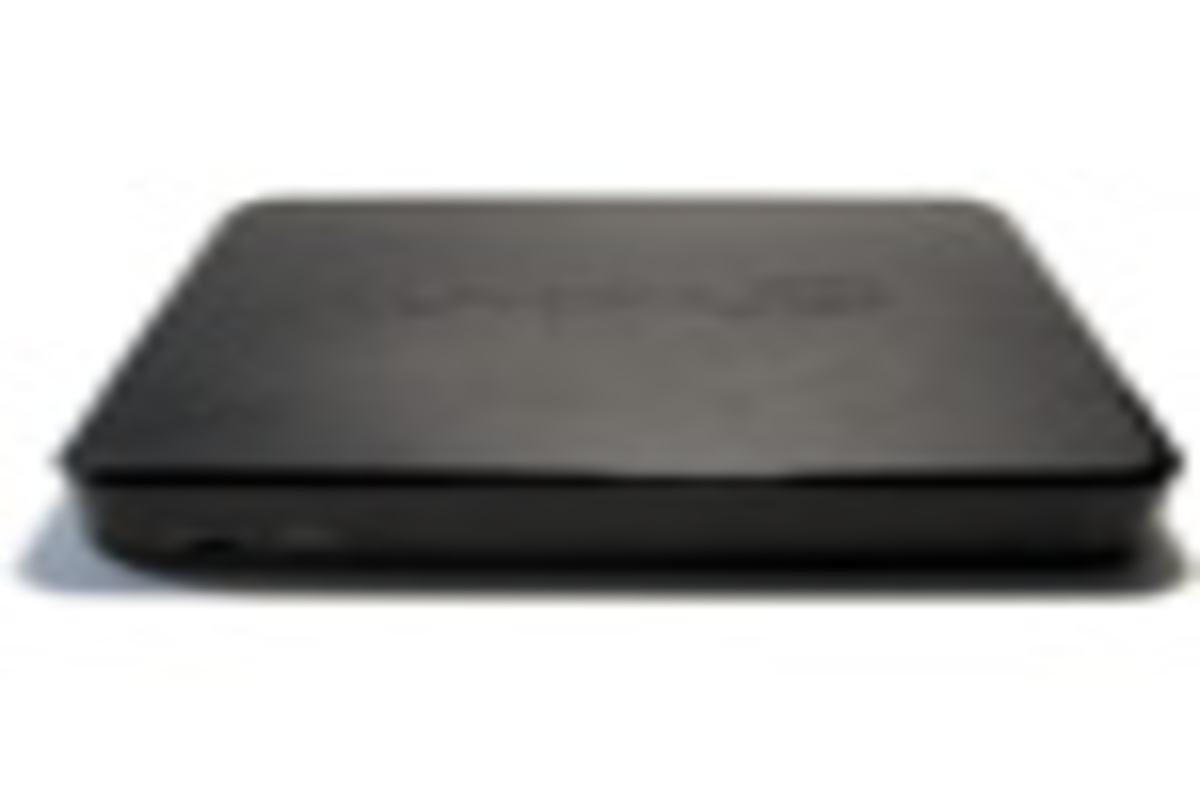 Wyplay Wyplayer - Register Hardware
It is, in essence, a high definition Personal Video Recorder combined with a media streamer, in a single box. Wyplay's Wyplayer media player The Wyplayer is a slim unit, almost square, measuring 275 x 240 x 45mm. Theres a single UHF aerial connector, which feeds both tuners internally, and a pass-through output for the TV. - reghardware.co.uk
www.reghardware.co.uk
IP Visions Hybrid Freeview-OTT Device to Be Available in John Lewis Stores | InteractiveTV Today
The box also allows customers to access 1,500 hours of content from such providers as Paramount Pictures, National Geographic, and Cartoon Network on a pay-per-view basis. Our first retail deal for the box with John Lewis means that it will now be much easier for customers to buy one of our FetchTV boxes. The company says that it also offers home media center functionality, allowing customers to view their own digital pictures and home movies on the TV. - itvt.com
www.itvt.com
BBC - BBC Internet Blog: Radio and Telly? Thatd be Telio!
Editor's note While our coverage on the Blog of the radio visualisation trials to date have focused almost exclusively on Radio 4 the truth is that our colleagues at Radio 1 have been putting in the hours too. Here's how their listeners have responded. 'Visualising Radio' is a clunky term. 'Visualising Radio' isn't very sexy and when I hear Chris Moyles or Aled say it on the radio it feels horribly corporate. - bbc.co.uk
www.bbc.co.uk
Monday 20 July 2009, AM
Joint venture between BBC Worldwide and C4 imminent |Media |The Guardian
It is certainly not the first time a deal has been said to be close. Today C4's board will respond to those demands that its remit be changed - the first big rewrite of the broadcaster's remit since it started broadcasting in 1982, and one that will require deft legislative amendment. In its Next on 4 policy blueprint last year, C4 estimated a funding gap of 100m a year by 2012. - guardian.co.uk
www.guardian.co.uk
Sunday 19 July 2009, PM
Landlady fined for Sky TV scam - Lancashire Evening Post
A landlady has been fined for illegally receiving Sky TV programmes screened to punters in her pub. Traders who want to screen Sky programmes in such venues need a business subscription which costs anything up to 3,000. It is understood inspectors visiting the pub discovered the illegal broadcasts. - lep.co.uk
www.lep.co.uk
Saturday 18 July 2009, AM

When news people lose sense BuzzMachine
Financial Times editor Lionel Barber predicted that almost all news organizations will be charging in a year just because they need to. Meanwhile, former McClatchy news exec Howard Weaver thinks that news orgs should get, oh, say, 10 percent of Google et als revenue because they, oh, should. Would Barber ever suggest that GM would charge more just because it needs to, with no consideration of the market forces and its competition - buzzmachine.com
www.buzzmachine.com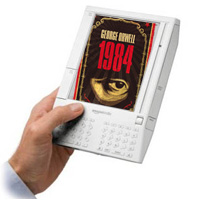 Amazon deleting 1984 from Kindle, but 99-cent ebook was illegal copy | Betanews
The press loves a juicy story, and Amazon served one up on a silver platter this morning by automatically deleting certain copies of George Orwell's 1984 and Animal Farm from customers' Kindles. Amazon was able to remove the titles because the Kindle is configured to automatically sync up with the user's Bookshelf via the electronic book reader's WhisperNet wireless service. When the company removed the unauthorized books from customers' accounts, they also disappeared from the Kindle. - betanews.com
www.betanews.com
BBC3 random documentary generator |Media |The Guardian
Simply think of a four-digit number between 0000 and 9999, then pull the relevant ingredients from our four component pools Z-list celebrity presenter, style of reportage, subject matter and trite conclusion put them all together and hey presto Having unnecessary cosmetic surgery to look like subject 5. Basic sarcastic voiceover, no actual contact Edgy subject matter 0. - guardian.co.uk
www.guardian.co.uk
Digital TV - News - IP Vision launches Fetch TV Freeview+ box - Digital Spy
It also offers pay-per-view access to films and premium content from Paramount Pictures, National Geographic and the Cartoon Network. - digitalspy.co.uk
www.digitalspy.co.uk
Kay Burley accuses Sky News colleague of staggering sexism - Telegraph
Burley, who anchors the afternoon programme on the rolling news channel, immediately challenged her colleague. Speaking before the tournament, Ross Fisher, 28, said he would abandon the tournament to attend the birth, which was due on Tuesday. - telegraph.co.uk
www.telegraph.co.uk
North Wales News - DIGITAL D-DAY
Currently programmes in Welsh on S4C are interspersed with English-language shows from Channel 4. Tudur, who trained as a plate spinner for the day, said Its important that people realise that Wales is going totally digital. The old-fashioned aerial TV signal will be switched off and in its place will be a digital only service. - dailypost.co.uk
www.dailypost.co.uk
Up to 70 job losses as Teletext closes news service From Hounslow Guardian)
-
www.hounslowguardian.co.uk
Friday 17 July 2009, AM
informitv - BBC paints Canvas as a television revolution
Erik Huggers, the director of future media and technology at the BBC, presented the video at a conference organised by Intellect, the consumer electronics industry association. Short on any substantial detail, its consumer-friendly approach raises more questions about the role of the BBC in promoting such a platform. Once upon a time if you wanted digital TV you had three choices, says the video. - informitv.com
informitv.com
NorDig releases the specification for the NorDig Compliant DVB-T2 IRDs.
1. NorDig specifications for Integrated Receiver Decoders and relevant parts of integrated digital TV-sets. 2. NorDig specifications for the use of transmit parameters in NorDig compliant networks. All specifications are based on DVB and the minimum performance sets that are specified for NorDig compliant networks. - nordig.org
www.nordig.org
Freeview in over a quarter of NZ homes
Freeview New Zealand is now available in 255,048 homes across the country, according to the latest figures released by the platform operator. The latest sales figures for the three months ending June 2009 indicate that there are now 167,328 Freeview satellite homes an increase of 11,846 from the last quarter and 87,720 Freeview HD homes an increase of 17,061 from the last quarter. One of the key drivers for our growth in the last quarter has been the sharp deals available in retail, which is partly due to new brands coming into the market with Freeview approved products. - dtg.org.uk
www.dtg.org.uk
BBC Media Show: 15 July 2009
downloads.bbc.co.uk
Radio spectrum to be used for wireless home cinema
Ofcom has given its permission for a small part of the radio spectrum to be used for wireless home cinema. Ofcom has now introduced regulations which will allow this technology to be incorporated in home entertainment equipment without the need for a licence. DTG Staff 15.07.2009 Links open in a new window. - dtg.org.uk
www.dtg.org.uk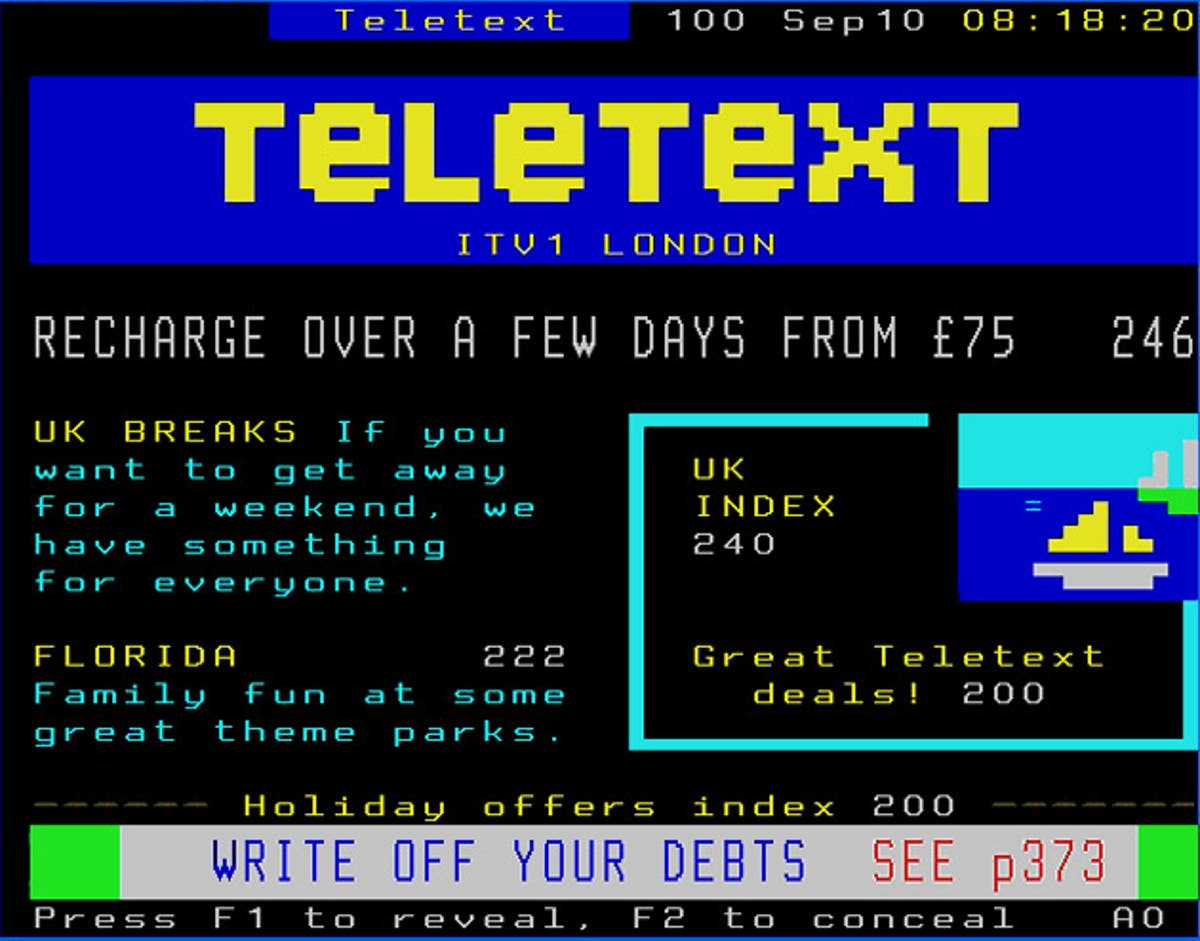 Teletext to close news and information service - TV Radio, Media - The Independent
Teletext's news and information service is to come to an end in January next year - two years ahead of schedule - the service's owner said today. The group, which had intended to shut the service in 2012, said the closure decision followed indications from regulator Ofcom that it would not back state intervention to support the continuation of a public commercial Teletext service after 2014. However, its holiday service on Freeview and other commercial services will continue to broadcast. - independent.co.uk
www.independent.co.uk
Media Talk: Lionel Barber, and BBC drama row
download.guardian.co.uk
PVR users watch far more live TV than they say
Homes with personal video recorders to do not use them as much as they think. That is the conclusion of researchers that found people claimed to watch recorded or time-shifted programmes much more than was actually observed. They also found that the availability of a personal archive of programmes reduced demand for video on demand. - informitv.com
informitv.com
BBC wants government help for DAB switch
-
blog.wotsat.com
Now it's five channels for Freeview HD
-
blog.wotsat.com
Thursday 16 July 2009, PM
Consultation on sustainable, independent and impartial news in the Nations, locally and in the regions
The consultation period was 30 June- 22 September 2009 Responses to the consultation can be found online. Government response to the consultation on sustainable independent and impartial news in the nations, locally and in the regions. Government intends to trial this proposal first on a pilot basis in Scotland, Wales and one English region, with national roll out from 2013. - culture.gov.uk
www.culture.gov.uk
BBC carries on licence fee fight in front of select committee MPs |Media |guardian.co.uk
Lyons conceded it was a decision for parliament to make, but said sharing the licence fee with other broadcasters would be a momentous change. Meanwhile, Thompson told the committee that he expected only about 45 to 50 of staff slated to move to the BBC's new northern headquarters in Salford to actually relocate. So far, official figures show that 42 of middle managers have agreed to move north, while 15 out of 32 senior executives have agreed. - guardian.co.uk
www.guardian.co.uk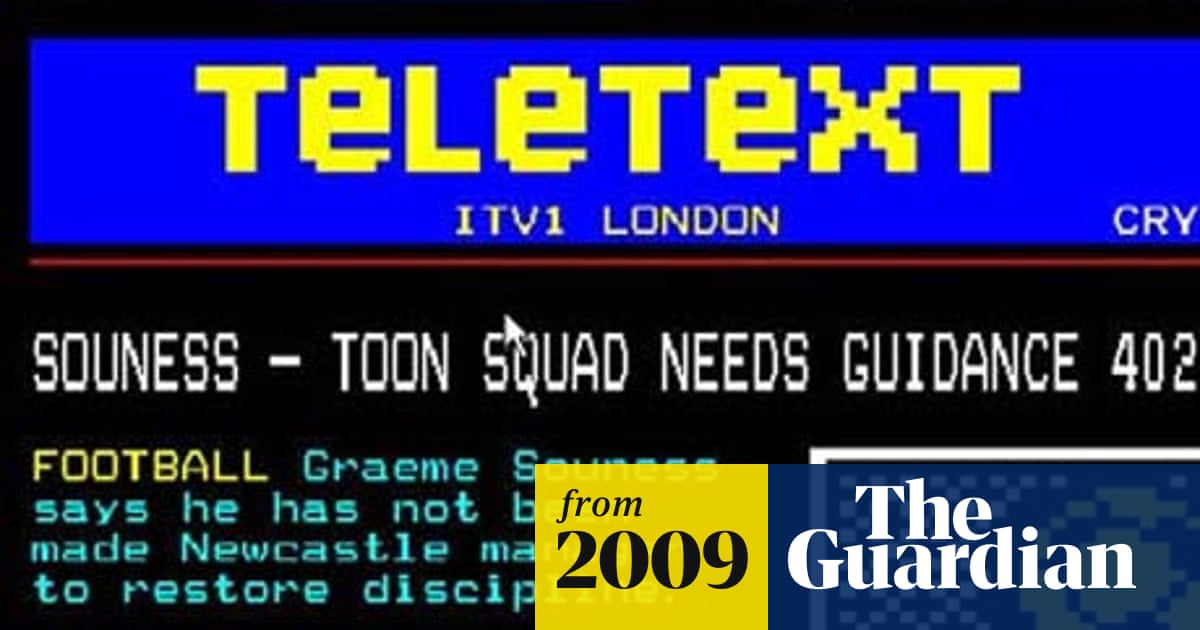 Teletext news to be pulled from TV |Media |guardian.co.uk
Teletext owned by Daily Mail and General Trust. In a time Light years before the internet revolution, Teletext's clunky, often derided, television text news service reigned supreme as the interactive experience of choice in UK households. It will switch off in January, putting 70 jobs at risk. - guardian.co.uk
www.guardian.co.uk
Thursday 16 July 2009, AM
118800 and a web revolution
The controversial mobile phone directory launched last month, but has struggled to convince the great British public that it's a good idea to have your mobile number available for people to look up. For days now the website has been down, and the service has been unavailable. After the BBC's excellent Working Lunch programme gave prolonged coverage to the story before the launch, various e-mails began circulating, warning people about it. - bbc.co.uk
www.bbc.co.uk

TiVo lawsuit explodes into billion-dollar stakes | Tech Policy Law News - Betanews
What is big is EchoStar's assertion that sanctions being sought against it amount to as much as 1 billion -- the first time the proverbial math has alluded to TiVo's potential jackpot. This in addition to the 104 million that the Supreme Court decided EchoStar was liable for, in its refusal to hear EchoStar's first appeal. A billion dollar grand prize, which is apparently what TiVo may seek in sanctions, is not outside of Marshall's ballpark at all. - betanews.com
www.betanews.com
Visualising Material World: the ins and outs
But, I've been around for a while and I often suspect that Cumulonimbus might be more appropriate - dark, thunderous and anvil shaped, ready to dump on you from a great height, like the endlessly doomed Wile E. shudders, visualisation is a window that can be added to a webpage or TV screen. The Console had been designed and the IP distribution had already been worked out, so despite only being a small part of the console, creating the video was going to involve the most work. - bbc.co.uk
www.bbc.co.uk
Series catch-up for Radio 4 programmes
Monday 13 July 2009, 1348 Sarah Prag Yesterday something small but significant happened. Which means that you can go back and listen to it before listening to Episode 2. Series catch-up means that all the episodes in a series are available until 7 days after the final episode is broadcast. - bbc.co.uk
www.bbc.co.uk
Monday 13 July 2009, AM
HDTV UK: Virgin Media adding four new HD channels
A little ahead of schedule, Virgin Media has announced that four new channels will be available in high definition from the end of July. - hdtvuk.tv
www.hdtvuk.tv
MediaGuardian 100, 2009
The criteria used A panel of experienced media watchers from the worlds of politics, journalism, advertising and the internet judged entrants using three criteria cultural influence, economic clout and political power of all candidates - guardian.co.uk
www.guardian.co.uk
Sunday 12 July 2009, PM
DTG :: News :: TeamCast and BBC to develop DVB-T2 demodulator
This firmware runs on TeamCasts Power4Cast platform, allowing the demodulator to support additional modes and features of the T2 specification through firmware upgrades. Using BBC's firmware as a starting point for developing our T2 demodulator is a reliable way to speed up our development. DTG Staff 12.06.2009 Links open in a new window. - dtg.org.uk
www.dtg.org.uk
Sky renews agreement with SES ASTRA
In total Sky is using 31 transponders on the ASTRA satellite system. Mike Darcey, Skys Chief Operating Officer, said Our success is driven by delivering high-quality content and services on a reliable and flexible platform. DTG Staff 30.06.2009 Links open in a new window. - dtg.org.uk
www.dtg.org.uk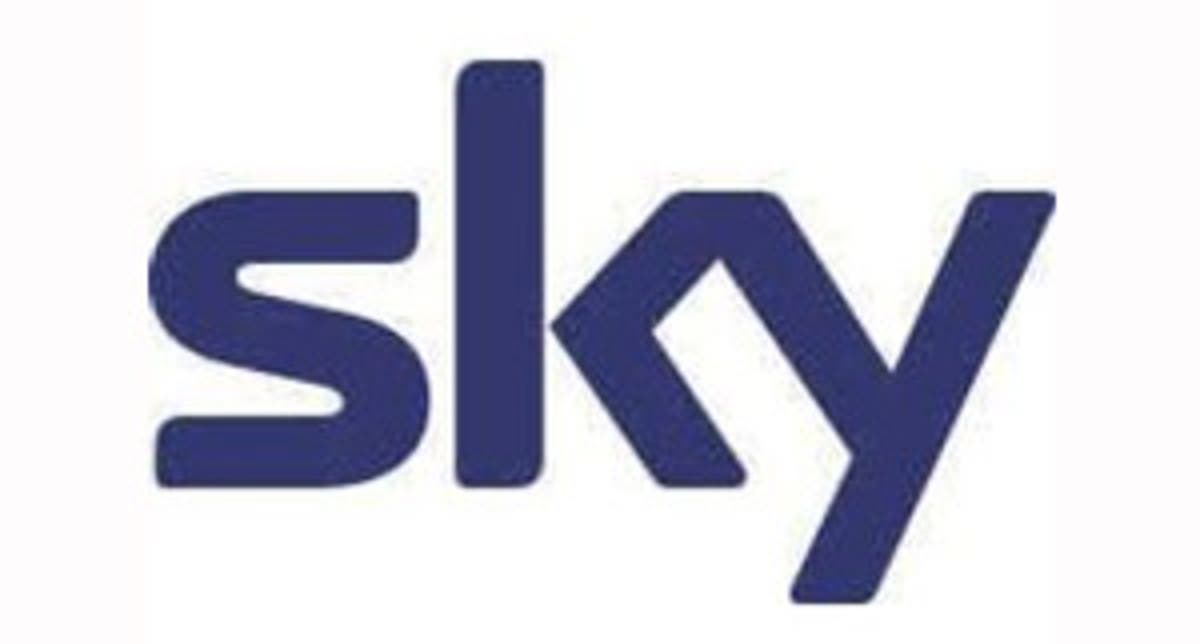 BSkyB to fight premium channels plan - TV Radio, Media - The Independent
The watchdog said the satellite broadcaster is thought to be charging high prices to competitors for the use of its premium content. BSkyB holds the rights to many top sporting fixtures and all major Hollywood releases and Ofcom said the satellite broadcaster kept a stranglehold on the wholesale supply of channels with this premium content. Ofcom said it was considering whether splitting rights for movies on demand from standard subscription rights would improve competition. - independent.co.uk
www.independent.co.uk
TV viewers taking greater control as nine million digital video recorders sold | Ofcom
Independent regulator and competition authority for the UK communications industries. 4G auction bidders announced December 20, 2012 Ofcom has today announced the bidders in the forthcoming 4G mobile spectrum auction the largest ever sale of mobile airwaves in the UK. npower fined for making abandoned calls December 6, 2012 The conclusion of an Ofcom investigation has today found npower, the gas and electricity supplier, to be in breach of rules on abandoned calls. - ofcom.org.uk
www.ofcom.org.uk
Ofcom tells Sky the Pay TV party is over
-
www.ofcomwatch.co.uk
Pay TV phase three document | Ofcom
-
www.ofcom.org.uk
Sunday 12 July 2009, AM
RadioDNS Demo Application Released
The code is written in Python and uses the wxWidgets user interface library. We are making this code available as part of our explorations with RadioDNS, and look forward to technical feedback. To download, please visit our RadioDNS project page here. - bbc.co.uk
www.bbc.co.uk

British Telecom sacks bitterly unpopular Phorm ad platform | Tech Policy Law News - Betanews
In an announcement this morning, British Telecom said it has decided to halt BT Webwise, its prospective targeted advertising platform, calling the move a cost-cutting measure as the company invests 1.5 billion in improved broadband deployments. In early 2008, BT, TalkTalk, and Virgin Media joined forces to build a single targeted ad platform for their respective subscribers. Unfortunately, after the service had been announced, BT admitted that it had already tested the service without telling users. - betanews.com
www.betanews.com
Visualising material world: studio set-up
Editor's note - Mark Damazer has previously written about Material World and the visualising radio trial. My role as Operations Manager for AM Factual is to manage the technical resources for our in-house factual radio production base. I look after a team of fifteen studio managers sound engineers and dedicated recording facilities - studios, workshops and the bizarrely named 'woffices' - and endeavour to enable any project envisaged to make it to air by hook or by crook. - bbc.co.uk
www.bbc.co.uk
pick a page