ITVBe
ITVBe is ITV's channel dedicated to lifestyle and entertainment programming from the UK and US, featuring real lives, and real people.
Main TV standard-definiton channels
How to Watch: ITVBe
Below is a list of all the television and radio channels that you can watch in the UK using one of the free services: DAB (for radio), Freeview, Sky No Card - Sky without a viewing card (Freesat from Sky (or fSfS)) and Freesat.. Where a channel can be watched for free, the channel number is listed below. In addition, if you can watch (or listen) immediately online, press the button in the "web" column.

As some channels are exclusive to one service alone, you may need to get receive more than one service to get all the channels you want. The coverage for Freeview differs too - those channels not provided by the public service "Freeview Light" transmitters the current coverage shown thus

(54%)

, taken from Connected Nations Report 2017: Data analysis' Key: wb_sunny daytime; watch_later nighttime; account_box funded from the TV License; flags show Freeview channel limits.
Main TV standard-definiton channels
Regional content
: National channel with no regional content or variations.
Official site
: See the
ITVBe website
.
From Wikipedia
: - en.wikipedia.org
read more about ITVBe on wikipedia
(summary by
Clipped
).
Freeview multiplex
: ITVBe is on
multiplex PSB2
in .
Comments
Sunday, 5 October 2014

ITV be, starting on 8/10/2014 at 7:00pm
EPG
Freeview basic, not available
Freeview +, 26
Freesat 118
Sky and Freesat from Sky 179
Virgin Media 119

Mark A's 373 posts
Monday, 6 October 2014

Will I get the new channel on all my tvs as I'm with virgin media

m whitfield's 1 post

m whitfield: Yes, on channel 119 I am told.

Briantist's 38,844 posts
Wednesday, 8 October 2014

ITV spell the name of this station without a space as in ITVBe, so why do you break it up into two words?

Would you be happy if ITV spelt your name as "Brian tist"?

Corin's 91 posts

Corin: Looking at the logo, it's two words.

The "I" flows into the "T" flows into the "V" and then there's a space and then "B" flows into the "E".

Perhaps you need some glasses?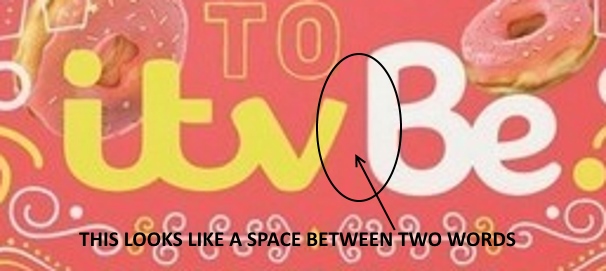 Briantist's 38,844 posts
Thursday, 9 October 2014

Briantist: Also, I note that industry magazine Broadcast calls it "ITV Be" as well: Can newbie ITV Be match the staying power of ITV3? | Comment | Broadcast .

Briantist's 38,844 posts
M
Mike Davison
8:49 AM
Wetherby

Briantist: I have to agree with Corin on this relatively trivial point but in the non-stylised text, ITV's web page shows no space. My PVR and TV list it with no space as well. On Broadcast's web page, the space does not look 'right' somehow.

Mike Davison's 127 posts

Mike Davison: OK. At the end of the day it's my web site and I use a consitant style guide - or at least I try - when listing channel names.

The rules are:

a) Title Case For Channel Names

b) Acroymns are in upper case (BBC, ITV, UTV, STV, USA, CBS) however rendered in the logo;

c) "+1" channels are all have a space before the "+1".

d) Channel names that are sub-brands have a space between the provider name and the sub-brand. So it's "ITV" and "ITV 2" and "ITV 3". Where the channel name doesn't use the main channel name they can be linked "Channel 4" and "4seven".

The problem with using the "wrong" case is that it makes lists look untidy.

BBC one
BBC TWO
BBC three
BBC FOUR
BBC NEWS
cbbc
CBeebies

And then there's

Citv
food NETWORK
horrorchannel
movies4men
truTV

and so on.

Briantist's 38,844 posts
M
Mike Davison
1:10 PM
Wetherby

Briantist: I knew I should have left well alone!

Mike Davison's 127 posts

Mike Davison: Perhaps. It's worth airing. The EPG names have limits, thus 101 on Freeview is "BBC ONE Lon", for example.

I have some database comparison code that matches what is shown on this site with others and the various EPG providers.

So, you get the Channel 5 extra channel "5*" called "5 Star" in some places, but it has never been called that (it was called FIVElife and then Fiver though), I guess the punctuation broke someone's system!

I just try to keep things as consistent as I can.

Briantist's 38,844 posts
Select more comments
Your comment please