Freeview removes com8 channels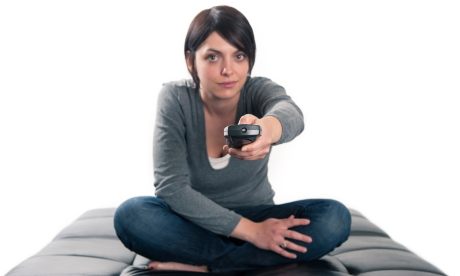 Brian Butterworth
published on
UK Free TV
These channels could be received in about 77% of UK homes. This means there are 15 channels left on com7. According to reports com7 will now continue "for the foreseeable future"[1]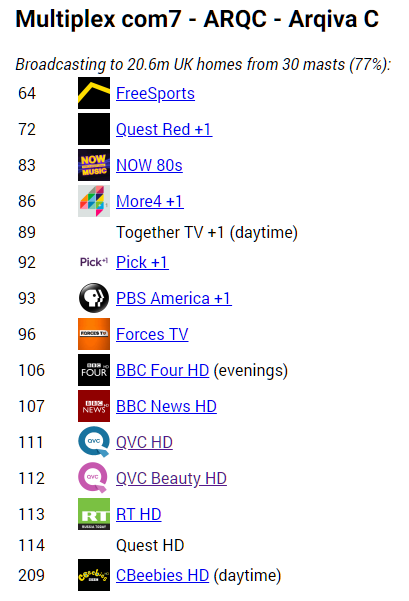 I have once-again aligned the data here on ukfree.tv with the official list of Freeview channels, at https://www.freeview.co.uk/corporate/platform-management/channel-listings
[1] https://www.cai.org.uk/index.php/contact/news/17-dtt-freeview-updates
Comments
Thursday, 2 July 2020
P
Philip Broomhead
6:39 AM
Nottingham

Hello.
I receive my Freeview from Waltham.
Looking at your updated details for March 2020 I was surprised not to see Channel 29 listed. I have got the full details to hand.

Philip Broomhead's 1 post

Philip Broomhead:

The site owner is aware that a number of pages are not up-to-date as he's been unable to keep up with all the 700MHz clearance changes. Occasionally some updates are being done.

Chris.SE's 2,591 posts

Briantist:

Slight typo there Brian, CBeebies is on 206. You've listed the temporary interim simulcast on COM8 after the retune before COM8 closed.
Also Pick+1 on 92 has gone, it may be in the list and is on the EPG but not broadcasting, see 18 Jun 2020 - Pick TV +1 channel broadcast changes | Freeview

Based on the information I've been given, COMs 7&8 were never due to close yesterday (your note at the top of the page) as there was no revised licence published agreeing that, as Arqiva wanted a later date. The only licences ever listed recently were a revised one last year in July which still had the 2026 end date
and the new one https://www.ofcom.org.uk/….pdf

The COM8 closure was a commercial decision Rebuilding Freeview High Definition from 2019 onwards | free and easy and contains the statement I was given.

Chris.SE's 2,591 posts
Your comment please