Would the BBC work better as a company, charity, instead of a new Royal charter?
BBC, plc 2017
In a set of articles earlier in the year, I investigated the BBC as a public company, sometimes run by subscription and other times by adverts and by subscription.
British Broadcasting Charity
One option that must be on the table is the change in the BBC from having a Royal Charter to being a charity.
The claims for the BBC's Royal Charter seem to be rather bust these days. Aside from the democratic implications in the 21st century of the head of state being able to make law by proclamation, the claimed benefits are long since gone.
The last three Prime Ministers have done away with once-treasured the BBC News independence.
Tony Blair used the strategy of a judge-lead whitewash (using the logic "the Prime Minister cannot lie because he is the Prime Minister") to weaken the independent broadcaster.
Gordon Brown, by providing "free" TV Licences to pensioners allowed the state to co-opt a sizable part of the funds supposedly hypothecated from the TV Fee. He could have provided pensioners with a £150 uplift in their pensions.
This pensioner allocation was used by Prime Minister David Cameron to strong arm DG Thompson into cutting back the BBC in an egregious funding settlement.
It is clear that the BBC is no longer independent of government, the Royal Charter special guarantee no longer respected by Ministers "of the Crown".
So, perhaps it would be sensible to do away with the 10-year cycle of renegotiation and move the Broadcaster to the status of the British Broadcasting Charity, and hope that the Charity Commission can provide a better protection for our national broadcaster than elderly monarch does.
Comments
Tuesday, 9 December 2014
F
Fred Perkins
8:05 AM
Richmond

It's a sad fact that virtually all forum discussions about the BBC always become hopelessly polarised.

There are those who resent everything about it, largely driven by the 'tax' nature of the licence fee, or its (to them) political bias . And there are those who defend it to the death, and don't see any need to change any aspect of it, or its funding.

I happen to be neither extreme. But when it's not possible to engage in a constructive debate, there's little point in pursuing it, which is a pity. All we can really do is to blame the politicians, who won't let either side "vote with its feet".

Fred Perkins's 13 posts

Fred Perkins: I agree - its incrediably polarising. However, the vast majority of people have voted with their feet - they watch BBC programmes, in extremely large numbers. The idea that there are people who 'defend it to the death and dont see any need to change any aspect of it' is a strawman. The BBC is not perfect, and it will get things wrong. I praise it when its doing the right thing, and complain when it does not (and I do actually complain). Mosts of the time, the BBC does a great job. When it does not, hold it to account, and make it better.

However, if your going to do that to the BBC, you have to look at other broadcasters as well. The BBC publishes its accounts, and even the pay of its execs, taxi fares, etc. The others dont. So its much easier for a a tabloid hack to write an attack piece about the BBC. ITV? Not so much.

As a thought experiment, imagine what the reaction would have been in the press if Jimmy Savile had been employed by ITV in the 1970's. Would the current ITV boss be expected to resign, etc? Almost certainly there would have been far less coverage, and the angle would have been very different.

In terms of funding - can you think of a better system than the licence fee? Its not perfect, but its better than all the rest.For less than £3 a week, I get a lot for my money, so I'm pragmatic about the licence fee.

The people who scream 'but..its a tax!' also have to pay to licence their car. Do they refuse to pay and vow only to drive on private roads, and should we give them a 'choice'? Life is imperfect, and all you can do is go for the greatest good of the greatest number.

Rob: I asked you one question. Instead of bringing any actual evidence to the table, you just Googled 'BBC waste' and threw in whatever came up first. Your 'argument' is pure handwaving. So once again, what makes you think that BBC exec's are, relative to the industry they are in, overpaid?

MikeB's 2,579 posts

rob:

Your TV licence is to permit you to view live broadcasting TV. That the Government of the day decides to allocate some of the monies collected from the licence fee and general taxation to run a broadcasting serfvice for public consumption does not give you the excuse to be somewhat abusive, MikeB's politics are a matter for him alone. Please respect his many years experience in the TV industry and so does have some knowledge.

MikeP's 3,056 posts

MikeP: Thanks - although I'm not sure I've that much experience in the TV industry...:-)

I dont think I've ever been described as a toff, and I'm certainly not a tory!

MikeB's 2,579 posts
Wednesday, 10 December 2014
F
Fred Perkins
9:13 AM
Richmond

Oh MikeB, for pity's sake, drop it! You're never going to accept ANY arguments from 'the other extreme', but you can''t resist the "Where is the evidence?" attack on anyone who raises any issues re the BBC!

I didn't even raise the Saville scandal, but YOU did. I'll bite my tongue and not respond.

The media attacks ANY company/body/individual where there's bad news that can make juicy headlines. Good news is boring. That, sadly, is the way journalists all too often operate, especially in the UK, where even deserved 'success' is not to be admired (cf USA, where you'll find taxi drivers determined to be entrepreneurs, rather than hoping to get rich winning the lottery).

Hacks relish persecuting anyone they can find on whom to pin "blame". Career destruction is the ultimate goal. We're experts at the art of this in the UK.

The BBC happens to be an easy target because of the sheer scale of its operations. But again, they don't have a monopoly on being the brunt of media attack, as almost every broadcaster will be aware.


Fred Perkins's 13 posts

Fred Perkins: "The BBC happens to be an easy target because of the sheer scale of its operations. But again, they don't have a monopoly on being the brunt of media attack, as almost every broadcaster will be aware. "

Did you see this, perchance?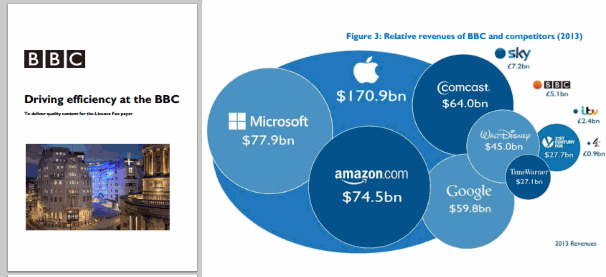 The BBC is but a pin-prick compared to Apple, Microsoft, Google etc.

Briantist's 38,844 posts

rob: OK.

Re taxis. How exactly do you run live television and radio without the need to get people into the studios? The bus? Walking? Uber?

If you have the answer I am sure the BBC would implement it in a moment.


Briantist's 38,844 posts
F
Fred Perkins
5:17 PM
Richmond

@ Briantist: Hey... Why are we (or rather the BBC itself) seeing the BBC in comparison to Apple, Microsoft, Google et al? It's a state-funded public service broadcaster. As such, why on earth does it feel it's 'competing' with these media giants, who MUST be commercially successful to survive, on a worldwide basis?

My consideration of the BBC as a large-scale player was in the context of viewers' perception of TV broadcasters' activity in the UK.

Not too many of the broadcasters we view in the UK have £4Billion a year gifted to them as a cost budget, with no pressure to produce a financial return from its funder.

Fred Perkins's 13 posts

Fred Perkins: "Not too many of the broadcasters we view in the UK have £4Billion a year gifted to them as a cost budget, with no pressure to produce a financial return from its funder. "

True. Such is democracy! The people can choose to use the market, or not.

Unless you can only read books by Anne Rand would you find this a problem.

Some people like to think that there is only ever one answer to a question, and it is true, there was a place for that: kindergarten.

Briantist's 38,844 posts

Briantist: I've always liked this quote from John Rogers about Rand:

'There are two novels that can change a bookish fourteen-year old's life: The Lord of the Rings and Atlas Shrugged. One is a childish fantasy that often engenders a lifelong obsession with its unbelievable heroes, leading to an emotionally stunted, socially crippled adulthood, unable to deal with the real world. The other, of course, involves orcs.'

As for Fred Perkins point, I've never held back in criticising the BBC when I feel its due. Payoffs, the mess over Saville, often poor coverage of key subjects, and sometimes a tin ear - all of these are perfectly valid points. I know Brianist has highlighted issues with the BBC. But any criticism should be fair, objective and constructive. And the problem is that the attacks on the BBC are all too often none of those.

The BBC is an international brand, and where content is concerned, its one of many, and that does include Google, MS, etc. However, the BBC is not the biggest broadcaster in the UK by revenue, Sky is, with close to 8 billion in revenue. Even ITV's share of revenue is 2.3 billion this past year. The BBC gets some 3.5 billion, which is a fixed sum which has been frozen for some years, and may fall further in real terms.

Remember that the BBC is expected for its money to do things that the market simply does not. Original UK produced childrens programmes? Forget it on ITV. And Sky? Regional programming and local news? ITV's presence is far less than it was. Nature programmes? The BBC is pretty much the only game in town - the costs are simply not attractive to the commercial market. Current Affairs and documentaries? C5 really doesn't bother much, and ITV's current affairs is minimal. The regional language services, like Alba, etc? The market really does not care. In fact the BBC is now going to be paying for both its own service and S4C. Its good that UK produced drama still does well on C4, and that ITV has raised its game so much. There are even occasional highlights from Sky. But the BBC produces more drama than any other single broadcaster on earth. And lets not even start about radio...

So when I ask for evidence to back up the claim that BBC executives are paid too much, its not because I refuse to listen to any criticism about the BBC. Its simply because I want to judge fairly if they are or not. I want data. Someone's opinion does not trump actual facts. So where are they?


MikeB's 2,579 posts
Select more comments
Your comment please