How do I change the RF output channel on a Sky Digibox?

Brian Butterworth published on UK Free TV
Press the [SERVICES] button and then press [4] [0] [1] then [SELECT]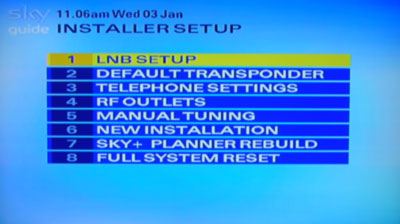 Then press [4] to go to the RF output menu.




You can now change the value so that it does not clash with an analogue TV channel or a Freeview multiplex.


HD and "new EPG" boxes
If you have a HD box, press [SERVICES] button and then press [0] [0] [1] then [SELECT]. Nothing is shown on the TV screen until you press the Select button.
Then use the [RIGHT] arrow button on the remote until this screen is shown, and press SELECT to change the values: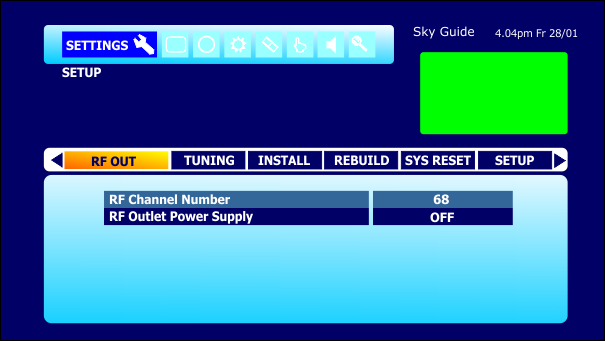 Comments
Friday, 16 March 2018

Les Anderson: UHF channel 68 is in the 800MHz band which is now used for 4G mobile broadband services. You would be better off finding a clear channel below 60 (please provide a full postcode so that we can see which transmitters are available at your location and identify a channel not likely to be in use).

StevensOnln1's 3,516 posts
Tuesday, 27 March 2018
L
Les Anderson
6:39 PM
Leeds

Thanks Steve
Sorry for the slow reply,
My post code is LS25 7QS.
Regards

Les Anderson's 4 posts

Les Anderson: Going by the Digital UK postcode checker, UHF channel 22 should be fairly clear at your location, both now and following the completion of the 700MHz clearance program.

StevensOnln1's 3,516 posts
Wednesday, 28 March 2018

Thanks
Will give it a go.

Les Anderson's 4 posts

Stevens Onln 1
Have installed amplifier and tuned Sky Channel to your suggestion then tuned TVs accordingly and all is working perfectly.
Many thanks.

Les Anderson's 4 posts
Wednesday, 16 May 2018
D
Denise Harvey
12:53 PM
Welwyn

I have the same problem as Mr Anderson above, my post code is AL7 2DZ

Denise Harvey's 1 post
Thursday, 14 June 2018
W
Wendy Waugh
10:13 PM
Norwich

I have the exact same problem as Mr Anderson.
My postcode is NR9 3QJ
If you could suggest a channel I would be very grateful.
Many thanks.

Wendy Waugh's 2 posts
Friday, 15 June 2018

Wendy Waugh:

Looking at the currently used channels in your area and those predicted for use in the foreseeable future, I would suggest trying setting your Sky box' RF output to channel 34 and then tuning your TV to that (it would avoid any potential interference with other signals). However, it would be better to use an HDMI lead, if your TV and Sky box have that faciltity. If they dont, then could you use a SCART lead, the one that uses 21 pins to feed the signals. That way, you don't need to use the RF output and would get a better quality of picture and sound. If you can use the HDMI lead, then you could even watch the HD versions if your TV set is capable of showing them. A Freeview HD equiped TV set would be able to show them - the HD images are substantially clearer than SD.



MikeP's 3,056 posts
Saturday, 16 June 2018

Wendy Waugh: thank you very much Mike P.
We managed to tune to channel 68 for now but will definitely do as you suggest for the future,

Wendy Waugh's 2 posts

Wendy:

Glad you got some service. However, Channel 68 is very likely to suffer from interference later as it is in the range used now and in the future for 4G and maybe 5G mobile serices, so it is best to avoid anything above channel 60. It is also wise to avoid any of the channels used by transmitters whose signals may reach your location. That is why I suggested using channel 34 as none of the transmitters in your area use that channel.

As I stated, it is better to use an HDMI lead if at all possible, else use a SCART lead if the TV and Sky box do not have HDMI sockets.



MikeP's 3,056 posts
Select more comments
Your comment please