How do I change the RF output channel on a Sky Digibox?

Brian Butterworth published on UK Free TV
Press the [SERVICES] button and then press [4] [0] [1] then [SELECT]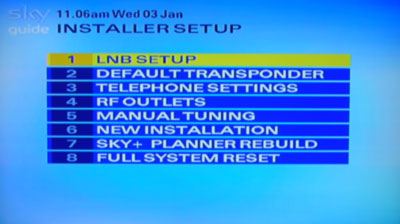 Then press [4] to go to the RF output menu.




You can now change the value so that it does not clash with an analogue TV channel or a Freeview multiplex.


HD and "new EPG" boxes
If you have a HD box, press [SERVICES] button and then press [0] [0] [1] then [SELECT]. Nothing is shown on the TV screen until you press the Select button.
Then use the [RIGHT] arrow button on the remote until this screen is shown, and press SELECT to change the values: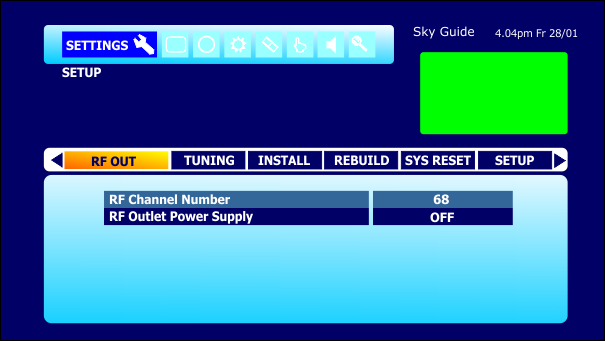 Comments
Monday, 9 January 2012

Lee: Using a two way powered splitter is possibly the best way to get good results as that would help compensate for signal losses with what you are doing, but before purchasing anything you should first of all ensure that you can actually get reasonable Freeview reception upstairs when you couple the aerial directly into the upstairs TV feed, this test advisable just in case your problem is caused by something defective about the link.

If though this proves as being OK, then all you would require to do is connect the Sky boxes RF1 output into the splitters input, then a co-ax jumper from one of its two outputs into your downstairs TV, the lead to the upstairs TV being plugged into the splitters No2 output. (you leave RF2 unconnected)

You might get away with just using a standard non powered splitter if connected in exactly the same way as the powered one, but performance is not guaranteed because they always attenuate the signal slightly, something undesirable unless you are in a good signal area, whereas the powered splitter is guaranteed to work in all cases.

jb38's 7,179 posts
R
ross walker
8:55 PM
Glenrothes

here a little update on my status now.

1.i didnt unplug my sky box as stated to do in instructions.
2.the sky eye does light up from directly from the sky boxes rf2 and all the way to my 2nd tv.
3.i have tried channels 68 69 60 61 62 and 30 odd ith no avail.
4.my tv is analogue lg 42pq3000
5.it doesnt manual tune or autotune.
6.i live in a flat where we use a communial ariel ( 6 flats)
7. the sky eyes been tested on another tv in another house and works great.

is there anything else i can do as nothings workin. please help. my number is 07769272127 please text only if some one can help

ross walker's 20 posts

Just a quick update regarding the signal from the Sky box , the tv downstairs picks up great freeview from the RF1 or RF2 feed from the Sky box , I did connect the feed from upstairs into the RF1 but still no freeview. All I can get on the 2 tv's upstairs at the moment is about 3 anologue stations and Sky from downstairs on channel 68 but this is a snowy picture so i may try to change the signal on that to see if Sky does improve. I also have a new TV up in the loft which also picks up freeview without problems, the main digital aerial has a split system one cable to the loft with a booster and another cable to the ground floor , the cable with the problem is from the ground floor to the first floor. I know that the freeview in our area is not switched on yet, could I try another booster on the cable on the first floor or is it not a good idea to have several boosters? I could try a direct cable from the cable downstairs direct to the tv on the first floor to see what that does?

Lee's 6 posts

Just another update , if I turn off the booster in the loft then the freeview does not work on the ground floor or in the loft , but we can still get a snowy Sky on the first floor.
Best regards
Lee

Lee's 6 posts
Tuesday, 10 January 2012

Lee: Going by your update report, and in particular the symptoms seen on the upstairs TV's, suggests that a fault "might" be in existence somewhere on this cable or the connectors used on, so I would unscrew the co-ax plugs and double check that a single strand of wire from the braiding isn't shorting across to the inner connector, as although a weak snowy analogue picture from a Sky boxes modulator can be caused by more than one reason, this being coupled to a loss of an otherwise OK Freeview signal might be through a short circuit in existence.

That possibility being said though, as you have previously mentioned that you aren't switched over as yet in your area I decided to have a check on the signal expected at your location using the code now provided, and there tells a story! insomuch that I see you aren't actually predicted to be able to receive a Freeview signal of any substance from the five transmitters indicated as possibilities for covering your area, namely Crystal Palace - Dover - Heathfield - Margate or Bluebell Hill, with unfortunately this forecast not to change very much except from 27th June when the PSB muxes from Dover are indicated as coming into the equation, albeit that the three commercial muxes permanently remain in the category of a poor level of variable.

Fully admitting that these predictors have elements of unavoidable errors due to the fact that they cannot cater properly for local conditions like reception black spots etc, or in cases such as I feel likely applies in your case, i.e: pockets where reception is possible, the predictions given cannot be totally discounted, and so just to get an idea of the level of signal you are getting maybe you could carry out a signal check on BBC1 / ITV1 & ITV3 also noting the Mux channel associated with the reading, because although you might get a signal that appears to be OK its possibly hovering just above the reception threshold, but by being stable is giving the impression its OK.

Anyway have a check at the co-ax connectors etc, giving an update on this plus the signal test.


This is a link to the reception indicated that I referred to.

Postcode Checker - Trade View



jb38's 7,179 posts

ross walker: You have posted this update under a different heading from your other postings, however getting back to scratch, on further checking that model is indicated as having both Freeview and analogue capabilities and with either manual or auto-tuning being possible on each of the modes, pages 35 / 37 in your manual showing how to do this.

Referring to Freeview, going back over your postings I don't see you having mentioned that you are actually receiving Freeview on your main TV, so the question is are you? and if you are what method are you using to couple the aerial into the Sky box as well as your main TV?

The only reason I ask is that you refer to not being able to pick up Freeview on the LG, which of course you wont unless the normal aerial is connected into the Sky boxes aerial socket, as the signal passes through the box and picking up the Sky's analogue signal in the process, then through the extension cable to your LG in the other room.

In other words if you have a co-ax between the Sky boxes RF output and your LG's aerial socket and with a normal aerial (for Freeview) coupled into the Sky boxes aerial input, then if you select "DVB" on the LG and select "auto-tune" it has to pick up Freeview "if" you can receive it where you are, some places being a bit iffy for reception from Craigkelly.

Likewise if the LG is set on "analogue" and "auto-tune is selected then the LG will pick up the Sky box no matter what channel the latter is set to.

What you are doing is really quite simple, and I feel that the reason you are having problems is that you are missing something when carrying out the set up procedure.

jb38's 7,179 posts

Hiya jb. I know this is why i am pulling my hair out. I thought it would be a simple procedure. I dont pick up any freeview when i tune as all i have is the sky eye from the rf2 going in. yeah i posted in the wrong section to star with and that this would solve my answers for this. any other options? thanks for your help

ross walker's 20 posts

I have just changed from sky+ to sky+hd. I have a magic eye in the kitchen and bedroom. When I first set up the HD box, both magic eye lights did not work and obviously I got no picture. I followed instructions on your page and changed the rf input to 'on'. The light came on, but on 68 no picture. I changed the number and entered 21 (not sure why lol. I have now got pictures but these are very snowy. Would it improve if I changed the no. to say 40? Or do you have any other suggestion? Many thanks. Sharon.

Sharon's 3 posts

ross walker: That's OK, but although I fully realise that you don't pick any Freeview up on the set in question do you receive it on your houses main TV? the reason for asking being that you refer to the LG as being a "second" set, but if your main TV doesn't get freeview either then there is no point in going along that route when discussing the LG.

jb38's 7,179 posts

Sharon: Choosing the best RF output channel to use is always done by an engineer referring to the six Freeview multiplex channels used by the transmitter that covers the area, as other than that it doesn't matter what channel you use.

That said, some Sky+HD boxes are known to have a very low modulator output and that can cause a weak snowy picture if a long lead is being used to feed a second TV, not knowing your location I cant advise on channels to avoid, but I would set it back on 68 and after setting the second TV on analogue (if dual Freeview / analogue) let it auto-tune to scan and pick up 68, if you don't get anything set the sky box on 65 and carry out the auto-tune again.

You just really keep coming down about 5 channels at a time until you get satisfactory results, if though you provide a post code I can advise on what channels not to use.

jb38's 7,179 posts
Select more comments
Your comment please