How do I change the RF output channel on a Sky Digibox?

Brian Butterworth published on UK Free TV
Press the [SERVICES] button and then press [4] [0] [1] then [SELECT]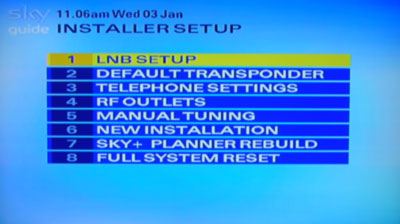 Then press [4] to go to the RF output menu.




You can now change the value so that it does not clash with an analogue TV channel or a Freeview multiplex.


HD and "new EPG" boxes
If you have a HD box, press [SERVICES] button and then press [0] [0] [1] then [SELECT]. Nothing is shown on the TV screen until you press the Select button.
Then use the [RIGHT] arrow button on the remote until this screen is shown, and press SELECT to change the values: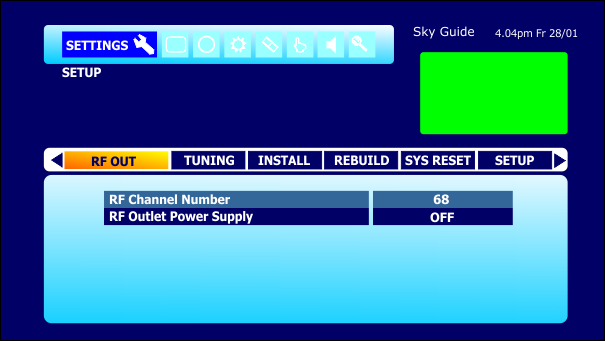 Comments
Sunday, 29 May 2011

Main tv has sky which supplies 3 other sets by cable no magic eye these tv receive sky through ther anologue channel what will I have to do to get sky to these 3 sets when analogue is switched of don't want multe room subscription already paying too much?

Mervyn Donaldson's 2 posts

Mervyn Donaldson: Not sure if you are just referring to the Sky link or whether other analogue channels are viewed on them as well on the sets mentioned, however if its just the Sky link you are referring to this wont be affected by DSO and will still operate as normal.

jb38's 7,179 posts

Hi guys....To cut a long story short - i had a Sky+HD box and altered some of the settings in the menu system.Now i can't remember what i turned off, as this was a while ago and want to use the box again.I eas wondering if i do a system reset will everything go back to normal?.Cheers for any assistance.

Adey's 19 posts

Adey: Basically yes, as it will return the box to when first purchased, of course this meaning that you will have to re-install any customised settings you may have made.

jb38's 7,179 posts

Thanks for your reply jb38,very much obliged.

Adey's 19 posts
Monday, 30 May 2011

May thanks jb38 its the sky link I was worried about.

Mervyn Donaldson's 2 posts
Wednesday, 1 June 2011

Briantist quote

Jonny: The Magic Eye device will only work on a one-to-one basis. You can plug a single magic eye using a single RF cable to the RF2 output.
If you have a loft distribution amplifier
to other rooms & send one coaxial feed from RF 2 o/p of the Sky Box to the input of the loft box combined with the TV aerial feed . I just think the best way to control the Sky Box is using the Marmitek Pyramid.You can have as many senders from the rooms of each TV to the one Pyramid controller at the Sky Box.The Sky remote works with the Pyramid controller.Also if you have your DVD player in the same stack as your Sky Box you can controll the DVD with its own remote from your bedroom as well.Now thats luxury?

Brian Wright's 77 posts
Friday, 10 June 2011

Using a standard Sky mini-dish with a quad LNB, in the Greater London area with uninterupted site-lines to 28deg East, what signal strength and quality would one typically expect to see on the Sky+ Box signal test page?

Mine is all over the place at times but generally about 60% on strength & 50%-60% on quality - although generally LNB 2 is slightly lower than LNB 1. Over the past couple of evenings there have been momentary signal outages but there have been heavy rain showers.

Mick's 2 posts
Saturday, 11 June 2011

Please can you help me? I recently put a small tv in my kitchen.I was only wanting Freeview but my electrician has ran a wire ie tv point cable to the lounge. It was sitting coiled up waiting to be connected. So i put a RF OUTPUT THINGY on it. Plugged it into the back of the sky box at the RF2 POINT. I then checked tv in kitchen. I am getting a picture but not a very good on- its all fuzzy Any ideas?

Karen McKinlay's 1 post

Karen McKinlay: It could be that the channel being used for the RF output on the Sky box is clashing with another broadcast channel, that is "if" you are using the Sky box to feed other analogue channels through to the kitchen TV.

Try changing the Sky boxes RF output to another channel a few away from where it is presently set for, carry this out as per instructions shown at the top of the page, I would have advised you on a suitable channel but cant, as you haven't mentioned where you are located.

I am also not sure what you mean by "freeview"? as what you are doing is not connected with that, unless of course you are just meaning non Sky subscription satellite channels.

jb38's 7,179 posts
Select more comments
Your comment please