How do I change the RF output channel on a Sky Digibox?

Brian Butterworth published on UK Free TV
Press the [SERVICES] button and then press [4] [0] [1] then [SELECT]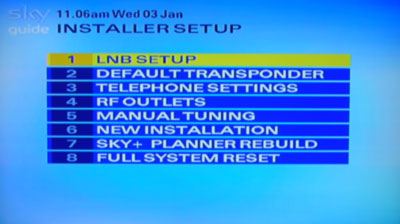 Then press [4] to go to the RF output menu.




You can now change the value so that it does not clash with an analogue TV channel or a Freeview multiplex.


HD and "new EPG" boxes
If you have a HD box, press [SERVICES] button and then press [0] [0] [1] then [SELECT]. Nothing is shown on the TV screen until you press the Select button.
Then use the [RIGHT] arrow button on the remote until this screen is shown, and press SELECT to change the values: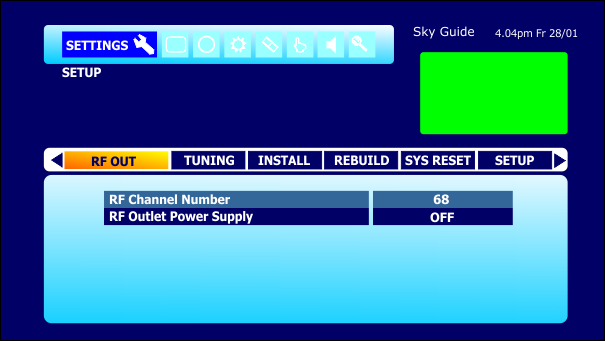 Comments
Sunday, 20 March 2011

I've just changed my Sky+ box. I have a magic eye used on another tv in another room which was used on the old box and now its used on the new box.The magic eye works without problem,RF on,red light on can changed channel without problem,and tuned to channel 68.
My problem is the picture quality has on the second TV is absolutely rubbish since changing to the new Sky+ box. Tried fine tuning via the TV controls without success. Any suggestions?

Billy G's 1 post
Monday, 21 March 2011

Billy G: Enter your postcode at the top right to find a "Spare RF" channel to use.

Briantist's 38,844 posts

Hello,
my tv eye is not changed channels, its connected by one piece of cable, the red light is on the tv eye so I take it the 9v is there,
any ideas please, ta

dennis's 1 post
Tuesday, 22 March 2011
D
david
10:39 AM
Bury St. Edmunds

Hi, have just changed old digibox to a fresh digibox, all up and running on main tele but no signal now to tele`s in other rooms. I have followed all your instructions but no success. No signal seems to be coming from rf outlet. Any advice appreciated.

david's 4 posts

dennis- You may have the remote set to TV mode. Try pressing the Sky button; If OK, try powering off the Sky-box for 30 seconds.

LutonFan's 382 posts

david- The frequency of the new box may differ from the old one,(they default to ch68).

The easiest way is to get a third party to observe one of the TV's in question and keep changing the RF output of the new box until a picture is obtained on the second TV.

LutonFan's 382 posts
D
david
10:47 PM
Bury St. Edmunds

Thanks for the reply LutonFan,tried that today with a portable in front of main tele. Signal thru scart to main tele fine but absolutely nothing came up on portable on any frequency. Anything else I can try?.

david's 4 posts
Wednesday, 23 March 2011

david- Are you using RF1 out to the main TV? If so and it tunes into the main set OK, remove the RF lead plugged into RF2 out and plug into RF1 out; then retune one of the other sets.

If this tuning is successful, then it could be that the RF2 outlet is faulty. If it is not, then the RF lead you are using from RF2 is faulty.

Hope this makes sense.

LutonFan's 382 posts

LutonFan- Using scart lead from digibox to main tele, scart to portable gives picture so portable doesn`t need tuning, co-ax to extensions was working the day before I switched boxes, tried different co-ax leads to portable but no success, think you are probably right about rf outlet being faulty, unless you can think of anything else.

david's 4 posts
Saturday, 26 March 2011

david- Sorry, the box would appear to have a fault.

LutonFan's 382 posts
Select more comments
Your comment please