What size dish is required to recieve broadcasts from the Astra 2 satellites?

Brian Butterworth published on UK Free TV
Astra 2A and 2B - North beam
Astra 2A and 2B - North beam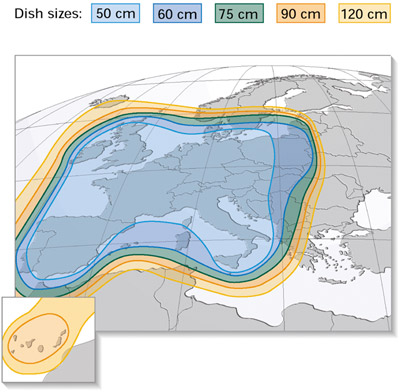 Astra 2D - UK beam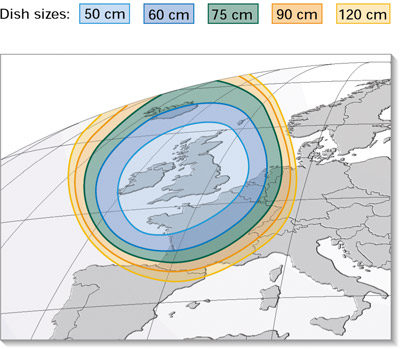 Comments
Wednesday, 18 February 2015
M
Mike Davison
11:28 PM
Wetherby

nor: Lyngsat will guide you what satellites will serve the coast of Southern Spain. I fear that BBC1,2,3,4,News,CBBC and CBeebies also ITV and Ch4, will be out of reach unless you can use a huge dish, maybe 2-2.5metres as they are on a tight UK only beam. There are some secondary channels that are open to all but even some of them may need 0.9 to 1.2 m dish.
Europe, Africa & Middle East - LyngSat

Mike Davison's 127 posts
Thursday, 7 May 2015

Hello i live in Denmark Jutland Allingbro do oyu know what dish size i need if i will Watch Astra 28.2 uk beam

ole olsen's 1 post
M
MikeP
11:17 PM
Trowbridge

Ole Olsen

If you look at the coverage map above your post you will see that the Astra UK beam does not cover Jutland at all. As it is a highly directional beam, there is no realistic chance of getting usable signals, not even with a 1.2m dish!

MikeP's 215 posts
Saturday, 9 May 2015

Just pointing out that the Astra 2a, 2b, and 2d satellites have been replaced by Astra 2e and 2f. The UK beam detail on SES's website is quite poor but roughly follows the 2d pattern above. Denmark is in unspecified territory but a large dish would be necessary as MikeP says.

Mike Davison's 127 posts
Sunday, 2 August 2015

hi, am in northern italy" milan precize" can i get the signal of astra 2A with 60" dish?? thanks

nana's 1 post
Wednesday, 29 March 2017

Hi,i am advised that possibly reception is possible with 3 or 4metre dishes,do you have to have planning permission in italy,another way is to put two or more dishes in series,say 3x 1.20m.

nicholas's 120 posts
Select more comments
Your comment please