What is the Inversion Effect and why does it effect my Freeview TV reception?

Brian Butterworth published on UK Free TV
Under normal circumstances, the signals from each television transmitter can only be received by those homes and businesses that have aerials that have a direct line-of-sight to the transmitter.

(The Inversion Effect is also known as "Tropospheric Ducting")




The part of the signal from the transmitter that is directed upwards simply escapes into space and are lost.

When there is high atmospheric pressure (Met Office - Surface pressure charts) as the sun heats up the ground the warm air gets trapped underneath the colder air higher up. At the point where the warm air gets trapped under the cold air this creates a layer that is, in effect, a mirror for the television signals.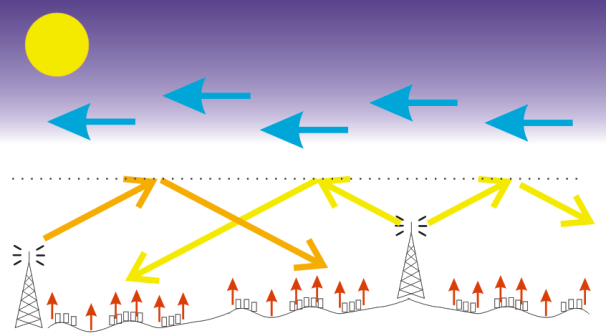 This means that signals that would otherwise be impossible to receive can suddenly effect your television reception.

The digital television signal uses a format called COFDM (coded orthogonal frequency division multiplexing) and this incorporates the ability to ignore reflected digital signals.

However, analogue television signals did not co-operate with each other and the picture quality is reduced. The very weak digital signals that were used before digital switchover for Freeview were badly effected by interference from reflected signals from adjacent analogue transmissions.

I recommend you look at the Tropospheric Ducting Forecast for VHF and UHF Radio and TV page for a current forecast - yellow, orange, red, and pink indicate that conditions are perfect for the effects listed above.
Links to current pressure data
Tropospheric Ducting Forecast for VHF and UHF Radio and TV

Met Office - Surface pressure charts

Comments
Monday, 1 August 2011
A
A.T.Crane
12:14 PM
Ipswich

Why do my subtitles drop out.Pictures are perfect Ilive in a complex of 41 retirement flats and have access only to a communal aerial.The drop out only on the recently activated transmissions from Sudbury.All reception from previous analogue gave no trouble.I rely totally on subtitles as I almost totally deaf.

A.T.Crane's 2 posts

ATC - I am not an expert, but I wonder if you need to do something different to get subtitles with the digital transmission.

Did you try reading the .... manual?

Steve P's 1,173 posts
KB Aerials Sheffield
5:57 PM

Subtitles -- there is usually a button on the remote that is dedicated to subtitles allthough my sony tv you have to use the "tools" button- my panasonic says "sttl " just press it once and subtitles come on - you can change channels without turning subtitles on or off - unlike normal teletext where you press text enter page number 888 then turn it off before changing channel

As For

What is the Inversion Effect and why does it effect my Freeview TV reception?

Its not fun when it happens I live in sheffield we use Emley moor and Sheffield transmitter as main but Sheffield is so hilly that we resort to using other transmitters like Belmont and Waltham

Now Because Belmont is East of Sheffield the aerials point to the continent - when there is an Atmospheric lift on signals travel much further than they should - so we get signals coming in from the continent wiping out the reception of belmont- Emley moor and Sheffield transmitter is usually un affected

Hope fully after switchover we can start offering people on the belmont transmitter a change of aerial wether that means a new aerial as Belmont is a Group A(pre digital -- Now wideband) and Emley Moor is a Group B or a simple re alignment

The Benefit to the customer would be the correct news as annoyingly Belmont transmits lincolnshire news - no problem if you live in that area but for people of sheffield they seem to prefer Yorkshire news (something to do with being in Yorkshire I assume)
The Other benefit is that hopefully the Inversion Effect would not be an issue anymore to these people who change


Keith KB Aerials 07946481125 - 01142514389

KB Aerials Sheffield's 274 posts
KB Aerials Sheffield
6:00 PM

Incidentally The Inversion effect happens on Hot Sunny days when there is zero breeze and no clouds

can usually expect a call in relation to this in these conditions

KB Aerials Sheffield's 274 posts

ATC - KB aerials has hit on what was vaguely in my mind.

With analogue TV the subtitles are sent via Teletext and suoerimposed on the screen.

With digital they are part of the signal itself, and you have to tell your tuner - box or built in to a TV set - whether to have them on or not.

S4C sometimes has English subtitles!

Steve P's 1,173 posts
Tuesday, 2 August 2011

Steve P: On analogue the subtitles are carried by the teletext transmission system on page 088 (which is access as 888). The subtitles are carried as text.

On DVB-T the subtitles are actually a bit-mapped overlay, and are carried as a graphic, rather than text.

They are access via the "subtitles" button on the remote, or via the set/box's menu.

All DVB-T boxes can display subtitles, they are not dependant on the set/box having MHEG-5 support.

On DVB-S satellite the subtitles are carried as text and are accessed via the SETTINGS button menus. Once enabled they are provided as an on-screen overlay, but the Sky box also generates a page 088 with the subtitles too.

Briantist's 38,844 posts

A.T.Crane: If you have subtitles problems, but no problems with the picture freezing, then do this My Freeview box has no EPG, is blank on FIVE, ITV3, ITV4, ITV2+1, has no sound or the channel line up is wrong | ukfree.tv - independent free digital TV advice as it usually fixes the problem.

If the picture freezes from time to time, check your cables and connectors are in good order.

Briantist's 38,844 posts
Thursday, 4 August 2011

When Belmont started DSO, I suddenly got the high-power digital signals here in Leeds even though my aerial is pointed at Emley Moor. The weather then took a turn for the worse, and I can no longer pick up Belmont's transmissions. This is probably due to the Inversion Effect no longer reflecting the signals from Belmont.

If your TV keeps prompting you that new channels are available, the best thing to do is disable this warning and do a manual add if possible.

Thomas's 61 posts
Tuesday, 16 August 2011
G
Geoff G
9:19 PM
Tonbridge

I have moved recently and now have a freeview recorder box which seems to pick up most of the channels (we are 4.8miles from the Tunbridge Wells transmitter).
My problem is that the picture and sound randomly 'crackle' which is very frustrating.
I have looked at maybe getting an aerial engineer out to see if the aerial requires some 'tweaking' but am worried that we will get opportunist advice (yes i am a cynical s*d).
Is there anything anyone can suggest i try before i go down this route, or what sort of costs would be reasonable for an inspection etc.

Geoff G's 3 posts

Geoff G: I would see the Freeview intermittent interference | ukfree.tv - independent free digital TV advice page first.

Briantist's 38,844 posts
Select more comments
Your comment please