Can I receive UK free-to-view TV in Southern Spain?

Brian Butterworth published on UK Free TV
You will only be able to get the services on the Astra 2A satellite (and then only Transponders 1, 2, 5, 6, 9, 10, 13, 18, 22, 37) and ASTRA 2B (transponders 14, 17, 21, 25, 26, 29, 30, 33, 34, 38):

ScreenShop
Price-Drop TV
TV Travel Shop
TV Travel Shop 2
TCM UK
CNN International
Travel Channel
Travel Deals Direct
BBC Parliament
S4C Digidol
S4C2
You TV
Goldshield Vitality
Create and Craft
Zee Music
Ideal World
ITV News Channel
QVC UK
Bid-up.TV
Sky News
TV Shop UK
Reality TV
TV High Street
The Shopping Genie
TV Warehouse Select
Shop America
TV Warehouse
Vector Direct
JML Direct
Game Network UK
Yes
Shopsmart TV

You will not be able to get any of the BBC and ITVs are all on the Astra 2D satellite: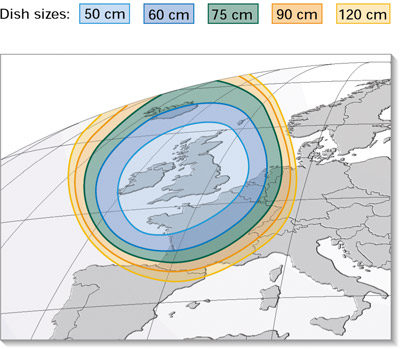 Channel 4 is on Astra 2A: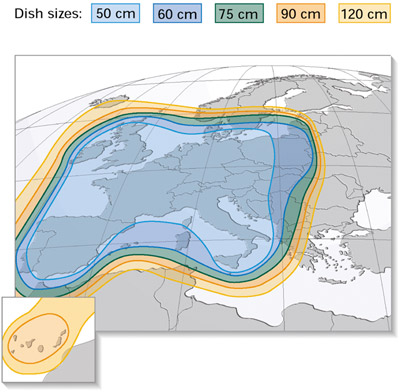 You may be able to get five, but you will need a Sky card to decode it.
Comments
Tuesday, 11 January 2011

i live in spain and i cannot get bbc1

angie's 2 posts

angie: Are you expecting to?

Briantist's 38,844 posts
Wednesday, 19 January 2011

I have found these comments very helpful as im looking to make some changes to my Sat tv in Spain. Many Thanks! Im sure I will need some further help soon.

Helen's 2 posts
Tuesday, 25 January 2011

Hi i have freesat tv here in Alicante south, can i have a skybox with a freeviewing card to the same dish connection without moving the dish

Matthew's 1 post

Channels on Freesat receivers and channels on Sky receiver all come from the same satellites. So you can swap your freesat box for a sky box, and you will not have to move the dish at all.
You can run a number of receivers from a single dish, as long as the LNB has the right number of outputs for the receivers you want to run
A sky box with no viewing card gets the same channels as a freesat box.

satandpcguy's 89 posts

Hi I have found the last post from satandpcguy interesting as I have a sky box in Spain now with a card and was looking to increase the amount of channels I have as a lot say that I need to upgrade. So, I thought about getting a Freesat box. But, from what you are saying I should be able to get more channels with no sky viewing card. Or am I wrong?

Helen's 2 posts

Helen: a Freesat box gets "free to air" channels, ie those that do not require a sky card.

A Sky box with no card also gets the "free to air" channels - the same channels as a freesat box (apart from Men and Movies that is only on Freesat)...which is what i said in the previous post: "A sky box with no viewing card gets the same channels as a freesat box." - where did I say "you get more with a sky box with no card"??

A Sky box with a (non subscription) card in will get Fiver, Five USA, Sky 3, and a few others that Freesat does not get.

Getting a Freesat box will only get you Men and Movies extra so in reality you will actually LOSE channels by "upgrading" to Freesat - unless you go for a HD Freesat box in which case you wil get BBCHD BBC1HD and ITVHD.

To get a lot more channels than you curently get you will need to subscribe to Sky.

satandpcguy's 89 posts
Sunday, 30 January 2011

when we moved to Spain 10 years ago an english TV would not work. What is the situation now as we are in UK and looking at new LCD tv as they are cheaperA

andy's 1 post

Andy - You should not have any problem as current tv's are equiped to handle European PAL variants and French Secam format - You can check the products specs before you purchase.

Les Nicol's 991 posts

P.S. I had a Mitsibushi CRT model more than 20 years ago that was a pan eurpean set that managed just fine when switching broadcasting formats. Mind you it was one of the few sets then that could handle this.

Les Nicol's 991 posts
Select more comments
Your comment please