If the Licence Fee is frozen for 5 more years how could the BBC reshape itself?

Brian Butterworth
published on
UK Free TV
It looks like the current "age of austerity" might continue for a few more years. It seems likely that the negotiations for the renewal of the BBC Charter, which happens every ten years, may see the level of the Licence Fee fixed for another five years.

This means, with inflation, that the income to the organization is going to fall in real terms: the BBC will have less money to spend.

They could cut a little from everyone's budget: this has been the "salami slicing" policy in the past, but the new men at the top think that this has gone too far: any more will visibly reduce the quality of the output. Therefore the option is to cut one or more stations entirely.

The starting point must be the long-standing mission of the BBC: to inform, educate and entertain. In practice "informing" means providing an impartial new service that keeps everyone in the know about what is new in the world.

The "educate" means programmes that teach you about the world: science, art, history, natural history, business and so on.

The "entertain" part of the proposal is that you should, as part of the mix, hear music, watch drama and laugh at comedy.

So, here is a little exercise in "being Director General for the day". You have reached the supermarket checkout with the whole basket of BBC radio and TV stations, but you don't have enough money to pay for them all: which one will you put back on the shelf?

It is always easy to say "I don't watch this, so close it": but such selfish arguments always look self-serving. If you are being the DG, you have a responsibly to everyone in he UK, not just your own personal taste.

To kick off the exercise, I have made my proposals to save £400 million.

I would very much like to hear what your choices would be, if you were in charge.

If you want to check my figures see: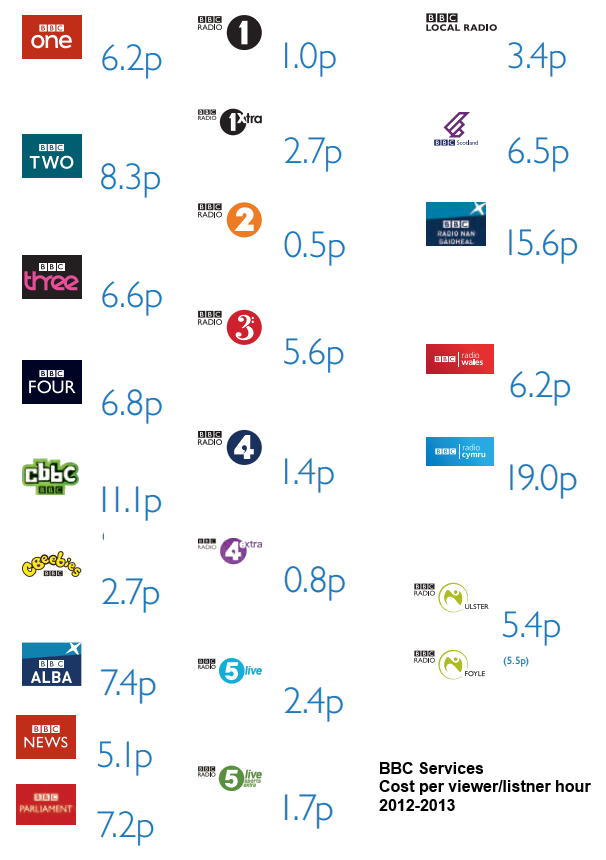 BBC One
This is where most of the BBC's budget goes and where most of the viewing happens. Given that the BBC has a mission to "inform, educate and entertain", then BBC One should continue to chase ratings with the best quality drama, factual and documentary programmes. The many viewers means that BBC One costs 6.2p per viewer-hour on average with EastEnders being
really
good value for money at 3.5p per viewer-hour.
BBC One Regional News
However, the provision of local news in England and the news
services
for Scotland,
Wales
and Northern
Ireland
are hideously expensive to provide and broadcast (especially on
satellite
). I would consider these services obvious choice for cutbacks or closure: running 18 services in parallel just eats into the budget. What the budget is exactly we don't know, as the BBC never publishes the figures.
BBC Two
BBC Two
is an expensive service to provide at 8.3p per viewer-hour and provides little that is distinctive. The budget of £404 million (plus £138 for transmission and infrastructure) needs radical rethinking.
The budget should be cut back considerably and savings made on distribution. A few programmes should be moved: Newsnight to
BBC News
, The Daily Politics, Horizon and Top Gear to BBC One.
The
channel
should be repurposed to fit the needs of the not-served black, Asian and minority ethnic audiences (see
Stephen Lawrence's mother urges change 'at the top' over media diversity - Media - theguardian.com
) mixed with brining the cultures of Scotland, Wales and Northern Ireland to the whole of the UK.
Cutting the budget to £200 million (plus £18 for distribution and infrastructure) would still provide a programming budget of four times that of
BBC Four
.
BBC Three
Taking the channel online in 2015 is a poor move: it disenfranchises the poorest people within the target demographic. The savings made from closing the regional news services and repurposing BBC Two would easily save
BBC Three
.
I know that many people don't like BBC Three: this seems fine to me, young people should be objectionable to their elders.
At 6.6p per viewer hour, BBC three is good value for money.
BBC Four
If the BBC Four budget was boosted by cutting back of BBC Two, then finding a small budget increase to boost the hour-long documentaries on this channel would see a suitable use of savings.
At 6.8p per viewer hour, BBC four is also good value for money.
Cbeebies/CBBC
At only 2.7p per viewer-hour
Cbeebies
is very cost effective. The
CBBC
channel is quite expensive at 11.1p, but the value of an advertising-free service for school-age children cannot be underestimated.
BBC News
The news channel is at the core of what the BBC does. Costing 5.1p per viewer-hour, it is also exceptionally good value for money.
BBC Parliament
This under watched channel costs 7.2p per viewer hour. The channel was taken on by the BBC when the old non-BBC version hit the buffers. The arguments about democracy aside, it is hard to see how this channel can be kept but BBC three closed.
BBC Radios 1, 2, 6 Music
Given that these stations cost between 0.5p (Radio 2) and 1p (Radios 1, 6) per listener hour, it is hard to see how they are not exceptionally good value for money.
BBC 1Xtra, 4Extra, Asian Network
1Xtra radio
station
costs 2.7p per listener hour: but serves an important demographic. 4Extra comes in at 0.8p per listener hour; an effective use of the speech archive not provided though a commercial service. The Asian
network
is more expensive per listener hour.
BBC Radio 4
The speech radio service is good value at 1.4p per listener hour. However, the drama output ("The Archers", "15 Minute Drama", "Afternoon Drama" and "Classic serial") is of a poor
standard
and lack distinctiveness: and costs a lot of money: 40 times what 1Xtra takes.
BBC Radio 3
This service should clearly be closed: It is horrendously expensive at 5.6p per listener hour and does little for British culture. The current listeners have a long-running commercial station to move to, or if their tastes are more sophisticated there are many online services. The £54.3 million (plus £29.2 for the BBC's Orchestras) would be much better spent on boosting the BBC Four TV service.
Some Radio 3 speech programmes ("The Essay") could find a natural home in the slots vacated on Radio 4 for drama.
BBC Radio 5 Live
This is a distinctive national service that costs just 2.4p per listener hour.
An argument could be made to move the station back to being a more news, less sport network as the commercial
TalkSport
service could serve these listeners.
However, sports fans pay the licence fee and sport is part of British culture.
BBC Local and regional radio
If the regional news services are removed from BBC One, then a boost to the local radio services would seem a good use for some of the money saved. In particular the services being added to
Freeview
and satellite for better access and be better online.
However the services outside England need to reduce their costs to match the 3.4p per listener hour. These range from Ulster (5.4p), Wales (6.2p), Scotland (6.5p), Gaelic (15.6p) to Welsh (19.0p).