BBC three to be taken online and replaced on Freeview and satellite with BBC 1+1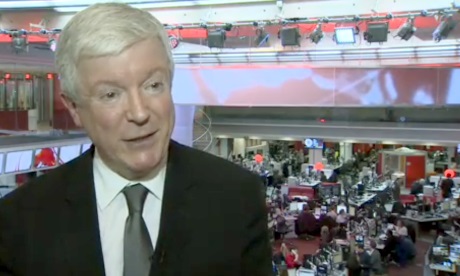 Here's Tony Hall's speech:

"Since I came back to the BBC I hope I've made two things clear.

"First that the BBC is living with a licence fee that for five years will have been flat - it will not have gone up at all. And, at the same time, we are absorbing extra costs that we were asked to take on - for the World Service, S4C and the roll-out of broadband. That's why the organisation has had to look for savings - so that we, like everyone else in these difficult economic times, can live within our means. My concern - along with that of everybody I meet inside and outside the BBC - is to ensure that the quality of what we do is not compromised along the way. We are here to produce exceptional and distinctive programmes and services for Britain and the world. But I do believe, as I said only last week, that the BBC has taken incremental change as far as it can. Something has to give. And that means hard choices. But there is one choice I will never make - and that's to sacrifice quality. And I believe that's what the British public thinks too.

"The second point I've made is that the BBC is, by its nature and history, an organisation that constantly reinvents itself, an organisation that takes the idea of public service broadcasting - to inform, educate and entertain - and makes it relevant for each generation in our nearly one hundred year history. I remember myself the launch of BBC News Online when I was running BBC News. There was a great deal of scepticism to put it mildly. But we were doing what the BBC and its staff have always done - using our innate creativity to lead the way. That's why now - for this generation - I believe the iPlayer is a key part of the future for public service broadcasting. It's the gateway for people who increasingly want to watch and listen to what they want, when they want it - on tablets, on mobiles as well as other screens. I am sure that this is going to be increasingly important for our younger audiences. And reaching those audiences is vital for the BBC.

"Reconciling these two aims - financial and strategic - has led us to this difficult conclusion. We should close BBC Three as a broadcast or linear channel and ask Danny and his team to reinvent it as a channel online and on the iPlayer. We propose making this change in the autumn of next year. I believe it's the right thing to do: young audiences – the BBC Three audience – are the most mobile and ready to move to an online world. 25% of viewing by 16-24 year olds is to catch-up or other screens and over the next few years we expect that to reach 40%. We recognise that, for now, most of this audience still do their viewing on television, and that is why we plan to show BBC Three's long-form content on either BBC One or BBC Two.

"I'm convinced that the BBC as a creative organisation will be able to reinvent a space for young people on the iPlayer that will be bold, innovative and distinctive. It will not just be a TV channel distributed online - it will be an opportunity to look at new forms, formats, different durations, and more individualised and interactive content. It will play to BBC Three's strengths, offer something distinctive and new, and enhance the BBC's reputation with young audiences. And I will challenge everyone in the BBC to spend much more time focusing on programming for young audiences. We will lead the way.

"Let me just say to Zai and the BBC Three team: you produce, and will continue to produce, amazing programmes – bringing new ideas, new stories and new talent to our screens. BBC Three has an extraordinary track record – it's been home to Gavin & Stacey, Little Britain, Bad Education and, right now, Bluestone 42. I've also been seriously impressed by the current affairs I've seen – from Blood, Sweat and T-Shirts and Our War, to Reggie Yates's outstanding reports from South Africa, ending just this week. You can be rightly proud of what you have achieved so far. I want you to carry on making programmes for young audiences that continue to break new ground.

"This is the first time in the BBC's history that we are proposing to close a television channel. I can't rule out it being the last change to our programmes or services. It will save the BBC over £50 million a year. £30 million of that will go into drama on BBC One. And it also means we will extend Children's programmes by an hour a night and provide a BBC One +1 channel. I must stress - all of this is what we are proposing to the BBC Trust. They will have the final say.

"I am certain that this decision is strategically right - but it's also financially necessary too. Delivering the savings programme following the last licence fee negotiation means these changes are happening earlier than they might in a better financial environment. And I don't simply want to keep salami slicing the budgets in a way that means our frontline staff are always asked to keep doing more with less. I am sure that we will have to face up to further difficult challenges as we build the BBC for the future. But in making those changes, I am determined to ensure we embrace the new opportunities technology gives us - and match that with programming of the highest quality that is simply the best in the world."

Danny Cohen, Director of BBC Television, said:

"This is the biggest strategic decision the BBC has made in over a decade. While it has been an extremely difficult decision borne out of financial necessity, I believe it is also a creatively energising and innovative move. In autumn 2015 we plan to close BBC Three as a linear TV Channel and in its place we will develop a bold, ambitious, future-facing new version of BBC Three online. I think this can be transformational for both the BBC's relationship with young audiences and the BBC's approach to the digital age overall. When we take BBC Three online we need to see it as a brand new Service launch. It is an opportunity for both radical thinking and unprecedented collaboration both inside the BBC and with our audiences and creative partners outside the corporation.

"The new version of BBC Three online will continue to have the things we all cherish most about the Service – innovative comedy, unrivalled Current Affairs for young people, incisive and entertaining factual, and original entertainment. I want and expect us to keep making shows for young audiences of the quality of 'Our War' and the public service value of BBC Three's recent season on young people and mental health. BBC Three will continue to build on the comic brilliance of 'Little Britain', 'Gavin and Stacey' and 'Bad Education', of the entertainment value of 'Russell Howard's Good News' and 'Backchat'. And BBC Three will continue to commission Current Affairs of the pedigree of recent documentaries on Afghanistan, the Congo, India, South Africa and of course the tough challenges faced by young people here in the UK. What is changing is the way we deliver these programmes to our audiences.

"BBC Three will continue to do all the things we love but it will also have the freedom to break traditional shackles and allow the BBC to be a leader in digital change. It will not just be a TV Channel distributed online. There is a wonderful creative opportunity here to develop new formats with new programme lengths – and to reach young audiences in an ever growing number of ways. Will we still want to make all of our Current Affairs' documentaries at 60 minutes in the age of Vice and youtube? Will we find that contemporary documentary and formats work much better at 40 or 45 minutes than 58? What will we learn about the length we want to make each episode of our dramas or comedies, perhaps learning from new market players like Netflix and Amazon? Although I'm sure that video – televisual – content will be at the core of the new BBC Three, we'll need to challenge ourselves to think and create differently. In this sense, BBC Three will be the spearhead for a new age of digital change for the BBC. It will be the pathfinder as we learn how audience behaviour is changing in the coming years – and it will allow the BBC to be ready for the next waves of disruptive digital disruption.

"We will also make sure that every piece of long-form BBC Three content finds a home on one of our linear television channels. We do not want our content for young audiences to be available only to those with a broadband connection – and we don't want anyone to miss out on the great new programmes we will be producing. So every long-form programme will be transmitted on either BBC One or BBC2, with most playing at 10.35pm or a little later. Playing them on BBC One will massively increase the reach of these programmes for young audiences and guarantee that we do not risk creating a 'haves and have nots', a digital divide when it comes to enjoying what we are making for the public. It will also make BBC Three an even more exciting place to be for on-screen talent. Their shows will be shown on BBC Three's new home on iplayer but they will also know that their work will get a showing on either the Nation's biggest television channel, BBC One or the hugely popular BBC2.


Comments
Friday, 7 March 2014

Briantist: No problem!, my only reason for drawing your attention to it being because I am fully aware that you constantly strive to keep everything on your site just so-so.

jb38's 7,179 posts
R
Richard E
6:31 PM
Halstead

The BBC should be trying to save money ,& not waste it on a 1+1 channel , they are financed from a TV tax ,& are a public service broadcaster . If people are desperate to to watch a programme ,then apart from normal recording means & iplayer, they can watch various repeats of those programmes ,through the week ,month or year ,or buy the DVD . Commercial broadcaster ,as the name implies ,have +1 channels ,but if the BBC do this ,then the rest of the tv output should be on subscription ,& the licence abolished .

Richard E's 42 posts

Richard E: But... +1 channels are very cost effective, especially when you run it during peak. It will cost the BBC nothing in terms of rights, and will utilize bandwidth they already contracted to.

As the Patrick Barwise and Robert G. Picard February 2014 https://reutersinstitute.….pdf report points out, the cost per viewer-hour for BBC services is low: The BBC at £1.98 a week, other PSBs at £2.06 a week and non-PSB services at £7.65 a week.

This makes the cost-per-viewer hour 8p for ITV/C4/C5/S4C (including all their channels) and 9.2 for the BBC. Non-PSB is 24.9p per viewer hour.




It's probably worth remembering that the BBC runs programmes for 59 minutes per hour, the other channels run them for around 43 minutes per hour. The BBC is exceptionally good value for money.

Briantist's 38,844 posts

Bill Kocher: It's rather ironic then, that the BBC licence fee has been raided - to the tune of three hundred million pounds - to pay for "rural broadband". BBC News - BBC Licence fee 'to fund superfast broadband' roll-out

I had Virgin Broadband which is fibre to the cab and then coax. Did 100Mbps without fail.

Briantist's 38,844 posts

Rural broadband is poor, as has been pointed out earlier. I am 4.7 km by wire from our local exchange that only has 20CN equipment and we generally get 2.5 Mbps, sometimes less and rarely more. Evenings, when many want to watch TV programmes is far worse due to contention and traffic volume issues - stuttering is the order of the day. So I try to use my Sky+HD box connected by Ethernet to the router and let that download programmes before viewing them. It's a pain to have to wait, sometimes for longer than the programme pasts because of the slow broadband - but at least it is better than the old 56kbps dial-up!
But the urban-based policy makers clearly fail to realise that rural broadband will never be as fast as urban broadband can be and the 'headline' speeds are rarely attainable - which is why Ofcom and ASA are in discussion with providers about misleading advertising. If BDUK completes (big if it seems) then rural broadband will have barely improved in many areas due to distances involved. And the project is not due to be completed until around 2019 at the earliest and may be running rather later than that! I'll not hold my breath!

MikeP's 3,056 posts

MikeP: When they start rolling it out - and O2 are committed to 99% coverage - 4G broadband on the old TV frequencies will be a good move for many rural locations.

The 4G towers can provide high bitrates to large areas of low-density users.

Once there is fibre to the locality, then there isn't an limit to the speed of broadband in rural areas.

The limits of ADSL are well know and effect urban people as much as rural ones: the distance from the telephone exchange is the main variable.

Briantist's 38,844 posts
Saturday, 8 March 2014
R
Richard E
1:05 AM
Halstead

Ok , but a lot of those programmes are not even BBC productions , they are commissioned from Independents or ITV /STV ,who could make them & show them on their own channels or Chan 4 ,5 or Sky .I don`t think the license fee will be here in 10 years time , other means must be found like pay per view etc.

Richard E's 42 posts

I find that the BBC's decision to help live within its £3.5b annual budget very commendable and at last the organisation is waking-up to the real world as the TV Licensing 'Tax' has allowed the BBC to be insulated for too long.

As a PSB the BBC has an obligation to provide the listener/viewer right across the nation with a range and a quality of services so these are brave decisions by Tony Hall to help the corporation in its 'fight' to retain the current way of funding the BBC when charter renewal comes up in 2017.

There are now more than 100 backbench MPs from all the major political parties supporting a change in the law which would make non-payment of the annual £145.50 charge a matter for the civil courts, rather than a criminal offence. This needs to happen as I have come across elderly people who are over 75 yet are being chased by TV Licensing and threatened with £1000 fines. It is this kind of action that once more brings the BBC into disrepute with license fee payers and makes many of us wonder whether the whole financing of the BBC needs to be done in an entirely different way if we are to retain at least some of the BBC's TV channels and all of their radio services.

J Peter Wilson's 30 posts

The problem here is that the license fee is just not fit for purpose. The Government cannot put it up in times of austerity. Non payment already takes up 10% of magistrate court time sending 70 people a year to prision for non payment of fines. Together with the fact that the BBC is notorious for waisting money. The license fee has also become a tax as it pays for the World Service and broadband. The BBC already shows alot of adverts mainly for its own programs and the dreadfull DAB system. The BBC is no longer a public service as it is concentrates too much on viewing figures and not enough on quality programmes. It should be sold off and be funded by a combination of advertizing and subscription. This would also have the benefit of freeing the BBC news from government control.

trevorjharris's 367 posts

trevorjharris: Financing via subscription isn't perfect either. Take Sky, a card with a Sky Sports subscription can't be used with a box in another room or taken on holiday with the subscriber. This can result in paying several times over for the same thing or a lot of inconvenience swapping boxes around. Regarding the subsidising of broadband roll-out, the government could, if approved in parliament, hi-jack part of a Sky subscription or impose a levy on commercial TV companies in order to finance the scheme.

KMJ,Derby's 1,811 posts
Select more comments
Your comment please