The end is near for analogue radio... Part 4, the local radio to do list

Brian Butterworth published on UK Free TV
As we saw from part one, radio started out as a regional services. From this national networks were added. Then from 1969 onwards, local radio was added.

However, running a network of local radio stations, all with their own output, staff, presenter and news has always stretched the budget of individual stations a little bit thin.

This is as true for BBC stations, which share a small proportion, 4.6% of the TV Licence (£114.7m on content, £9.9m on distribution, £27.9 on infrastructure, making £152.5m), as it is for local commercial stations that fund themselves from adverts.



DAB local radio
Almost all of the country does now have a local radio
DAB
service - see
List of all DAB multiplexes
, but there are still some on the "to do very soon" list.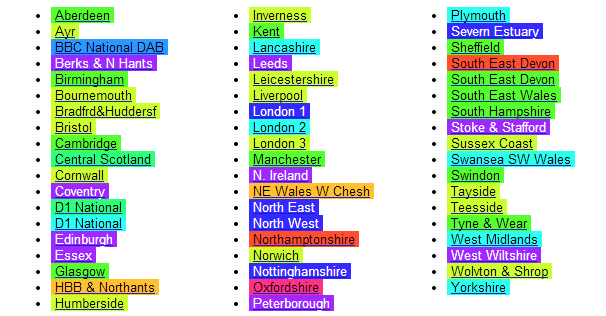 The "missing" services cover 5,583,000 people, which is about 9% of the UK population.
These are:
Cumbria
- 408,000 people
Derbyshire
- 652,000 people, Now
Digital
(East Midlands) Limited
Gloucestershire
- 498,000 people, MuxCo (Gioucestershire) Limited
Hereford and Worcester
- 501,000 people, MuxCo (South Midlands) Limited
Lincolnshire
- 550,000 people, MuxCo Lincolnshire Limited
Mid and West Wales
377,000 people, MuxCo
Wales
Limited
North Yorkshire
- 531,000 people, MuxCo North Yorkshire Limited
Somerset
- 444,000 people, MuxCo Somerset Limited
Suffolk
- 541,000 people
Surrey
about 1.085 million people, MuxCo Surrey and North Sussex Limited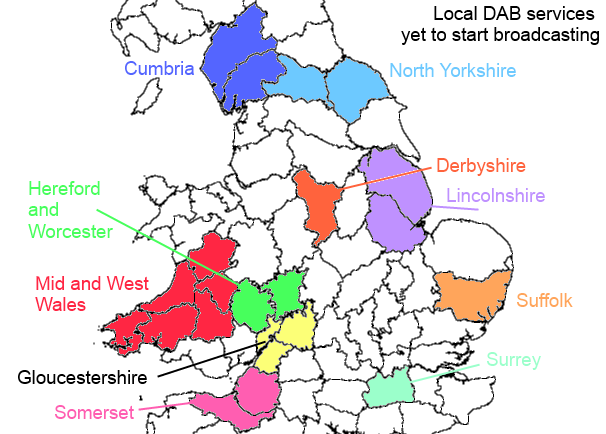 Why can't we have local radio on Freeview?
The
Freeview
service is provided on six
Multiplexes
. Like the DAB multiplexes, these services provide a large number of
channels
together on a single broadcast.
The three "commercial" multiplexes operate a UK wide service, and are therefore unsuitable for local radio. One of the "public service" multiplexes is for high definition TV services only.
This leaves the BBC and Digital 3+4 multiplexes. However, even though these services are "regional", they each cover many "local radio" areas. It would therefore be impracticable to add so many local stations to either
multiplex
.
However,
Local television on Freeview
is coming. These services are designed to provide a
local TV
service to specific local areas. It may be possible for each of these multiplexes to have local radio added to them.
Why can't we have BBC local radio on Freesat or Sky?
The additional cost for the BBC to add the 39 local radio stations not on digital
satellite
(BC
London
94.9 is already there) to the
four DVB-S mode transponders
would probably be marginal.
However, the BBC does have to currently pay
Sky
a large fee to add channels to the Sky EPG, so this would be perhaps unreasonably expensive (see
Government to stop Sky charging public service broadcasters for "retransmission"
).
And whist the BBC owns
Freesat
, it would probably not be worth the bother of up linking 39 radio streams if Sky viewers could not also benefit.
See also
BBC - Annual Report 2012/13 - Expenditure