Where can you see where Freeview local stations will be picked up? UK Free TV

Brian Butterworth published on UK Free TV
I am very happy to say that UK Free TV now has the ability to show the new local television multiplex.

The services will be provide by Comux and will provide a "Channel 8" service (45 in Wales and Scotland) in selected areas soon.

You will also get another couple of extra TV channels too.

The coverage maps look like this: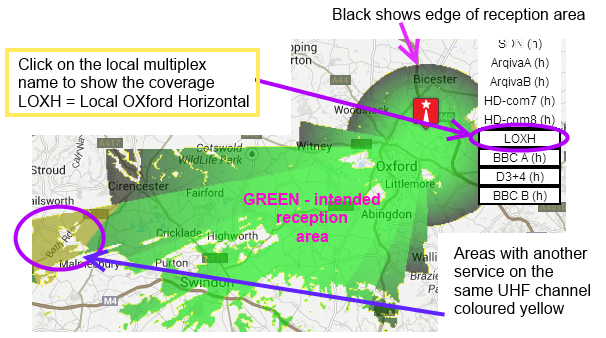 The maps can be seen from the relevant transmitter pages, such as Divis, Brierley Hill , Sutton Coldfield, Whitehawk Hill, Bristol Ilchester Crescent, Bristol Kings Weston, Mendip, Wenvoe, Craigkelly, Black Hill, Belmont, Beecroft Hill, Emley Moor, Storeton , Crystal Palace, Winter Hill, Pontop Pike, Tacolneston, Nottingham, Waltham, Oxford, Sheffield and Rowridge.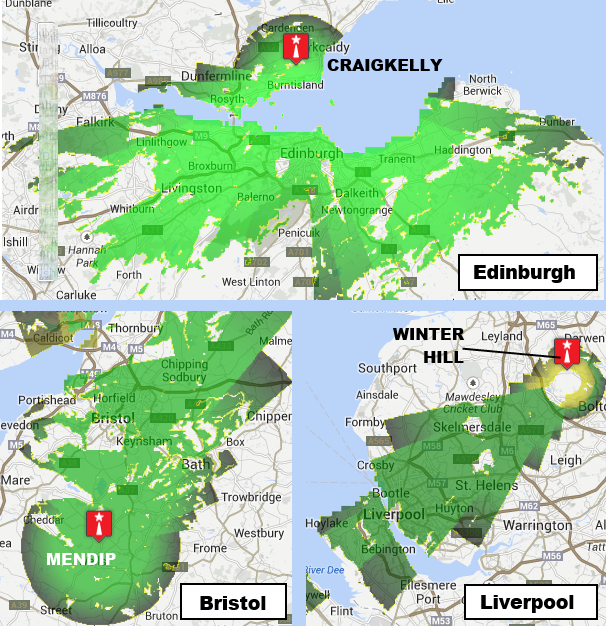 Comments
Monday, 5 August 2013

Here's a "combined" service area for Nottingham.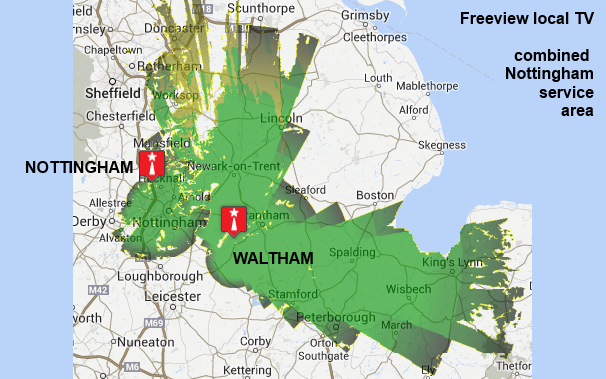 Briantist's 38,844 posts

Ian: I'm not sure what you don't understand.

This isn't a "national service". It's not for everyone.

It is designed to cover cities, not counties.

The BBC cover the West Midlands with one service. That's Nottingham, Derby, Leicester and all their shires.

This local TV service is for the city of Nottingham.

The other services are, for example for the city of Belfast - not "Northern Ireland", the city of Birmingham - not "The West Midlands", the City of Brighton and Hove not "East Sussex", the City of Bristol, not "the West of England", the City of Cardiff not "South Wales", the city of Edinburgh, the City of Glasgow, the town of Grimsby not the county of Lincolnshire, the city of Leeds, not West Yorkshire, the City of Liverpool, the city of Manchester, the City of Norwich - not Norfolk, the city of Oxford, not Oxfordshire, ditto Preston, Sheffield and Southampton.


Briantist's 38,844 posts

Ian: "There must be a lot of highly populated areas that are going to get nothing then"

That's true, it's not a "national service" as I said.

But, even looking at List of urban areas in the United Kingdom - Wikipedia, the free encyclopedia there doesn't seem to me many places without.

Leicester is a notable one, but there wasn't an "interleaved frequency" that could be allocated.

Briantist's 38,844 posts
C
Charles Stuart
10:54 PM
Bristol

I like the combined Nottingham service area map. It's very informative. Could you please prepare similar maps for all the areas that will be served by two or more transmitters? If you could give each transmitter its own colour, where not an SFN, it should be really interesting.

Charles Stuart's 159 posts
Tuesday, 6 August 2013

Hello,

I am struggling to get Bay TV Liverpool, I have done both automatic and manual retunes but unfortunately still unable to get it. I work off a communal aerial system which seems to be working off Winter Hill as opposed to Storeton. We normally get a good strong signal on all channels.

Postcode CH41 5EP, we use a Sagem STB that also records.

Any suggestions would be appreciated.

Danny's 1 post

Danny: I thought I had made it clear that the services come on air over the next 12 months.

Bay TV is scheduled to start 26th June 2014.

Briantist's 38,844 posts

I just think its the same as freeview has always been, to much of a compromise. As long as most are OK sod the rest. Lets hope the wildlife on the fens enjoy the local service.

Ian's 497 posts

I wonder what the people of Kings Lynn will make of a "local" service from Nottingham!

Ian's 497 posts

Actually that Waltham pattern is a bit odd. I can't see any reason for the lobe pointing to the east, which I would generally assume would have to be another stack of panels from those pointing slightly north-west.

It has to be a new array rather than reusing one of the PSB or COM arrays, because they're at the top of the approximately 280 metre tall mast. The Local Multiplex document gives the antenna height above ground as only 151 metres. The low-power DTT panels were still installed between the new main antenna and new reserve when the last set of photos on MB21's Transmission Gallery were taken: mb21 - The Transmission Gallery

It's not in preparation for the 600 MHz band either: Ofcom's list of international clearances shows no significant limitations requested by Belgium or Holland, and Arqiva's reference offer says they're going to use the main antenna.

http://stakeholders.ofcom….pdf - sadly, no restriction plots given

http://www.arqiva.com/doc….pdf

Mike Dimmick's 2,486 posts
Wednesday, 7 August 2013

Mike Dimmick: I agree that Waltham looks odd.

Perhaps I should check with Ofcom?

The red line on the original Ofcom diagram indicates the "incoming" signals, and it doesn't show anything from outside the UK of note.

Briantist's 38,844 posts
Select more comments
Your comment please