Want more local news? ITV is going to provide it

Brian Butterworth published on UK Free TV
Last year, ITV plc put forward proposals to improve the locality of their regional news services - see ITV'S PROPOSALS FOR NATIONS AND REGIONS NEWS FOR A NEW CHANNEL 3 PSB LICENCE [pdf]. To do this, the length of these new regional programmes will be reduced.

Today, Ofcom has (see Ofcom - Ofcom sets out licence terms for ITV, STV, UTV and Channel 5) agreed to the proposals in principle, but has keep the obligation for a full half-hour of regional news for Granada, London.

The Border TV region, which straddles the England-Scotland border, has also been afforded special attention.


Two and half hours of regional news
When ITV implements the changes, the will be about 2 hours, 30 minutes of peak time regional news in each region. This will comprise of:
3 minutes weekday lunchtimes news (15 weekly minutes)
20 minutes weekday evening news (100 weekly minutes)
5 minutes weekday late news (25 weekly minutes)
5 minutes Saturday news
5 minutes Sunday news
There will also be 10 minutes daily of a super-regional programme, to make the 20 minute programme fit in the half-hour early evening slot. This will apply to the following areas:

Anglia East (Norwich) and Anglia
West
(
Cambridge
)
Calendar North (Leeds) and Calendar South (Hull)
Central West (Birmingham) and Central East (
Nottingham
)
Meridian South East (Maidstone) and Meridian South Coast and Thames Valley (Southampton). Note that Thames Valley gets 2 minutes per weekday opt-out.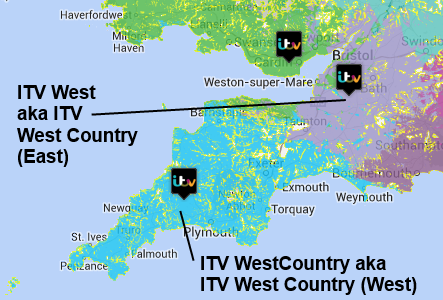 West Country
East (Bristol) and West Country West (Plymouth)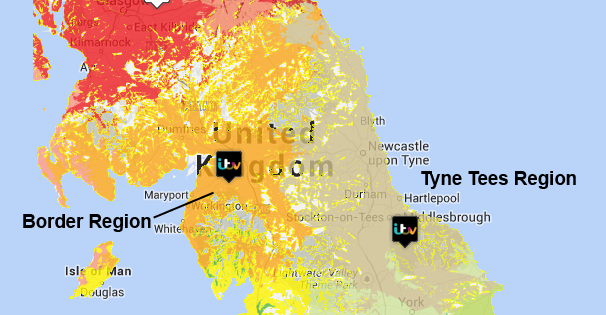 Tyne Tees
Region
Border area
The
Border Scotland
area will get 90 min a week of "non-news regional programming (including current affairs) a week, in or near peak-time, also with a particular focus on Scottish issues ", which may be shared with STV.
Three and a third hours of regional news
A few areas will keep the existing provision of half an hour of news during the weekday evening, getting:
3 minutes weekday lunchtimes news (15 weekly minutes)
30 minutes weekday evening news (150 weekly minutes)
5 minutes weekday late news (25 weekly minutes)
5 minutes Saturday news
5 minutes Sunday news
Granada (from Manchester)

London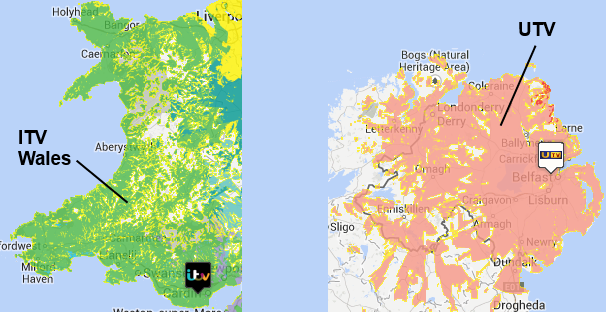 Wales
Provisions for Scotland
No changes are made for Scotland: the existing system of separate news programmes for the North (Grampian) and South (STV) licences, each with 5 minute daily opt-outs for the Glasgow/
Edinburgh
split and the Aberdeen/
Dundee
split will remain.
Comments
Tuesday, 23 July 2013

So i take it that Ridge Hill wil still transmit
ITV West Mids,omni-directionally,and The new
West Country east ITV service,directionally?

Aerialman's 139 posts

Aerialman: yes. With the proviso that the radiation pattern is a state secret...

Briantist's 38,844 posts

Briantist: ofcourse!!!

Aerialman's 139 posts

So what they really mean is that the REGIONAL news output is reverting back to the way is was before Mr. Grade scrapped it a couple of years back.

Radio Geordie's 6 posts

Radio Geordie: Not really.

The ITV WestCountry licence area (now WestCountry West) had three sub-regions (Cornwall, Devon and Somerset).

The Anglia region used to have three sub-regions (approx Norfolk, Suffolk and Cambridgeshire).

Meridian was three services (South Coast, South East and "Hannington").

Central South was a sub-region- this was merged into Meridian Hannington to create "ITV Thames Valley".

YTV was split into a three, not two. The Yorkshire part had a Sheffield opt-out.

TTTV was split into two for news, a Tyneside and a Teesside service.


Briantist's 38,844 posts
Wednesday, 24 July 2013

The Calendar North and South areas on the map look like they should be called Calendar West and East.

Also, if I was to split up STV more equally considering how close Glasgow, Edinburgh and Dundee are together compared to Aberdeen, I'd perhaps have an STV Inverness (to also serve the Highlands, Orkney and Shetland Is and other northern Scottish islands), STV Aberdeen, STV Dundee and STV Glasgow (to also service Edinburgh) services. Maybe at a later date more local services could be added like an STV Fort William. (SJ294530)

Stuart Owens's 156 posts

Stuart Owens: In the ITV document, they called the YTV regions "North and South".

As for STV, most of the population of Scotland lives in what is called the "central belt", with the highlands and islands being very unpopulated.

List of towns and cities in Scotland by population - Wikipedia, the free encyclopedia this quite well.



Briantist's 38,844 posts
Saturday, 27 July 2013

I live in Corby, Northants, and we have to switch continually between Midlands and East to get any news. None of the newly proposed areas include Corby. Missed out again. Thanks for nothing ( literally ) ITV !!!!

Mike's 10 posts

Mike: Look to me - see ITV, UTV and STV regions - overview map | ukfree.tv - 11 years of independent, free digital TV advice - like you're coverd by Anglia (West) and will benefit from that region getting a much better local news service.

Briantist's 38,844 posts

itv propsals make sense but how before our poll tax broadcaster copies these and wastes more tax payers money

david's 66 posts
Select more comments
Your comment please