Expecting 4G interference? Tests now show that you have a one in 300 chance

Brian Butterworth published on UK Free TV
Looking back the the original posting, Ofcom moves to protect Freeview interference from 4G mobile, we can see the Ofcom suggested that:

Of the 16.3 million UK homes with a standard (unamplified, unshared) Freeview reception, 110,000 (0.67%) would be effected.

Of the 5.2 million homes using communal aerials systems, 550,000 (10.6%) will have problems.

Of the 5.6 million homes using amplified Freeview reception, 100,000 (1.8%) will experience problems.

Today, at800 have published the results of the tests in London, Brighton and Hove and York - at800 updates estimate of likely impact of 4G at 800 MHz on Freeview:

"Following tests conducted across the country, at800, the organisation responsible for protecting Freeview when 4G at 800 MHz is rolled out across the UK, has provided a new estimate of the likely scale of the impact. If national rollout reflects the results seen during its tests, at800 expects no more than 90,000 households, with Freeview as their primary TV service, to experience disruption caused by 4G at 800 MHz. Whatever the level of disruption, at800 is ready to restore Freeview to viewers.





at800 has now sent postcards to households in London and the surrounding areas in preparation for the activation of 4G at 800 MHz masts over the coming weeks and months. at800 is also sending postcards to other areas of the UK ahead of masts switching on. at800's mailing does not mean that 4G services will be available to consumers. For information about the availability of 4G services, people should contact their mobile operators.

In London, in particular, Freeview received from the Crystal Palace transmitter is unlikely to be affected by mast activation because of the strong terrestrial television signal and its relatively large frequency separation from 4G at 800 MHz. However, at800 is sending postcards and running a publicity campaign to ensure anyone who does experience new disruption to their Freeview service knows how to get in touch."

So with 26.50 million TV households in the UK (see Monthly universe summary - BARB) 90,000 represents 0.340% of them - that's a ONE IN THREE HUNDRED chance.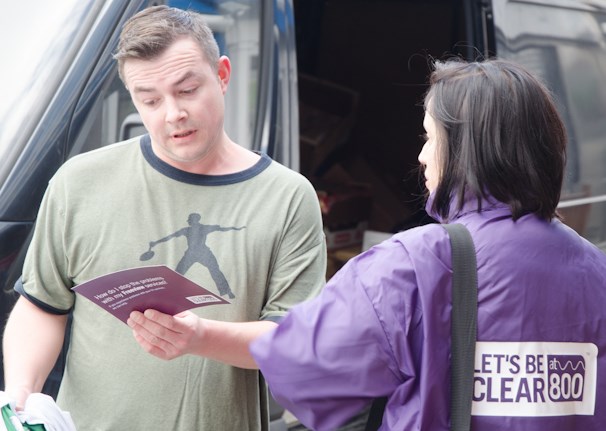 It seems that you are most likely to need a filter if:

a) you are a long way from a high power Freeview transmitter; and

b) you are very close to a 4G mobile phone mast; and

c) you are using a booster.

That's good news for Freeview viewers.



If you have had a postcode from at800 - see Received a postcard from at800?
Comments
Saturday, 2 November 2013

Michelle gass: Two things - check that your aerial and cables are working properly.

Check your signal levels - if your using your local transmitter, its only a km away - it could be the signal is way too strong.

MikeB's 2,579 posts
Tuesday, 5 November 2013
K
Ken Campbell
2:32 PM
Swansea

Hi there, we have experienced picture break up, freezing and 'poor or no signal' messages from time to time. I am not sure if this is because of 4g at88 or problems with the transmitter, we have not been notified of the presence of a 4G mast.. We receive our signal from the Kilvey Hill transmitter - at SA18NH (Swansea). Our aerial is fairly new (4 years) and is high gain type with a booster. Any ideas please?


Ken Campbell's 7 posts

Ken Campbell: your 1km from your transmitter! Although the checker reckons your reception should be dodgy, I suspect you could get a signal with a bit of wet string.
If you can, check your signal strength , and ditch yyour booster(why did anyone think you'd need that?) if poss. If you search this site, type in 'too much of a good thing' and it will tell you all about it.

MikeB's 2,579 posts

Ken Campbell: Did you actually pay someone to install a high gain aerial and booster? Have you had these problems before you even heard of 4G?

Michael's 358 posts
K
Ken Campbell
10:41 PM
Swansea

Michael: Hi Michael, Yes to both. We are located in a small hollow and therefore signal not very strong.

Ken Campbell's 7 posts
K
Ken Campbell
10:50 PM
Swansea

MikeB: We tried putting the Aerial in the attic at first - terrible signal. The installer did some tests and concluded that Hi gain with booster is necessary for our location. Will search site as you suggest.

Ken Campbell's 7 posts

Ken Campbell: Have you actually checked the strength of your signal? Even though you are in a hollow, you are sooo close to the transmitter that an over strong signal might look like too weak a signal, at least at first sight.

If you want to test this, just take out the aerial lead from the wall, and leave it trailing from the back of the TV - it will act as a sort of mini aerial. Be interested to see the results.

MikeB's 2,579 posts
K
Ken Campbell
11:07 PM
Swansea

MikeB: Did as you suggested - trailing aerial lead results in No Signal.

Ken Campbell's 7 posts
Wednesday, 6 November 2013

Ken Campbell: OK - could you say what your signal strength is with and without booster?

MikeB's 2,579 posts
K
Ken Campbell
1:55 PM
Swansea

Mike B: Without booster - no signal! With booster signal strength is: Quality 100% - (ITV1): Strength: bar reading shows approx 75%. I need to make correction on type of Aerial - it is not high gain - just normal single bar with 4/5 pair antenna.

Ken Campbell's 7 posts
Select more comments
Your comment please