Want to better understand the current TV faults? See the all new UK Free TV page

Brian Butterworth published on UK Free TV
See: All transmitters with faults and engineering

Following from your suggestions, I have made changes to the icons used to show which Freeview transmitters have fault or engineering status associated with them.

Previously, you had to look quite hard to see which transmitters had current faults, and which had faults listed for the last few days.

The new format for the page looks like this.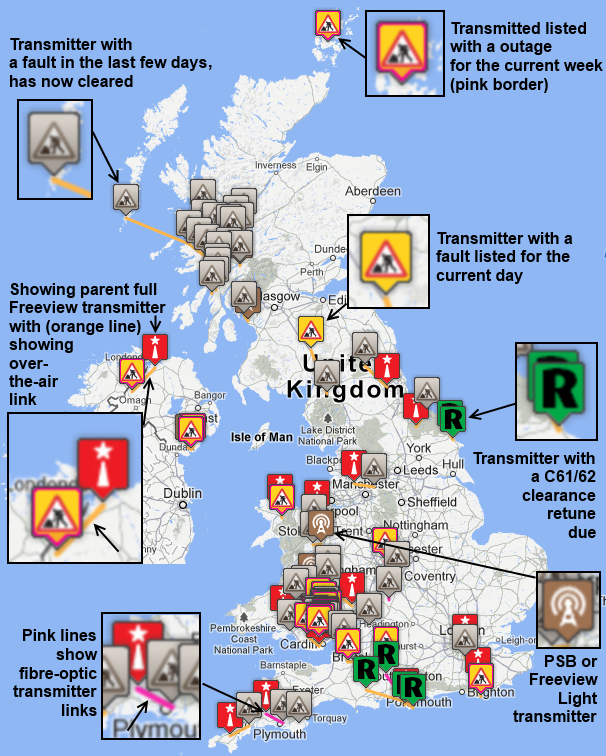 Only the sites with "live" faults are shown with the yellow symbol (those with Digital UK's "this week" status, a pink border).

I hope the above listed changes will help you to understand where the current faults and system outages are.

The new symbols carry though to other pages that shows transmitter symbols.
Comments
Sunday, 22 August 2021

bernadette bolger:

There could be a multitude of reasons why you might have (had?) problems receiving ITV. Are you still having the issue?
Reasons could be a transmitter fault (possibly fixed), weather conditions causing interference from other transmitters, some locations in your area can receive more than one transmitter, reception from some can be very variable and you may not be tuned to the best or have become tuned to the wrong one, or possibly some obscure fault with your installation.

If you are still having problems, we need a full postcode to look at the predicted reception in your locale and which transmitter(s) and multiplexes you might receive. Also roughly which way your aerial is pointing eg. NW, ENE, WSW, etc. and whether the aerial rods (or squashed Xs) are vertical or horizontal?

Chris.SE's 2,452 posts
Select more comments
Your comment please