Want to better understand the current TV faults? See the all new UK Free TV page

Brian Butterworth published on UK Free TV
See: All transmitters with faults and engineering

Following from your suggestions, I have made changes to the icons used to show which Freeview transmitters have fault or engineering status associated with them.

Previously, you had to look quite hard to see which transmitters had current faults, and which had faults listed for the last few days.

The new format for the page looks like this.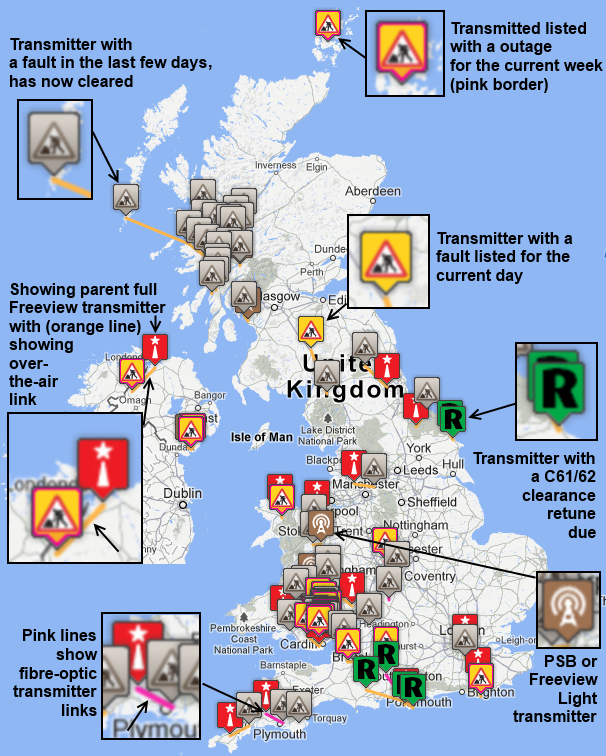 Only the sites with "live" faults are shown with the yellow symbol (those with Digital UK's "this week" status, a pink border).

I hope the above listed changes will help you to understand where the current faults and system outages are.

The new symbols carry though to other pages that shows transmitter symbols.
Comments
Sunday, 22 January 2017

Bob Loader: See 'too much of a good thing' on this site - although 35km is a slightly long way to be able to see the transmitter, thats fairly close, and its possible your system is just getting overloaded - strength should be 75%, not 100 - thats just shouting at the tuner and deafening it.

MikeB's 2,579 posts
Monday, 23 January 2017

MikeB: Thanks Mike for your comments. I am allowed to make small mistakes, I should have said Channel 43 that carries & affects the BBC programmes!! Almost all the other programmes, ITV, Channels 4 & 5 etc. all show 10 signal level but the "condition" is also around 10, making them perfect. It so happens that my neighbours around here are also having BBC reception problems.

Bob Loader's 41 posts

Bob Loader: Did you read the article? 10/10 is far too high - yes, it might be just about OK most of the time, but when the signal level pushes just beyond the limit, thats when you get breakup. If you have a booster, remove it, and some attenuators might be a good idea.

I suspect your neighbours have much the same problem.

MikeB's 2,579 posts
Wednesday, 19 April 2017

Having a very odd issue with freebies. Can not get any BBC channels i.e BBC 1 BBC 2 or Dave etc. Other channels are fine up untill about 9pm when they either become very distorted or have no signal at all. Have tried a retune on several occasions no luck. Any ideas folks?

Dominic's 1 post

Dominic: See Steves reply to David Chambers Mendlesham (Suffolk, England) DAB transmitter - sounds like much the same problem.

MikeB's 2,579 posts
Thursday, 20 April 2017

I have a Panasonic tv with built in Freeview. When it was first installed I received all channels, but over the past year or so I now do not receive some channels. With a ' no signal message' . I seemed to cure this by connecting a SLX signal booster. Unfortunately, last week the booster stopped working. I tried retuning and now as as well as a no signal message I now get a 'Bad signal message', but again it is only some channels. Can you suggest a solution to the problem?
Thank you
Robert

Robert Slorach's 1 post

Robert Slorach: Retuning was a bad idea as you've now likely deleted the channels which were tuned correctly. If you booster has failed it will block any signal getting through. To offer any meaningful advice we need a postcode to allow us to see which transmitter you're using and where you are in relation to it, along with predicted signal strength etc. Also, is the aerial on the roof or in the loft? Have you checked for loose/damaged cables and connections in places you can safely access?

StevensOnln1's 3,510 posts
Wednesday, 1 November 2017

No signal or pixel led picture on all itv channels and channel 5 been going on for 2 days now ! I live in Bovingdon Hemel Hempstead! What is going on ??? When will it be resumed to normal pictures?????im not happy!!!

Ashley Fensome's 1 post

Ashley Fensome : There is currently high atmospheric pressure affecting various parts of the country since last night, causing lift conditions which allow signals from distant transmitters which cannot normally be received to interfere with the signals from the transmitter you normally use. Do not attempt to retune as this will delete all of your channels which are already correctly tuned. As this is an entirely natural phenomenon, all you can do is wait for the atmospheric conditions to return to normal. I would suggest that you also check for loose or damaged cables or connections behind your TV if the problem began before yesterday evening.

StevensOnln1's 3,510 posts
Wednesday, 24 January 2018

Please can you tell me when the Slapton transmitter might be fixed no signal all day, .

Tania's 1 post
Select more comments
Your comment please