10th April 2013 retune for Winter Hill, Keighley transmitters and relays

Brian Butterworth published on UK Free TV
From 6am on 10th April 2013, several multiplexes will change their transmission frequencies.

Notably the main transmitters will make changes. This includes the WINTER HILL transmitter, where the BBCA multiplex (including 1 BBC One North West, 2 BBC Two England, 7 BBC Three, 9 BBC Four, 70 CBBC Channel,71 CBeebies, 80 BBC News, 81 BBC Parliament, ) will move from C62- to C50 and the ArqivaA multiplex (11 PICK TV, 12 Dave, 17 Really, 29 E4+1, 32 Movie Mix, 46 Challenge, 48 Food Network, 62 TV Stars, 82 Sky News, 87 Community Channel,) will move from C61- to C49.

On the KEIGHLEY, BBCA will move from C61 to C49.

See below for a full list of transmission masts that will make changes.

When you now rescan, you MUST do a "first time installation" or "factory reset" scan, not an "add channels". Do the procedure you did on September 30th 2009. If you can't recall what this was, please see List of manuals for Freeview retune, or try the generic clear and rescan procedure.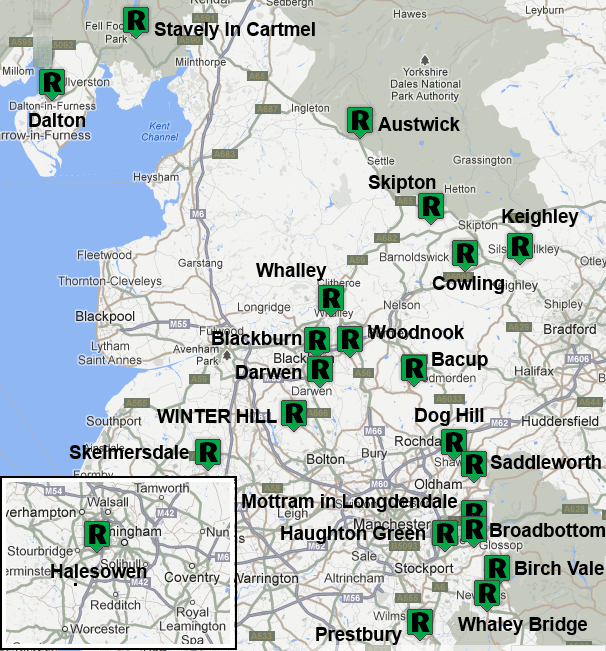 Please note that the relay transmitters will take some time (between 11am and 4pm) to come back to full service:

Austwick: PSB2 C49 to C39
Bacup: PSB3 C50 to C40
Birch Vale: PSB3 C50 to C40
Blackburn: PSB3 C50 to C40
Broadbottom: PSB3 C49 to C39
Cowling: PSB3 C49 to C39
Dalton: PSB3 C50 to C40
Darwen: PSB2 C49 to C39+
Dog Hill: PSB3 C50 to C40
Halesowen: PSB2 C61 to C49
Haughton Green: PSB3 C50 to C40
KEIGHLEY: COM6 C60 to C60- PSB1 C61 to C49
Mottram in Longdendale: PSB3 C50 to C40
Prestbury: PSB3 C50 to C40
Saddleworth: PSB2 C49+ to C39+
Skelmersdale: PSB1 C51 to C46 PSB2 C48 to C43 PSB3 C52 to C40
Skipton: PSB1 C49 to C39+
Stavely In Cartmel: PSB3 C50 to C40
Whaley Bridge: PSB2 C49 to C39
Whalley: PSB3 C50 to C40
WINTER HILL: COM5 C61- to C49 PSB1 C62- to C50
Woodnook: PSB2 C49 to C39

The changes at WINTER HILL will cause the following relays to have no PSB1 service for some time:

Backbarrow, Barrow Town Hall, Bidston, Bollington, Brinscall, Brook Bottom, Burbage, Buxton, Cartmel, Chaigley, Chatburn, Chinley, Congleton, Delph, Elton, Far Highfield, Glossop, Haslingden, Ladder Hill, Lancaster, Langley, Lees, Littleborough, Macclesfield, Manchester Hulme, Melling, Middleton, Millom Park, Moss Bank, New Church, Norden, North Oldham, Oakenhead, Over Biddulph, Parbold, Pendle Forest, Penny Bridge, Portwood, Ramsbottom, Ribblesdale, Romiley, Roose, Stockport, Storeton, Trawden, Urswick, Walton Le Dale, Wardle, West Kirby, Whitewell and Whitworth.

The changes at KEIGHLEY will cause loss of PSB1 for some time at the relays at:

Keighley Town, Oxenhope, Skipton Town and Sutton In Craven

If you get Freeview from these masts - DO NOT retune your Freeview equipment.
Comments
Friday, 3 May 2013

Good Day.
Because the BBC multiplex has changed frequency from Channel 62 to channel 50, this is just outside the bandwidth of reception for my mothers installation. There is intermittent pixelation on all BBC channels. Can the cost of a new antenna be paid for by the, well, who would be responsible for claiming the cost of a wider bandwidth antenna???? Has any money been set asside for cases similar to this? James.

James's 2 posts

James : how old is your mothers aerial if it is over 10 years I might just need replacing. Luckily for your mother she lives in the cheapest area for tv aerials in England.

Mazbar's 384 posts

James: Curious as to what sort of aerial does your mother have, given that group C/D aerials should work down to channel 48?

The reason the BBC channel was moved to 50 was so that it would still be in the range of a group C/D aerial, so if your mother has a faulty aerial then no one is responsible for fixing it!

Michael's 358 posts
Saturday, 4 May 2013

Michael: Well although you are quite correct in what you have said insomuch that a group C/D aerial "is" stated as covering down to Ch48, however this figure has got to be interpreted as the gain level in most grouped aerials starts to taper off from a number of channels before the end of its quoted coverage range, and with low cost contract type aerials being by far the worst in this respect.

Of course this problem is not really noticed by anyone who happens to reside in an area of reasonably high signal strength, and for the obvious reason that any slight drop in the level received will still leave a good safety margin above the lower threshold cut off point of their receivers tuner, but though with this "not" applying to many who reside in an area where the signal received although being stable is being done so at a lower level, something I have observed as being applicable to many who have made complaints of their BBC channels having vanished when checks were made on their location / terrain etc.

Below is an example of what I am referring to, although even these figures have to be looked at from the angle that they represent the result of a test where the "constant level" signal source was positioned at one end of a field about the size of a football pitch and with the aerial being tested at the other, not exactly a similar situation to that found in real life.


Gain (curves), Again

jb38's 7,179 posts

Thanks for the comments, and I suspect that the antenna is well over 10 years old and I also suspect that the type used is not digital and therefore does not have a good gain/bandwidth product. It just looks like a standard type, and also, the downlead is without a metalic screen. This means it is susceptable to RFI from the main road. Thank you all for the info and I now will invest in a new digi type with new downlead. James

James's 2 posts
Sunday, 5 May 2013

Dave Lindsay - Thank you very much indeed for taking time to reply to me. It transpires that the booster in the loft was set to VHF. When we swtiched it to UHF - the channels all came back - albeit with a poor signal in some cases.
(I have posted this in case anyone else might have a similar problem.)
Will look at ways to improve the reception now.
(In answer to your questions though - the all TVS including SKY have separate aerial feed and the amplifier has it's own power supply... just in case that is wrong.
Thanks again. Sue

Sue's 2 posts

James
There is no difference between a UHF aerial for digital or analogue reception in Bands 4 or 5, see what the BBC has to say on the matter at http://www.bbc.co.uk/rece….pdf
This shows that you do NOT need to have any 'special' aerial at all, but you do need the correct one for the signals to be received (i.e. correct group and suitable for the location) and of good quality properly mounted with good coax cable feeding the TV.
Many Group C/D aerials have poor performance around Channels 48 & 49 so reception of the mux's on those channels can be poor compared to higher channel numbers.

MikeP's 3,056 posts
Tuesday, 7 May 2013

We have 2 TVs, one downstairs and one upstairs . Since the retune in April we have been unable to get BBC 1 or 2 upstairs but its fine downstairs . Postcode CH2, supposed to have a a good reception. Jackie

Jackie Jones's 1 post

Jackie Jones: If the set has a manual tuning facility then try it. From Winter Hill BBC standard definition services are now on UHF channel 50.

Do you also have Pick TV on the upstairs TV, which also changed channel and is now on C49? Do you have Pick TV on the downstairs TV?

Dave Lindsay's 5,724 posts
Friday, 10 May 2013

My downstairs BBC channels keep breaking up and the signal - when manually retuned - says bad. No problem with the TV upstairs. If I do an Automatic retune I connect to Wales programmes. My aerial s a digital one in the loft and has never been a problem. Any help appreciated

Diana Brennand's 1 post
Select more comments
Your comment please