Upgrade to transmitter coverage maps - now showing potential interference areas

Brian Butterworth published on UK Free TV
Now, on the maps the bright green areas shown where the signal from this transmitter is strong, dark green areas are poorer signals. Those parts shown in yellow may have interference on the same frequency from other masts.

The next change is that the frequency usage maps (such as C21 (474.0MHz) after switchover) show the polarity (the position the receiver aerial has to be in) by the use of a black triangle to show "vertical".




The transmitter pages now show overlaps - for example Sudbury (Suffolk, England) full-Freeview transmitter shows a large overlap area to the south.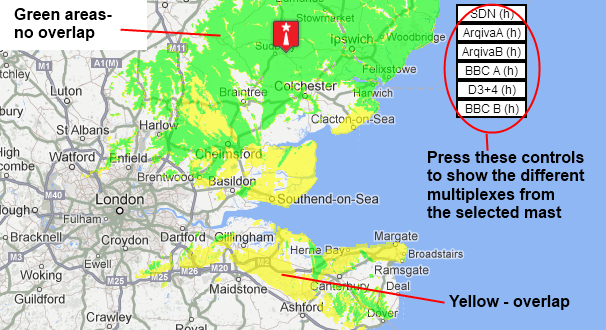 On transmitter site that broadcast in both horizontal and vertical, you can now see the difference that the selection of position makes (for example at Rowridge (Isle Of Wight, England) full-Freeview transmitter ):



Comments
Sunday, 6 January 2013
J
John Taylor
2:20 PM
Spalding

We use the waltham transmitter, and get good pictures on all channels, but sometime we get a message on a free channel, saying this channel is scrambled, on a black screen which appears after the picture breaks up or freezes, any ideas, it has only started recently.

regards.

John Taylor

John Taylor's 3 posts
J
John Taylor
2:22 PM
Spalding

I would add another comment, this happens on our Humax HD recorder, and we only see it when watching the playback ?

John Taylor's 3 posts
Monday, 7 January 2013

With transmitters changing channels all the time (due to the 800MHz clearance), would it be possible to show those that will use a particular channel in the future?

At the present time there are two maps:

1. That of before switchover with the former analogue and pre-DSO digital. Switchover is done and dusted and retained purely for historical reference. I see no reason to remove it.

2. The after-switchover map which is now constantly changing and isn't so much an "immediately after switchover" representation, but one of "now" (I assume).


As well as having a map of each channel at the current time, it would be useful to have and one which shows current transmitters plus those which will, at some point, utilise the channel as well as those which will cease use of the channel. Those that are due to use channels and give them up in the future could be coloured differently or have some other variation made to their symbol.

Dave Lindsay's 5,724 posts

Dave Lindsay: Thanks for that...

As for (1) I have removed these from the main maps now (for the reasons you specified) but they are retained on the C21 (474.0MHz) before switchover | ukfree.tv - 10 years of independent, free digital TV advice Freeview/Maps/Frequencies page for reference.

As for (2) the "first round" is the 60/61 clearance - refer Freeview news | ukfree.tv - 10 years of independent, free digital TV advice and Freeview news | ukfree.tv - 10 years of independent, free digital TV advice and the big list - 4G mobile | ukfree.tv - 10 years of independent, free digital TV advice .

These are mainly changes that shuffle C61/C62 to C39/C40. I was planning on re-generating the maps when each changed occurred, but it might be sensible (as we know where everything will end up) to generate maps for the final version. Let me see what I can do - it takes a lot of computing time to generate the maps (even when I use an 8-CPU AWS large-memory instance).

The next phase will be the 700MHz band clearance, which will create a LOT more issues - but we don't have a full plan for that one yet, as it will reduce the number of frequencies quite a lot.

I'm just going to write about 4G superhet overloading first...

Briantist's 38,844 posts

Im on the Poplar transmitter and i get very few channels and today the pictures are breaking up even on the BBC channels..can i change to Crystal Palace?

Lesley's 11 posts

Lesley: Whilst it must be said that any prediction is merely a guide as there are factors that aren't taken into account such as obstructions, it appears that reception from Crystal Palace may be possible.

On account of the fact that you appear reside in a tall block of flats, one must wonder as to why your aerial wasn't directed to Crystal Palace in the first place. This is because the higher up you go, the more you can see over buildings (and any terrain that might otherwise be in the way), and hence the better it is to "see" the transmitter. Indeed, the Crystal Palace transmitter may even be able to seen from the roof, which is presumably where the aerial is located which gives the greatest odds of likelihood of reception.

Presumably you will have to speak to your landlord , or whoever is responsible for the aerial system.

Dave Lindsay's 5,724 posts

so do you know how log BBC will be off air in Poplar?

Lesley's 11 posts

Lesley: According to BBC Reception website, it came back on at 18:53.

Dave Lindsay's 5,724 posts

Lesley: I take back what I said before having looked at the path between your block and the transmitter. It would appear that the high-rise buildings on Canary Wharf could be the reason that your aerial wasn't directed to Crystal Palace.

Therefore, I'm not sure whether you might get reliable reception from Crystal Palace. Digital signals aren't so adversely affected by reflections (as analogues were) which are likely to be an issue in an area where there are tall buildings near to a high power transmitter, as in your location.

Dave Lindsay's 5,724 posts
Tuesday, 8 January 2013

so is there anything i can do to get a decent signal? do you know of a complaints procedure/board?

Lesley's 11 posts
Select more comments
Your comment please