Switchover starts in Northern Ireland on Wednesday 10th October 2012

Brian Butterworth published on UK Free TV
This 10th October the first stage of the digital television switchover 647,500 homes in the Northern Ireland.

From 6am Wednesday 10th October 2012, you must perform a "first time installation" retune (sometimes "Factory Reset" or "Shipping Condition") on your Freeview box or television set if you use the the Brougher Mountain, Divis, or Limavady full service Freeview transmitters.

This is because the old low power "multiplex 1" BBC service will be replaced by the high power BBCA multiplex on the old analogue BBC TWO frequency:


On Wednesday 10th October 2012 if you use
Armagh
(noon),
Ballintoy
(3pm),
Ballycastle
(9am),
Banbridge
(noon),
Bangor
(6am),
Belcoo
(6am),
Bellair
(6am),
Benagh
(3pm),
Black Mountain
(6am),
Buckna
(noon),
Bushmills
(noon),
Camlough
(9am),
Carnmoney Hill
(6am),
Castlederg
(11am),
Claudy
(noon),
Conlig
(6am),
Cushendall
(noon),
Cushendun
(9am),
Derrygonnelly
(6am),
Draperstown
(6am),
Dromore
(3pm),
Ederny
(noon),
Glenariff
(3pm),
Glenelly Valley
(7:30am),
Glynn
(9am),
Gortnageeragh
(3pm),
Gortnalee
(9am),
Kilkeel
(noon),
Killowen Mountain
(6am),
Larne
(7:30am),
Leitrim
(3pm),
Lisbellaw
(3pm),
Londonderry
(6am),
Moneymore
(6am),
Muldonagh
(9am),
Newcastle
(9am),
Newry North
(6am),
Newry South
(6am),
Newtownards
(9am),
Plumbridge
(2pm),
Rostrevor
(6am),
Strabane
(7:30am),
Whitehead
(6am) - BBC TWO analogue closes, BBCA starts.
Coverage Maps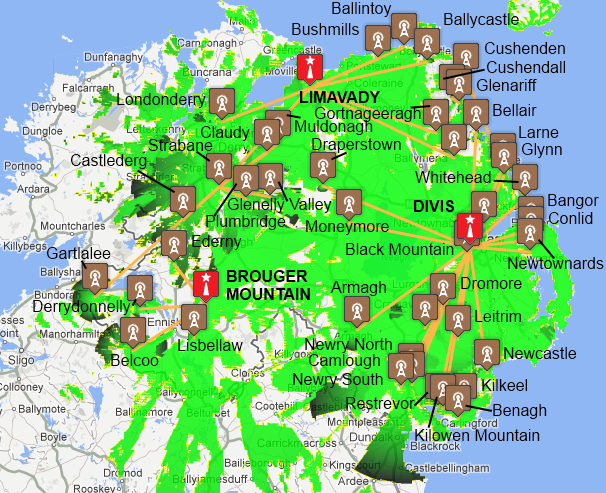 On these maps, the full-service six-multiplex transmitters are shown with the "red star" Freeview logo. The public service three-multiplex masts are shown with a brown indicator. The green areas on the maps, are the areas where the strongest
signal
is from the shown
transmitter
region
, with the light blue showing overlap areas where signals from other regions are stronger.
You MAY find that old equipment will no longer work - see
TVs and boxes that do not support the 8k-mode
Another common problem at switchover is the increase in signal will overload amplifiers and over-the-top
aerial
installations. If this is the case you will have to remove the
booster
or
amplifier
from the system, or perhaps fit an attenuator if you have no amplification. - see
Freeview signals: too much of a good thing is bad for you
.

On
Wednesday 24th October 2012
will see the second stage of switchover, which provides the final Freeview configuration, including
Freeview HD
for all transmitters in this region - see UK Free TV soon for full details.
Viewers with Freeview HD (DVB-T2) equipment who receive a signal from the Brougher Mountain, Black Mountain and Carnmoney Hill will also receive the "Northern Ireland Mini-Multiplex" and will receive RTE One and RTE Two and
TG4
. See
Northern Ireland "mini multiplex" (NIMM)
On this date, you will need, once again, to do a "first time installation" as indicated above.
If you are over 75, you should already have been supplied new equipment by the
Switchover Help Scheme
.
Originally published on 12th September 2012 at 09:00 by Brian Butterworth
Comments
Friday, 31 August 2012

DSO stage 1 in Northern Ireland will mark an important step in history - BBC Two becomes a digital only channel!

Josh's 97 posts

I wonder which transmitter in the province will be last to broadcast analogue on the 24th october, or will they all go simultaneously ?

No doubt it'll be a major news item on that day, whoever has the honour !

Peter Henderson's 15 posts

Still, just a little over 6 weeks to go now !

Peter Henderson's 15 posts
Sunday, 2 September 2012

Re: Josh
Northern Ireland will be the last part of the UK to show analogue TV and Ceefax/Teletext.

Mark A.'s 368 posts
Monday, 3 September 2012

Mark A.: But I was just saying that between DSO stage 1 and 2 in Northern Ireland, there will be no BBC Two analogue anywhere in the UK!

Josh's 97 posts
Wednesday, 12 September 2012

i am getting an unwatchable picture on UTV and channel 4 at the min - however BBC1 and 2 are perfect - what is wrong?

michael's 1 post
Friday, 21 September 2012

Limavady Main Transmitter -freeview

I brought brand new built in TV Freeview Hitachi and cannot get Liable TV (digital) Very weak signal indeed cannot get picture, Can you look into this for me and check and test this transmitter and if RTE channels will be on Freeview system in NI from the Limavady transmitter throw freeview -How many channels you receive and your signal strength will also depend on the transmitter.
Transmitter at limavady needs to boosted ASAP, Donegal viewers have to have a say on this issue under the realms of the Good Friday agreement.

Gerry's 21 posts

Gerry: I have just replied to your posting on the Limavady page:

Limavady full-Freeview transmitter | ukfree.tv - 10 years of independent, free digital TV advice

Dave Lindsay's 5,724 posts
Sunday, 7 October 2012

I have been told having researched this - For information,Company who runs TV Mast at Limavady is called - Arqiva they can be contact directly at www.arqiva.com or on +44 (0) 1962 823434.

I do hope that problem I highlighted is successfully resolved asap if any problems with switchover this is the place to contact above to report/issues/problems.

Helen's 9 posts
Tuesday, 9 October 2012

BBC2 Analogue (CH27) gone from Divis at 8PM 09/10/12.

Nigel's 5 posts
Select more comments
Your comment please