Switchover starts in North East England on Wednesday 12 September 2012

Brian Butterworth published on UK Free TV
This 12th September the first stage of the digital television switchover 1,420,000 homes in the North East of England.

From 6am Wednesday 12th September 2012, you must perform a "first time installation" retune (sometimes "Factory Reset" or "Shipping Condition") on your Freeview box or television set if you use the Bilsdale, Chatton, Pontop Pike or Fenham full service Freeview transmitters.

This is because the old low power "multiplex 1" BBC service will be replaced by the high power BBCA multiplex on the old analogue BBC TWO frequency:


Bilsdale (6am) - BBC TWO analogue closes on C26, Mux 1 closes on C34+, BBCA starts on C26. (MuxC from 12 to 26 September 2012, services will be provided on C34 at 6,000 Watt)
On Wednesday 12th September 2012 if you use
Aislaby
(3pm),
Allenheads
(noon),
Alston
(9am),
Bainbridge
(9am),
Bellingham
(9am),
Berwick
(6am),
Blaydon Burn
(6am),
Byrness
(noon),
Castleton
(9am),
Catton Beacon
(6am),
Durham
(3pm),
Esh
(6am),
Eston Nab
(3pm),
Falstone
(noon),
Felling
(noon),
Grinton Lodge
(9am),
Guisborough
(9am),
Haydon Bridge
(3pm),
Hedleyhope
(noon),
Humshaugh
(6am),
Ireshopeburn
(6am),
Kielder
(3pm),
Limber Hill
(noon),
Morpeth
(6am),
Newton
(9am),
Peterlee
(noon),
Ravenscar
(noon),
Romaldkirk
(6am),
Rookhope
(3pm),
Rosedale Abbey
(3pm),
Rothbury
(9am),
Seaham
(9am),
Shotleyfield
(6am),
Skinningrove
(noon),
Staithes
(3pm),
Sunderland
(9am),
Wall
(noon),
Weardale
(9am),
West Burton
(noon),
Whitaside
(noon),
Whitby
(9am),
Wooler
(6am)
relay
transmitters you will be able to receive the BBC Freeview services (with the exception of HD) for the first time, and you will no longer be able to view BBC TWO on analogue.
Coverage Maps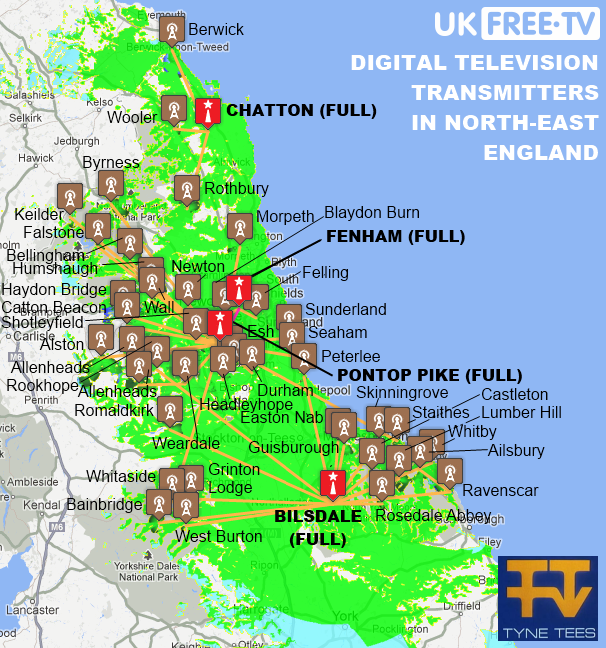 On these maps, the full-service six-multiplex transmitters are shown with the "red star" Freeview logo. The public service three-multiplex masts are shown with a brown indicator. The green areas on the maps, are the areas where the strongest
signal
is from the shown
transmitter
region
, with the light blue showing overlap areas where signals from other regions are stronger.
You MAY find that old equipment will no longer work - see
TVs and boxes that do not support the 8k-mode
Another common problem at switchover is the increase in signal will overload amplifiers and over-the-top
aerial
installations. If this is the case you will have to remove the
booster
or
amplifier
from the system, or perhaps fit an attenuator if you have no amplification. - see
Freeview signals: too much of a good thing is bad for you
.

On
Wednesday 26th September 2012
will see the second stage of switchover, which provides the final Freeview configuration, including
Freeview HD
for all transmitters in this region - see UK Free TV soon for full details.
On this date, you will need, once again, to do a "first time installation" as indicated above.
If you are over 75, you should already have been supplied new equipment by the
Switchover Help Scheme
.
Comments
Wednesday, 12 September 2012

geoffrey jagger: You may have to live with not being able to get ITV1, C4, C5 etc until switchover completes in two weeks' time. Different sets have differing sensitivity.

Peter McGarry near Bishop Auckland has reported that ITV1 from Bilsdale was lost about 10 days ago or so:

Freeview reception - all about aerials | ukfree.tv - 10 years of independent, free digital TV advice


Can you try manually tuning to C21?

Also, the TV that freezes at C34, have you run it through a number of times and does it do this consistently? If so, try unplugging the aerial before it gets to C34. Then, if it allows, do a manual tune on C34. Its make and model might be useful so we can see if there are other reports of similar behaviour.

Dave Lindsay's 5,724 posts
G
geoffrey jagger
1:50 PM
Harrogate

i can get 29 channels on my main lg 42 inch tv the only channel i cannot get on freeview is itv 1, i can get channel bbc 1 channel 4 and 5 and all the other channels but why can i not get itv1 tyne tees from bilsdale? on freeview

geoffrey jagger's 7 posts
G
geoffrey jagger
1:59 PM
Harrogate

my second tv is a Luxor 19 inch model number LUX 19 822 CO8

geoffrey jagger's 7 posts

geoffrey jagger: I'm not sure I know the answer as Channel 4 and Channel 5 are carried on the same multiplex as ITV1, it would seem not to be a reception issue.

Bring up the signal strength screen whilst on Channel 4 and see what UHF channel it is tuned to. For Bilsdale it is C21.


Luxor appears to be and Asda brand and as such its not surprising not to find a user manual online. I repeat what I said above; try unplugging the aerial before it gets to C34 (and once it's scanned C31). Then plug it in again so it can get C42. Then look to see if it works, barring the fact that Mux C (C34) is missing. If there is manual tuning, try adding C34. Failing that, it may right itself in two weeks time when the rest of the multiplexes change.

Dave Lindsay's 5,724 posts
G
geoffrey jagger
2:24 PM
Harrogate

OK UPDATE i did what you said did a rescan on my luxor i can get most channels but not itv1 channel 4 and 5, will wait for the next stage to see what happens, i can get itv2 ok

geoffrey jagger's 7 posts
G
geoffrey jagger
2:37 PM
Harrogate

sorry i meant itv3 not itv 2

geoffrey jagger's 7 posts
G
geoffrey jagger
2:43 PM
Harrogate

i have a grundid hd freeview box i have not tried yet will i be able to get HD channels in a couple of weeks? i am only using the in built tuner in the tv at the moment and the picture quality from the freeview channels is very good (the ones that i can get)

geoffrey jagger's 7 posts

geoffrey jagger: You are indicated as being able to have a good signal from either Bilsdale or Emley Moor but with Bilsdale having the edge over Emley, albeit this in reality only applying to the BBC as its the only channel presently operating on high power, the remaining muxes doing likewise on the 26th.

I would suggest that rather than wait until the 26th when HD starts from Bilsdale you should temporarily couple up the HD box into your TV using a scart cable and give the box an auto-tune (or first time scan) just to make sure all is OK, then once working carry out a signal check on BBC, this not so much for signal checking purposes but to note the mux channel number that's being indicated along with the strength / quality, the channel should indicate 26.

Once the 26th arrives you can then carry out a manual tune on Ch23 which will be Bilsdales HD channel, storing the results if not done automatically.



jb38's 7,179 posts

geoffrey jagger: Just to add to that already said, that come the 26th you would of course change the scart lead to an HDMI connection between your HD box and the TV if its of the HD ready variety, which I assume that you are using?

jb38's 7,179 posts
Friday, 14 September 2012
C
Chris Knight
2:16 PM
Harrogate

I live in Harrogate - HG1 4HJ
After re-tuning my existing set top boxes one receives all I need but the other does not receive BBC1 or BBC2 (or CBBC and BBC News) - I am mystified by this.
I am trying these boxes one at a time on the same aerial and the same TV, connected by the same SCART lead in turn.
Any suggestions please?

Chris Knight's 1 post
Select more comments
Your comment please