Channel 4-seven is now in the Freeview EPG in switched-over areas

Brian Butterworth published on UK Free TV
If you do a rescan for channels on your Freeview set-top box or television, you may now find a new channel at position 47 called "Channel 4-seven".

However, this will be only the case if you use on of the main Freeview transmitters that have already gone though digital switchover. So, those in London will not see the channel appear until the 18th April.

This new channel from the Channel 4 Corporation (a not-for-profit public broadcaster) will be something new - for a repeats channel.

Rather than showing the whole of a channel an hour later (as Channel 4+1 does), this new channel will schedule only the top shows from Channel 4 in their original timeslots for the week following their original broadcast on the main channel.

The channel will also appear on Freesat (probably at 127) and other platforms.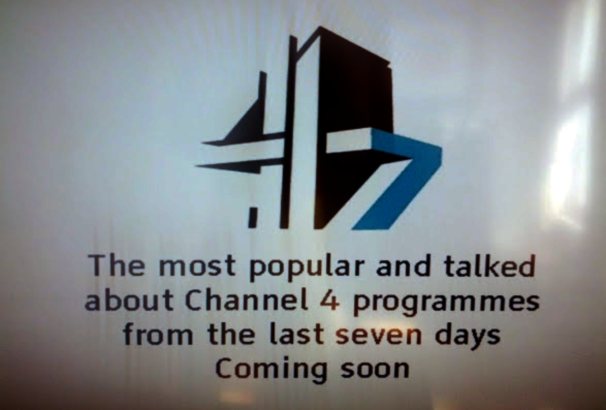 Comments
Tuesday, 17 April 2012
G
george
11:12 AM
Merthyr Tydfil

a lot of talk about channel 4seven coming to swichted over areas i live in cf481dx area went digital in 2010 still no sign of it why so

george's 8 posts
D
Des Collier
11:13 AM
Brigg

also noticed,QVC BEAUTY moved to 35,2 more channels appeared on epg,tv stars on 62 & tv news on 90.

Des Collier's 171 posts

george: 4seven is broadcast on one of the Commercial multiplexes which don't wish to invest in transmitting from Merthyr and around 1,100 other similar small transmitters. For an explanation, see here:

Will there ever be more services on the Freeview Light transmitters? | ukfree.tv - independent free digital TV advice

Your best bet for additional channels will probably be Freesat, and according to the posting above, 4seven will be on there.

Dave Lindsay's 5,724 posts
Tuesday, 15 May 2012

I want to pick up Buffalo, New York television. Can you help me?

Thanks for your assistance

Joe Friday's 1 post
Friday, 18 May 2012

Joe Friday: You can't watch US television channels in Europe, it's just too far away to get signals from the satellites.

Briantist's 38,844 posts
Saturday, 16 June 2012

In fact you can pick up three US TV stations in Europe from satellite -- BYU TV from Salt Lake City, UT, MSNBC, both on Telstar 12 at 15.0° West Europe and South Africa beams, and The Pentagon Channel on Eutelst 9A at 9.0° East.

Telstar 12 also carries NBC feeds on the Europe and South African beams, one of which is frequently the NBC Today Show (the original breakfast tv show) from NBC
s Manhattan headquarters.

CNN [USA] also used to be available on Telstar 12 for a number of years but was discontinued about 2 years ago.

Incidentally it is incorrect and extremely misleading to say that "it's just too far away to get signals from the satellites."

The distance from Brighton, East Sussex to Buffalo, NY is approximately 5 800 km, but the distance from Brighton, East Sussex to Astra 2 satellite cluster is of the order of 36 000 km, which as you can see is over six times the distance.

The reason that US TV stations cannot generally be received in Europe by satellite is because the satellites which transmit them are too low in the sky, below the horizon, and even if they were visible, their beams are directed at the Americas and not Europe. Also the majority of Ku band tranmsissions are encrypted and only available with a receiver and paid up subscription.

And for those that are prepared to pay money to Rupert Murdoch, there is always PBS UK on the $ky EPG.

Corin's 91 posts
Sunday, 8 July 2012

If it's not available in area that haven't switched over,Why was it advertised in theses areas??

DREW's 1 post

DREW: The service is available on satellite and cable in all regions, and even on Freeview, some viewers are able to receive signals from areas that have switched over, despite living officially in the Tyne-Tees or Ulster TV regions.

KMJ,Derby's 1,811 posts
Thursday, 12 July 2012

we did the switch over ages ago but still dont get 47. says no signal. any ideas?

molly's 1 post

molly: 4seven is available after switchover in areas that receive all Freeview channels.

If you are receiving from a transmitter that only carries the Public Service multiplexes, then you won't be able to receive 4seven on Freeview.

Dave Lindsay's 5,724 posts
Select more comments
Your comment please