Channel 4-seven is now in the Freeview EPG in switched-over areas

Brian Butterworth published on UK Free TV
If you do a rescan for channels on your Freeview set-top box or television, you may now find a new channel at position 47 called "Channel 4-seven".

However, this will be only the case if you use on of the main Freeview transmitters that have already gone though digital switchover. So, those in London will not see the channel appear until the 18th April.

This new channel from the Channel 4 Corporation (a not-for-profit public broadcaster) will be something new - for a repeats channel.

Rather than showing the whole of a channel an hour later (as Channel 4+1 does), this new channel will schedule only the top shows from Channel 4 in their original timeslots for the week following their original broadcast on the main channel.

The channel will also appear on Freesat (probably at 127) and other platforms.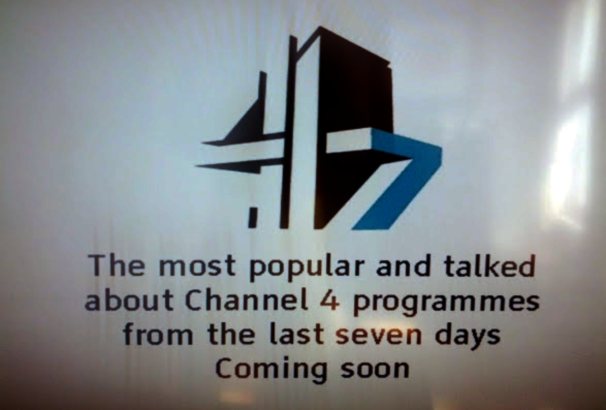 Comments
Thursday, 5 April 2012

Not yet on Caradon or Huntshaw Cross - unless using parameters my box doesn't recognise. I'll keep monitoring!

michael's 857 posts

michael: It should be. Not also that channel 32, "Big Deal", is also on COM6 and not on Mux D.

Briantist's 38,844 posts

michael: The channel is showing up on Whitehawk Hill (as per the photo) and DMOL are listing it too.

Briantist's 38,844 posts

The Humax detects the 4seven logo from Huntshaw and Caradon - it was just the old box that doesn't recognise it. Presumably it will when programming is broadcast.

michael's 857 posts

michael: The logo is a MHEG-5 overlay, so you won't see it on a box that doesn't support it (or perhaps not unless you wait a very long time on some older boxes).

Briantist's 38,844 posts

michael: "old box" - is this a Topfield? On their boxes, and some others, it was possible to disable the MHEG interpreter, which some people do to stop the BBC red button overlay graphic popping up. Of course the red button text doesn't work either!

The 4seven logo behaviour should be consistent with any other channel that is currently off-air. For example, BBC Three, BBC Four, CBeebies and CBBC have an MHEG program that generates a message listing the channel numbers for other BBC services, when the time-shared capacity is being used by the other channel.

Mike Dimmick's 2,486 posts
Friday, 6 April 2012

The box is an old SilverCrest SL35T. It shows
whichever programme is broadcasting on BBC3 and BBC4, CBeebies and CBBC. No red button etc.
Despite its age, I like it as it allows each
multiplex from my seven (sic!) transmitters to be saved in a separate group. The Humax is a 9150T and behaves as it should. Let's hope we get a useful selection on 4seven!

michael's 857 posts

Dose anybody know if Channel 4-seven will be on satellite, as a lot of people can't get AqrB.

Mark Agius's 373 posts

Mark Agius: It would appear yes see BBC News - Channel 4 announces 4seven catch-up channel

Alan Hewitt's 8 posts

for gods sake.
less so called "channels" and more programs
Im sick of being force fed the same tired old *carp* on 27 different frequencies and being told the 10 year old "game show/competition/quiz" is "new"

the entire TV industry is a scam

borednow's 1 post
Select more comments
Your comment please