Almost five million London homes begin switchover this week with a retune

Brian Butterworth published on UK Free TV
This week sees the first stage of the digital television switchover for 4,853,500 homes in Greater London.

From 6am Wednesday 4th April 2012, you must perform a "first time installation" retune (sometimes "Factory Reset" or "Shipping Condition") on your Freeview box or television set if you use the Crystal Palace, Hemel Hempstead, Reigate or Guildford full service Freeview transmitters.

This is because the old low power "multiplex 1" BBC service will be replaced by the high power BBCA multiplex on the old analogue BBC TWO frequency. Also, ITV 1 analogue will move to the BBC TWO analogue slot, except at Hemel Hempstead.


Because the Multiplex BBCA service carries some
channels
(
BBC FOUR
and BBC
radio stations
) that are also still being broadcast as part of the existing multiplex 2, after you retune, you will see these channels duplicated. This will be resolved when you do a full retune in a fortnight.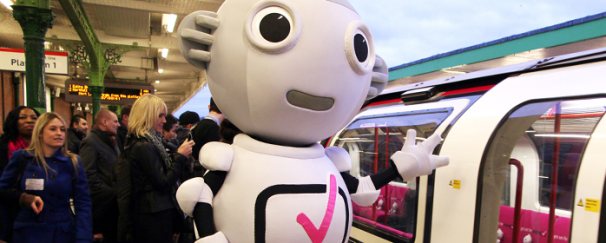 On Wednesday 4th April 2012 (at 6am unless otherwise specified) if you use the:
Alexandra Palace
(1pm),
Assendon
(noon),
Biggin Hill
,
Bishops Stortford
,
Cane Hill
,
Caterham
,
Chepping Wycombe
(9am),
Chesham
,
Chingford
(11am),
Croydon
(Old Town),
Dorking
(noon),
East Grinstead
(noon),
Edmonton
,
Farningham
(9am),
Finchley
(9am),
Forest Row
(9am),
Gravesend
,
Great Missenden
,
Greenwich
(4pm), Guildford,
Hammersmith
,
Hampstead Heath
,
Hemel Hempstead Town
(9am),
Henley
-on-Thames (9am),
Hertford
,
High Wycombe
,
Hughenden
,
Kenley
,
Kensal Town
,
Lea Bridge
(2pm),
Marlow Bottom
,
Micklefield
,
Mickleham
,
New Addington
(11am),
New Barnet
,
Old Coulsdon
(2pm),
Orpington
,
Otford
,
Poplar
(1pm),
Skirmett
(3pm),
St Albans
,
Sutton
,
Walthamstow North
,
Welwyn
,
West Wycombe
,
Wonersh
(9am),
Wooburn
(noon),
Woolwich
(9am),
Worlds End
relay
transmitters you will be able to receive the BBC Freeview
services
(with the exception of HD) for the first time, and you will no longer be able to view BBC TWO on analogue.
You MAY find that old equipment will no longer work - see
TVs and boxes that do not support the 8k-mode
Another common problem at switchover is the increase in
signal
will overload amplifiers and over-the-top
aerial
installations. If this is the case you will have to remove the
booster
or
amplifier
from the system, or perhaps fit an attenuator if you have no amplification. - see
Freeview signals: too much of a good thing is bad for you
.
On
Wednesday 18th April 2012
will see the second stage of switchover, which provides the final Freeview configuration, including
Freeview HD
for all transmitters in this
region
.
On this date, you will need, once again, to do a "first time installation" as indicated above.
If you are over 75, you should already have been supplied new equipment by the
Switchover Help Scheme
.
Comments
Monday, 9 April 2012

Will: I do recall seeing that article at the time. What it means is that switchover IN LONDON will be completed BEFORE THE OLYMPICS.

Looking back at the schedule I had on that date (August 1 2007): UK Digital Switchover | ukfree.tv - independent digital TV and switchover advice ....

It clearly shows that Northern Ireland is "On or before Saturday 30th March 2013", and the North East as "On or before Tuesday 30th October 2012".

Briantist's 38,844 posts
Wednesday, 11 April 2012

living in orpington receiving from Crystal Palace. I have performed numerous retunes and factory restarts. Once I do - all channels work find, But after about two minutes I get a message saying 7 new channels received This then makes most of the BBC channels dissppear. BBC 1 which was on channel 1 goes completley - BBC which was on 2 now appears on 814 . I have a DSTB ( ferguson ). Any pointer to getting BBC 1 back ? Most of the other channels seem to be working

Gordon's 1 post
Saturday, 14 April 2012

Gordon: Please do My Freeview box has no EPG, is blank on FIVE, ITV3, ITV4, ITV2+1, has no sound or the channel line up is wrong | ukfree.tv - independent free digital TV advice when you scan for channels, if you can't find "factory reset" in your menus.

Briantist's 38,844 posts
Thursday, 14 June 2012
K
Keith
10:20 AM
Birmingham

Since switch over I can watch tv through sky as normal, but am unable to tune in tv channels on normal tv. Is this not possible? I can tune in channel 5 , but no other. I have a lg digital tv.

Keith's 1 post
Thursday, 26 July 2012

Keith: Can you please start by looking at the Freeview signals: too much of a good thing is bad for you | ukfree.tv - 10 years of independent, free digital TV advice page? Thanks

Briantist's 38,844 posts
Select more comments
Your comment please