Almost five million London homes begin switchover this week with a retune

Brian Butterworth published on UK Free TV
This week sees the first stage of the digital television switchover for 4,853,500 homes in Greater London.

From 6am Wednesday 4th April 2012, you must perform a "first time installation" retune (sometimes "Factory Reset" or "Shipping Condition") on your Freeview box or television set if you use the Crystal Palace, Hemel Hempstead, Reigate or Guildford full service Freeview transmitters.

This is because the old low power "multiplex 1" BBC service will be replaced by the high power BBCA multiplex on the old analogue BBC TWO frequency. Also, ITV 1 analogue will move to the BBC TWO analogue slot, except at Hemel Hempstead.


Because the Multiplex BBCA service carries some
channels
(
BBC FOUR
and BBC
radio stations
) that are also still being broadcast as part of the existing multiplex 2, after you retune, you will see these channels duplicated. This will be resolved when you do a full retune in a fortnight.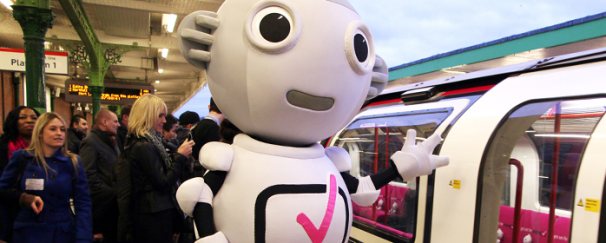 On Wednesday 4th April 2012 (at 6am unless otherwise specified) if you use the:
Alexandra Palace
(1pm),
Assendon
(noon),
Biggin Hill
,
Bishops Stortford
,
Cane Hill
,
Caterham
,
Chepping Wycombe
(9am),
Chesham
,
Chingford
(11am),
Croydon
(Old Town),
Dorking
(noon),
East Grinstead
(noon),
Edmonton
,
Farningham
(9am),
Finchley
(9am),
Forest Row
(9am),
Gravesend
,
Great Missenden
,
Greenwich
(4pm), Guildford,
Hammersmith
,
Hampstead Heath
,
Hemel Hempstead Town
(9am),
Henley
-on-Thames (9am),
Hertford
,
High Wycombe
,
Hughenden
,
Kenley
,
Kensal Town
,
Lea Bridge
(2pm),
Marlow Bottom
,
Micklefield
,
Mickleham
,
New Addington
(11am),
New Barnet
,
Old Coulsdon
(2pm),
Orpington
,
Otford
,
Poplar
(1pm),
Skirmett
(3pm),
St Albans
,
Sutton
,
Walthamstow North
,
Welwyn
,
West Wycombe
,
Wonersh
(9am),
Wooburn
(noon),
Woolwich
(9am),
Worlds End
relay
transmitters you will be able to receive the BBC Freeview
services
(with the exception of HD) for the first time, and you will no longer be able to view BBC TWO on analogue.
You MAY find that old equipment will no longer work - see
TVs and boxes that do not support the 8k-mode
Another common problem at switchover is the increase in
signal
will overload amplifiers and over-the-top
aerial
installations. If this is the case you will have to remove the
booster
or
amplifier
from the system, or perhaps fit an attenuator if you have no amplification. - see
Freeview signals: too much of a good thing is bad for you
.
On
Wednesday 18th April 2012
will see the second stage of switchover, which provides the final Freeview configuration, including
Freeview HD
for all transmitters in this
region
.
On this date, you will need, once again, to do a "first time installation" as indicated above.
If you are over 75, you should already have been supplied new equipment by the
Switchover Help Scheme
.
Comments
Thursday, 5 April 2012

Mark T: What about the additional electricity of all the set-top boxes that are on standby that would not be needed had TVs had digital tuners built-in? What about all the plasma TVs? And all the flat-screen TVs that don't bother with hard power switches, instead taking power in standby?

Dave Lindsay's 5,724 posts
D
D>W>Murray
7:35 PM
Romford

Following the switch over I have been unable to view BBC Freeview TV Channels (1,2,3,4 ) - the remainder are fine. Is there a problem at the transmitter ? Is there anything I can do ? Would appreciate your help.



D>W>Murray's 3 posts

Dave Lindsay: Fair comment about the set-top boxes. I hadn't considered that. Although I have to say, my new flat-screen TV is saving me roughly £50 a year in electricity compared to my old flat-screen and it's 10 inches bigger than the old one, so if switchover has prompted some households to update their equipment, that might be a good thing.

So the only clear winners when it comes to electricity consumption are the BBC/Arqiva and potentially at our expense!


Mark T's 2 posts

What does it mean "chelmsford (closes)" on the map!?
A clearer simple explanation of all this would be nice - at the moment after retuning (the prompt was getting annoying but still shows up) I now have up to THREE duplicates of some channels. I've no idea which ones I should keep, nor can I find any level headed explanations about this anywhere!!!

sean's 2 posts

sean: Chelmsford used to transmit only Channel 5 analogue but was switched off last July.

Due to all BBC standard definition services moving into a single multiplex after switchover, there are duplications between first and second phase of switchover. This happens at every transmitter during switchover.

BBC Four, CBeebies, BBC Parliament move to the BBC multiplex that was switched on at Crystal Palace on Wednesday. But they exist in the pre-switchover Mux B. The same is true for BBC radio.

Dave Lindsay's 5,724 posts
Friday, 6 April 2012

if you have lost channels such as 1, 2, 3, 4 etc have a look in the 800 range, I have found all my missing channels there.

I also have the autoscan switched on to run overnight when my telly (Sony) is in standby, the channels have changed both nights so far and I am hoping that after the 18th it will sort itself out.

But Sonys seem to be particularly bad at this which is not very good really.

Samantha's 3 posts

I've looked through all the 800 range and the missing channels are not there.
Is it possible they will return after the 18th?

Joe's 2 posts

Joe, I hope they will return on the 18th...

You could try a manual retune, on my telly it is in the same menu as the digital retune, you will need to look up your transmitter (see right hand links on this website) and see what mux channels the missing channels are on (for example, BBC1 is on mux channel 23 from Crystal Palace) then in manual digital tuning select the required channel. This has put ITV3 etc into channel 8nn on my set.

Or go to Auto startup and select your language, location etc and it will do a digital retune then an analogue one - BBC1, ITV1, Ch4 and 5 are still available on analogue for now.

Then write to Sony and complain about their tuners.

Samantha's 3 posts
Saturday, 7 April 2012

Briantist / Anyone else who Knows: I'm curious. I seem to remember at the very beginning of digital switchover a few years ago that it was said that the UK switchover would finish in London in 2012. I've just found the following FT article from 2007 which seems to confirm this:

FT.com / Media - Purnell checks progress of switch to digital TV

Did the switchover plan change? Here we are with switchover taking place in London yet there are still a few regions to go (including the NE of England which is like an island in the middle of switched regions).

Will's 39 posts
D
David Pinfold
8:57 PM
Banbury

Will: I don't know whether the plan was changed but after London there are 3 regions left to switch, 1st - East Sussex & Kent, 2nd - The North East, & finally Northern Ireland. It may be that the switch was co-ordinated with continental stations to avoid interference.

David Pinfold's 42 posts
Select more comments
Your comment please