High pressure causing channel loss through "Inversion"

Brian Butterworth published on UK Free TV
There is high pressure over the whole of the UK at the moment, and this causes the Inversion Effect. This is causing people to be missing a single Freeview multiplex, or have terrible analogue reception on a single channel. The problem may come-and-go or last for several days.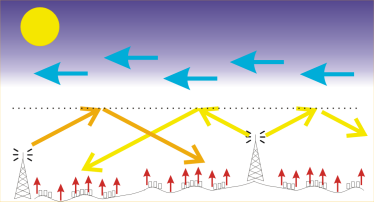 For details, please see What is the Inversion Effect and why does it effect my Freeview TV reception?.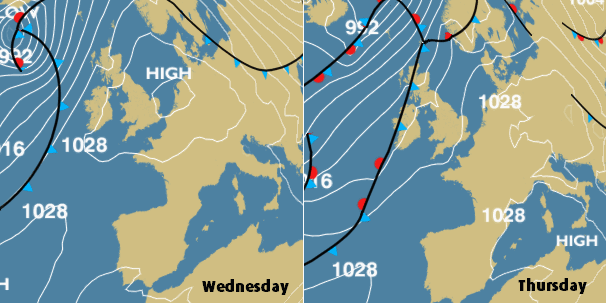 Comments
Tuesday, 27 March 2012
N
Nathan, Southsea
6:12 PM
Southsea

@KMJ, Derby Unfortunately the rubbish Freeview box that it's on doesn't give me that info, just that it is 738.000 MHZ
Looking at the maps on this site Stockland Hill can be picked up on parts of the Isle of Wight (to the south of here) but Mendip can be picked up in areas to the north of Portsmouth (Waterlooville area). So I guess it could potentially be either transmitter. No signal is being received at the moment so I can't check the local news unfortunately.

Nathan, Southsea's 7 posts

Nathan, Southsea: 738MHz is C54 so it looks like Mendip.

Dave Lindsay's 5,724 posts

Nathan, Southsea: 738.000MHz is C54 which makes it Mendip. There have been reports of Mendip reaching London when conditions are right.

KMJ,Derby's 1,811 posts
C
Clare Lindsay
7:45 PM
Maidstone

We have had no problems with our digital reception but all of a sudden we can't det any Bbc channels. We have retuned and still no luck. The other channels have started to drop out now. We have spent money on a new digital telly and pay our TV Licence but I'm beginning to think , why did we bother!

Clare Lindsay's 1 post

Today my Freeview TV did that rescan thing again, and seemed to think I was in Lincolnshire - channels 1-5 were from Belmont (and kept pixellating), and the Yorkshire channels were relegated down to the 800s.
Another Freeview set top box was worse. It insisted on the COM6 multiplex from Belmont being stored, and completely ignored the stronger COM6 from Emley Moor! Had to do a manual retune; perhaps this box is working on a first come first served basis?

Thomas's 61 posts
Wednesday, 28 March 2012
N
Nathan, Southsea
12:03 AM
Southsea

@Dave Lindsay & KMJ, Derby, thanks for that. Still pretty impressive for Mendip to reach here in Southsea at around 1m asl! :)

Nathan, Southsea's 7 posts

hi there I live in thanet area and my TV reception as been bad for the past 3 weeks I have a new aerial newish TV with built in digital one time I have a signal for Dover then later east Anglia what's going on .the big switch over is June 2012 .no one seems to be bothered ,they answer with high low pressure retune why .when I come home from a busy day I like to sit down and relax in front of TV not to be retuning to no avail

keith's 3 posts

Seems there is an offender causing havoc with channel 68 on Clermont Carn...

Jordy's 1,827 posts
K
kyonian@hotmail.com
2:24 PM
Stanley

whats the point in digital tv .if its cloudy no channels ,if its raining no channels ,if it snows no channels and now if its hot no channels.

kyonian@hotmail.com's 1 post

On Saturday evening, I was receiving almost perfect analogue BBC1, ITV1 and Channel 5 from Bilsdale. The reception was good enough to get Ceefax and Teletext also.

Monday I was receiving a weak Channel 5 reception from Croydon and was 'weirdly' receiving a slightly better BBC2 signal from Crystal Palace. I say 'weirdly' because BBC1 Bilsdale and BBC2 Crystal Palace are both transmitted on Channel 33.
So was wondering what changes in the weather and in pressure could cause me to receive analogue reception from the North-East on Saturday and receive analogue reception from the South-East in place of from the North-East on Monday?

Stuart O.'s 156 posts
Select more comments
Your comment please