High pressure causing channel loss through "Inversion"

Brian Butterworth published on UK Free TV
There is high pressure over the whole of the UK at the moment, and this causes the Inversion Effect. This is causing people to be missing a single Freeview multiplex, or have terrible analogue reception on a single channel. The problem may come-and-go or last for several days.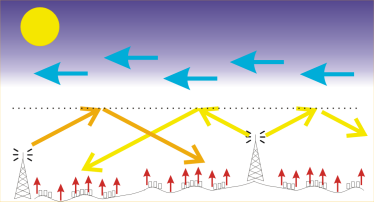 For details, please see What is the Inversion Effect and why does it effect my Freeview TV reception?.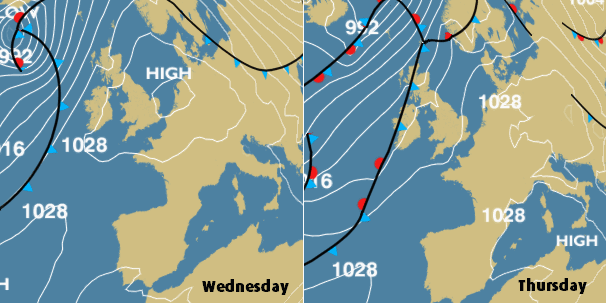 Comments
Thursday, 15 March 2012
C
Chris
7:55 PM
High Wycombe

Updated to say that I've retuned for the third time and got the HD channels back. Great site!

Chris's 3 posts

I'm so glad to find the reason for very poor Freeview reception on this site, as others have said why have local TV stations not mentioned it. I was starting to wonder if my aerial amp was over cooking the "improved" reception from Hannington.

Greg's 2 posts

Im in brighton and can only receive bbq channels on my freeview box. Is anyone having the same problem and can anyone tell me why thisis happening please

Karen's 1 post

In Boxmoor Hemel Hempstead Herts at 21:00 freeview channel 9 could not get any signal on my new digital TV

John Robert Size's 2 posts

Crawley (Crystal Palace transmitter) has lost all freeview tonight and last night. The amazing thing is it returns to normal in the daytime. Is this the inversion effect we ask ourselves, where the high pressure only causes problems at night.Those of a cynical nature might link it to the run up to switchover and work being done on the transmitter, which according to all relevant websites is only giving analogue problems at present. Just as well the return to normal service seems to coincide with the start of the day shift !!!!

ralph keemar's 1 post

I live east of Henfield. Ever since I re-connected my digital converter box, I've not been able to get digital BBC1 because of 'poor signal/antenna'. And yet I get all the other 80 odd channels from Midhurst. Is there any reason for this? Should I go out and buy a new digital converter box? Now that analog BBC1 has gone, my question has got a bit more urgent!

Mike W's 1 post

Been looking for an end to the frustrating rewind, back to the early days of freeview when this interterence was the norm for a couple of days of days now, glad I found this.

Thank you, great post, keep up the good work.

GB11:11's 1 post

ralph keemar: I am afraid it will happen now and then but not always as bad as it has been the last few days. Always good to have a back up way of watching tv when it does like freesat or online etc

Dave's 126 posts
Friday, 16 March 2012
G
Graham.F.Lewendon
12:58 AM

Re Steve at Stansted Essex (All DVB Reception from Sandy heath)

You have not said which part of village you live in I:E- top (near Total petrol Station) or bottom of Chaple hill (In the dip near train station)close to Stansted Lower road.
If at top signal from Sandy heath might be better

Yesterday evening here in Saffron W was told upon arriving home from work that ITV+1 was acting up. Found set was tuned to preset that had been set up as ITV1 but in fact was displaying ITV 3 yet could not find the ITV1 channel any where. Checked other DVB tuners and they seemed fine affected set is a Sony 32" Bravia about 5 years old. Performed full resetup. Then sorted channels order to my liking also deleting less pleasant late night channels. Found many duplicate channels in the 800-999 section including a number of ITV1 entries. I tuned to one of these for a short time and a advert for company inside M25 zone is broadcast thus I concluded sig and the poor ITV3 sig was from Crystal Palace from near croydon London being recived on the side of the beam that points west for Sandy Heath. Having driven home from Cambridge within the hour through fog I put reception problems done to "Inversion effect" Had no complaints tonight so expect all was fine. My problem is that I have good line of sight to crystal palace and that was once used pre digtal days hence pulling the digital sig in on side of beam.

As Brain test has said elswhere on this sight you may loose some things but gain others trick is to know when and where to look to hear / see rare channels

Graham.F.Lewendon's 29 posts
G
Graham.F.Lewendon
1:34 AM

Re Micheal in Wrexam
You do not get the inversion effect via satelite because with satelite you don't have a second satelite located twenty five miles behind the satelite from which you wish to recieve your tv channel pumping out a signal that due to a odd effect is stronger than that signal you wish to watch now due to the way the tuners work the stronger signal if on the same frequency will win displacing what sould be the nearest and stronger signal. The same frequncy is never used more than once on any given satelite and because most satelite's are spaced 3 degrees apart the dish has to be moved slightly so as to see the other group of signals from other satelite, Hence reasion for moterised dishes on a horizion to horizion mount. Please see my other postings elswhere on this site about these types of systems. If the very small digibox dishes are pointed at some of the other satelite's because of the way a smaller dish has a wider acceptance angle that a bigger dish say 1 mtr in dia it is possible to see satelite's spaced 3 degrees apart and similar probs might occur so that is why the satelite used by sky / freesat only has carfully placed satelite's near it that work as if they are one big satelite with more channels sent from it than 1 satelite can manage and there must be no frequncy duplication else we go back to square 1 that was often called "co channel interferrance" in pre digital days. Oh the acceptance angle of the old 65 cm dia dishes first used to recieve sky tv with was 3 degrees and a 1 metre dish that could see even weaker satelite's than astra had an acceptance angle of less than 2 degrees so seporating out satelite's that might have been under 3 degrees apart. I used to have a 1 metre dish on H-H mount and by selecting UK gold on astra then by some manual nudging dish via remote control I could point dish at a very weak Eutesat satelite do a frequcy scan and see items that after editing and commentory additions might make the evening news later in day. Hope thats explained things for you.

Graham.F.Lewendon's 29 posts
Select more comments
Your comment please