Improvements to aerial position information and mixed-polarity transmitters

Brian Butterworth published on UK Free TV
Following the Updates from "licences version 7", mixed polarity transmitters, corrections updates yesterday, I have made changes to the pages that display information about the multiplexes provided by each and every transmitter in the UK.

The changes are summarised in this diagram: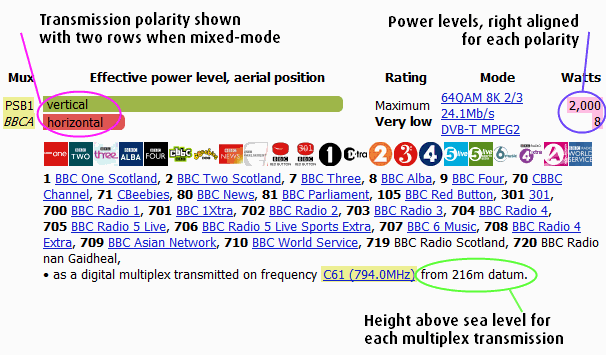 Firstly, the height above sea level ("datum") for each multiplex is shown. Some masts such as Emley Moor have multiplexes broadcasting from different heights, due to space restrictions on the construction. You can now see this.

Secondly, the polarity for reception is now shown in the "power bar" for each transmitter, making it easier to spot.

Thirdly, for the small transmitters that operate in both horizontal and vertical modes, such as Rosneath, this information is now clearly displayed.
Comments
Wednesday, 1 February 2012
V
valerie patchett
2:35 PM
Whitby

my post code is yo213ej and up to 4 days ago i was getting channel 5 can you explain why i cant get it anymorew i am on a satelite dish with a fortec star digi satelite system

valerie patchett's 2 posts

valerie patchett: You will have to re-enter the programme using this setting.

Frequency: 10964
Polarisation: H
Symbol rate: (22000)
FEC: 5/6




jb38's 7,179 posts
Friday, 3 February 2012

Briantist:- you've come up trumps again!!!,keep up the good work,we all appreciate your efforts on 'ere.

Des Collier's 3 posts
Monday, 6 February 2012

Des Collier: Thanks very much.

Briantist's 38,844 posts
Tuesday, 7 February 2012

I am receiving freeview from the Talconeston (Norfolk) transmitter with an 18 month old high gain (I think) outside aerial, but can't get BBC HD BBC1HD ITV HD or ITV4 HD (all Mux PSB3 channels, but have no problem with all other freeview channels. What is the problem?

Barrie Williams's 1 post

Barrie Williams: If your TV is "HD Ready" then it will only show HD pictures from another source. Could this be the issue?

Dave Lindsay's 5,724 posts

Barrie Williams: Well the first obvious question would be to ask the model of TV / box you are using, especially the TV so that its tuner spec can be verified as being DVB-T2 capable.

jb38's 7,179 posts

Barrie Williams: More at What does "Full HD Ready" actually mean? | ukfree.tv - independent free digital TV advice ...

Briantist's 38,844 posts
Wednesday, 15 February 2012

Currently I am getting good Freeview reception from what I assume to be a high gain aerial mounted on a 2 metre pole attached to my chimney stack. This seems to be the standard hardware for my area.

On a separate purely analogue TV I get acceptable reception of all 5 analogue channels. This is fed by an aerial designed for external use (a Yagi?), but in this case mounted in the loft. I hope to replace this with a new Digital TV (My broadcast area ceases analogue transmissions in October), however I do not want to keep adding high gain aerials to my chimney stack. Can I share my existing freeview aerial between two or more TVs (preferrably wirelessly? Alternatively, I note that when analogue broadcasting ceases, digital transmitter power will increase; doe this mean it might become possible to run the second TV off a loft aerial (existing one or otherwise)?

Dale Beattie's 1 post

Dale Beattie: In general, yes, the current low power signals will be replaced with high power ones, roughly equivalent to the four analogue signals. This means that all things being equal, there will be a higher signal level coming down your aerial lead, thus splitting it is a possibility.

Have a look at ATV Sheffield for some ideas:

Television Aerial Boosters / Amplifiers, Splitters, Diplexers & Triplexers

The double screened cable, such as Webro WF100, used for satellite is advisable.

I would try the loft aerial with the digital TV now and see what happens.

I emphasise that I am speaking in general terms, but if you were to split the loft aerial and it doesn't work after switchover, then you will need a "Plan B". That could be a powered splitter (amplifier) or running one TV from the loft aerial and splitting the aerial on the chimney. Clearly the latter will require running the cable from the roof, probably into the loft. Just a thought in case Plan A doesn't work.

Dave Lindsay's 5,724 posts
Select more comments
Your comment please