Switchover starts in Norfolk

Brian Butterworth published on UK Free TV
This week sees the first stage of the digital television switchover for 387,500 homes in Norfolk.

From 6am Wednesday 9th November 2011, you must perform a "first time installation" retune (sometimes "Factory Reset" or "Shipping Condition") on your Freeview box or television set if you use the Tacolneston full service Freeview transmitter.

This is because the old low power "multiplex 1" BBC service (on C63) will be replaced by the high power BBCA multiplex on the old analogue BBC TWO frequency, C55.

On Wednesday 9th November 2011 if you use the Aldeburgh at 10am, Bramford at 6am, Burnham noon, Bury St Edmunds at 6am, Creake at 3pm, Gorleston on Sea at 6am, Great Yarmouth (new transmitter) noon, Kings Lynn at 9am, Linnet Valley at 6am, Little Walsingham at 6am, Lowestoft (new transmitter) at 8am, Norwich Central at 9am, Overstrand noon, Thetford at 6am, Wells next the Sea at 3pm or West Runton at 9am relay transmitters you will be able to receive the BBC Freeview services (with the exception of HD) for the first time, and you will no longer be able to view BBC TWO on analogue.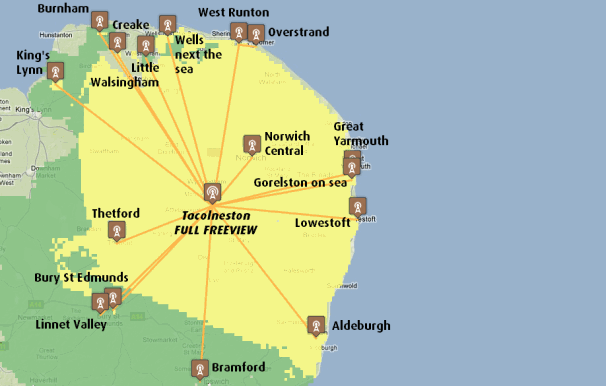 You MAY find that old equipment will no longer work - see TVs and boxes that do not support the 8k-mode

Another common problem at switchover is the ten-fold increase in signal from 10kW to 100kW will overload amplifiers and over-the-top aerial installations. If this is the case you will have to remove the booster or amplifier from the system, or perhaps fit an attenuator if you have no amplification. - see Freeview signals: too much of a good thing is bad for you.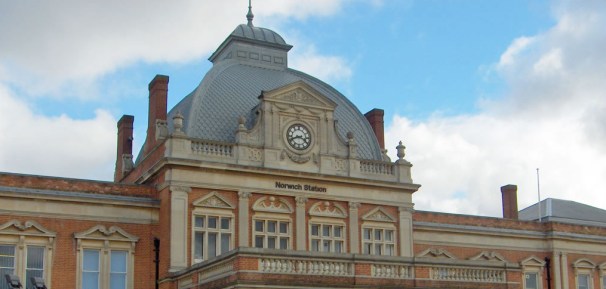 On Wednesday 23rd November 2011 will see the second stage of switchover, which provides the final Freeview configuration, including Freeview HD for all transmitters in this region.

On this date, you will need, once again, to do a "first time installation" as indicated above.

If you are over 75, you should already have been supplied new equipment by the Switchover Help Scheme.
Comments
Wednesday, 9 November 2011
M
Mark Fletcher
11:34 PM
Halifax

Frank.You're on the Crystal Palace transmitter.

Mark Fletcher's 673 posts

Retuning to Tacolneston went OK but Dave and all channels on that mux have gone, I guess they'll reappear 23.11?

Richard Baguley's 85 posts
Thursday, 10 November 2011

Richard Baguley: There were no chances to multiplex C, you should not have lost them.

Briantist's 38,844 posts

The info about about the 10x increase in signal overloading some amplifiers raises a slight concern. More power means more heat, which potentially means fire-risk, esp to TV amplifiers stuck out of the way in attics and possibly covered with flammable junk. I've no idea how the 10x signal strength increase actually translates to change in power-consumption by amplifiers - conceivably power-consumption might go DOWN, since the signal needs amplifying less. But the talk of overload does raise the question. Can anyone reassure (or alarm) me?

Chris Dunlop's 2 posts

Chris Dunlop: Please see Freeview signals: too much of a good thing is bad for you | ukfree.tv - independent free digital TV advice .

I think you will find that the levels of power increase will create no additional heat that you will be able to detect.

Briantist's 38,844 posts

Well, Brian, I can assure they're missing. Not merely No Signal but entirely missing from the (newly) scanned list of channels in the EPG.

I'll try again.

BTW, your answer to Chris Dunlop was spot on!

Richard Baguley's 85 posts

Briantist: Thanks - good to know there should be no problem over excessive electrical power/heat post switch-over, and also about the other info on that page.

Chris

Chris Dunlop's 2 posts

OK, Brian, I haven't rescanned but have manually tuned RF channels with these results:-
CH STRENGTH % QUALITY %
22 0 - 5 NS - Poor
I think Dave etc is on this so all is explained; previously this channel showed stations in the EPG but bthat was because it was there before 17 Aug when SS was reduced - make sense?
55 66 100
60 12 - 20 40
64 19 - 27 40 - 75
66 12 26
68 pops up for an instant then disappears with NS

Hope this is helpful to you. Can you point me to the Tacolneston RF channel/mux list, please?

Richard Baguley's 85 posts
Select more comments
Your comment please