ASTRA 1N satellite has entered commercial service

Brian Butterworth published on UK Free TV
From SES Astra today:

ASTRA 1N was built by Astrium on the Eurostar E3000 platform and is equipped with 52 transponders in the Ku frequency band. The satellite was successfully launched on board an Ariane 5 rocket from Kourou, French Guiana, on 6 August 2011. It had a launch mass of 5,325 kg and is the fourth Eurostar satellite in the 49 satellite-strong SES fleet.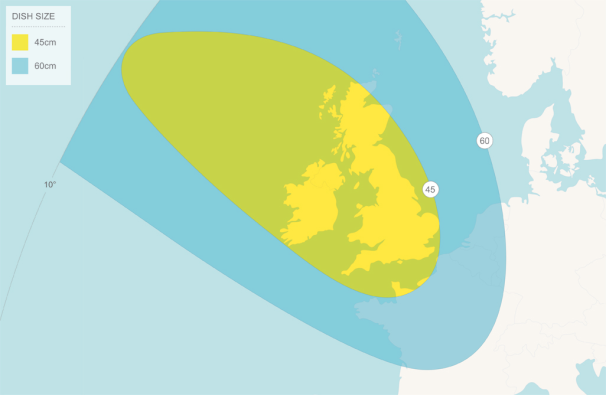 ASTRA 1N greatly enhances the flexibility of the SES satellite fleet at the orbital slot 28.2 degrees East over Europe. ASTRA 1N is notably being used by Channel 4 and ITV. The new satellite will also allow SES to offer its satellite-based broadband service ASTRA2Connect via 28.2 degrees East and thus complement its service offer from the 23.5 degrees East position. ASTRA2Connect is Europe's largest satellite broadband network with more than 80,000 end users.
Comments
Saturday, 13 October 2012

So what has happened to BBC3 and BBC4 since 12th October? Both have suddenly disappeared from the list of TV channels I can receive via Astra 28.2E, but all other BBC and ITV channels (plus Channel 4, etc.) and all the usual radio stations are still coming through loud and clear. Are BBC3 and BBC4 to be restored to Astra 28.2E, and if so, when? I would miss them terribly if they are no longer available.

Chris Weaver's 2 posts
Sunday, 14 October 2012

Follow up to yesterday: I spoke too soon. Now ITV3 and ITV4 have vanished as well. Incidentaly, some time (several months) ago, Channel Five also became unobtainable. Is the list of Freeview channels really being reduced in this way? From information published by Astra, it doesn't appear so, but why am I then having these problems? Grateful for ny help or information.

Chris Weaver's 2 posts
Tuesday, 15 October 2013
J
jamie stevens
7:53 PM
Petersfield

HELP.

my sat finder shows the astra 2 beams separately the same as a multi switch ie HH, HL, VH and VL.

Recently I cannot test the VH reception, I am assuming this is because the signal has been changed.

Any advice welcome.

regards

jamie stevens's 207 posts

jamie stevens: Isn't the most likely cause is the failure of the LNB to switch to H?

Briantist's 38,844 posts
J
jamie stevens
8:10 PM
Petersfield

hi Briantist

I was just using the multiswitch as a reference,

When I have been to customers homes over the last few days the VH reception has been missing on all installs not just one specific.

this has been since Thursday/Friday last week


jamie stevens's 207 posts
J
jamie stevens
8:13 PM
Petersfield

I have noticed this problem on new installs and old ones.

All channels seems fine on the stb's

I though this might be the beam that had been moved to another satellite

jamie stevens's 207 posts

jamie stevens: There are ... seven beams from five birds. Seems a bit strange they would all have the same problem.

Satellite footprint maps | ukfree.tv - 11 years of independent, free digital TV advice

Briantist's 38,844 posts
J
jamie stevens
8:51 PM
Petersfield

Briantist:

ok now I am confused.

my test meter shows the same 4 signals from astra 28.2 that get inputted into a multiswitch. ie VL, VH, HL and HH.

I test all 4 of these everytime I install or work on a satellite dish.

since last week the VH signal has shown no signal on multiple installs.

Has this simply moved??

Obviously your knowledge of satellites far proceeds mine :)

thanks for any further advice.

jamie stevens's 207 posts

jamie stevens: could your meter be faulty not switching to vh ?

Mazbar's 384 posts
J
jamie stevens
9:50 PM
Petersfield

Mazbar:

hi,

I manual choose vh from a list.

just seems coincidental to the timing of the changes to astra recently.

I have had this problem since Friday last week.

Seems strange out of all the sats on my meter that this is the one setting no longer working

jamie stevens's 207 posts
Select more comments
Your comment please