COM7, COM8 and COM9 part II - which transmitters are "in group"

Brian Butterworth published on UK Free TV
Following on from More Freeview capacity - COM7, COM8 and COM9 - in the 600MHz band below is a table showing the list of transmitters and the proposed channel allocations for the proposed three new multiplexes.

Next to each allocation, in the "dB" column is the amount of signal loss that using the allocated "grouped" aerial for each transmitter will cause.

A value of 0, shown with a green background, denotes full power. A value down to -3dB with an orange background shows that a grouped aerial will probably work, and values in red of -4dB or lower are where a grouped aerial will block the signal.

There is a chart at the bottom of the page showing how various grouped aerials perform under the "reference ITC" model that Ofcom and Arqiva use.

Transmitters shown bold have the new multiplexes "in group", those totally "out of group" are shown in italic.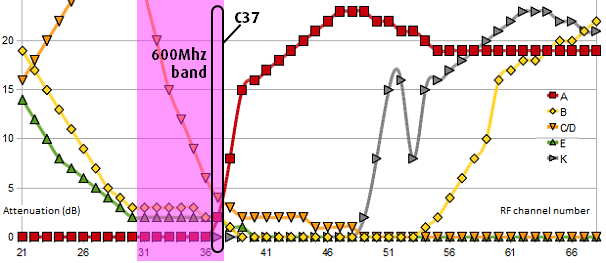 Comments
Monday, 26 September 2011

My idea was that if they convert from DVB-T to DVB-T2, I guess that they need to build new transmitters. If they're building new transmitters, why not reallocate the frequencies to the same, more efficient model that will be used for COM 7 & 8? If you can change five frequencies per multiplex to three per multiplex, why not do it to create more multiplexes or to clear some frequencies for other use? (52.3992,-0.7201)

Charles Stuart's 159 posts

Charles Stuart: No new masts are built for COM7, COM8 and COM9, the equipment will be placed lower down the existing structures.


You can't reallocated PSB1, PSB2 and PSB3 as they are on ALL transmitters, not just the "main 80", and COM4, COM5 and COM6 use frequencies that fit in with the existing pattern and (almost always) are "in group", as per: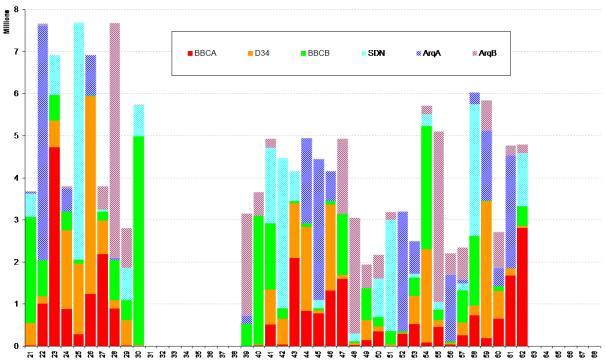 COM7, COM8 and COM9 will always be at lower power levels that COM4, COM5 and COM6.

Briantist's 38,844 posts
Tuesday, 27 September 2011
A
Adrian Morris
2:33 PM
Billingshurst

Hi. Am trying to get my head around this. I'm on Midhurst transmitter on my old c/d group aerial and this seems to suggest that I wouldn't be able to get the com 7-9 multiplexes even with a wideband aerial.

Would one need a second aerial and then combine the signal?

Thanks,
Adrian Morris
RH14 0SQ

Adrian Morris's 2 posts

Adrian Morris: At Midhurst you need a wideband aerial, as COM7, COM8 and COM9 will all be "out of group". A C/D aerial will block COM7, COM8, COM9.

Briantist's 38,844 posts

Why can't my folks not get BBC red button via their outside aeriel and integrated tv (Emley Moor) yet they can on a portable TV and built in aeriel with a set top box (East Yorks and Lincs BBC1)

mad tony's 1 post

mad tony: Not all devices have the "MHEG-5" system required for Red Button to work. It was OK in the past, you probably just need to do this - My Freeview box has no EPG, is blank on FIVE, ITV3, ITV4, ITV2+1, has no sound or the channel line up is wrong | ukfree.tv - independent free digital TV advice .

Briantist's 38,844 posts
Thursday, 29 September 2011

Brian,

I get Freeview from the Whitehawk transmitter using (I believe) a group C/D aerial and can get all current multiplexes.

With the signal loss predicted -15 to -6 dB, and after the power increase at DSO, won't the resultant signal levels on COM7, COM8 and COM9 be very similar to those I currently get?

Regards

Peter's 18 posts

Peter: No, you will need a wideband aerial.

Briantist's 38,844 posts

Brian: Thanks - I'll wait, though, until something more definite happens about the use of COM7-9 before I replace my current aerial.

Peter's 18 posts

Peter: Yes. The point about the post was to say that "if you get a new aerial..." rather than change it now.

Briantist's 38,844 posts
Select more comments
Your comment please