Freeview signals: too much of a good thing is bad for you

Brian Butterworth published on UK Free TV
Most people will experience nothing but simplicity and joy with the digital switchover - the process that turns off the old five high power analogue signals, and the existing six low power digital services and replaces them with six new high power Freeview multiplexes.

For those with problems, there are generally three issues.


Eliminating other possible problems first
The first is that very, very old equipment will not function with the digital signals split into 6,817 sub-signals, as it was only designed to work with 1,705 sub-signals. This is known as the "8k
mode
issue" - see
TVs and boxes that do not support the 8k
It is also common that people do not clear out the old
channel list
(by selecting "first time installation" retune, "Factory Reset" or "Shipping Condition") before doing an "autoscan" for the available broadcast frequencies, and this results in everything from missing
channels
to no subtitles, programme guide, wrong channel numbers and no text services. If you can't find how to do it see either
Freeview Retune - list of manuals
or do it this way:
My Freeview box has no EPG, is blank, has no sound or the channel line up is wrong
.
A third problem is caused by having signals from more than one
transmitter
- see
Digital Region Overlap
.
The final very common issue is "too much
signal
".
Transmitters have much more digital power after switchover
At most transmitters, the digital signals after switchover are considerably more powerful than before. This was because when the analogue and digital services ran together, the digital services were kept low to prevent appearing as snowy
interference
on television sets using analogue
reception
.
Here is an example, from
Sutton Coldfield
, of how the signals change at switchover:

4,000kW of analogue signals are turned off, and the digital services increase in total power from 48kW to 1,200kW - that is an increase of 25 times in numerical terms, also know as +14dB. (The reduction of -7dB from the analogue strength is intended - the digital services require less power to cover the same number of homes).
This large increase in power should cause no effect for most people. A stronger signal does not increase the
picture
quality
(you need
Freeview HD
for that), sound levels - the only effect should be that more homes that are further away from the transmitter
mast
can receive a stable digital signal.
High gain aerials and signal boosters
However, many people have been tempted into buying one both high
gain
aerials and signal boosters.

High-gain aerials were very suitable for places where the Freeview signal before switchover was very weak indeed, but if you have one of these and you are located closer to the transmitter, you will probably now have a signal overload.
Generally speaking, signal
booster
devices are never
really
much use for Freeview reception, and much of the time they actually amplify the interference more than they do the signal, causing reception to get worse, not better.
How to tell if you have too much signal
There are almost as many ways for a Freeview box to display the "signal strength" and "signal quality" as there are types of Freeview box. Here are some of them: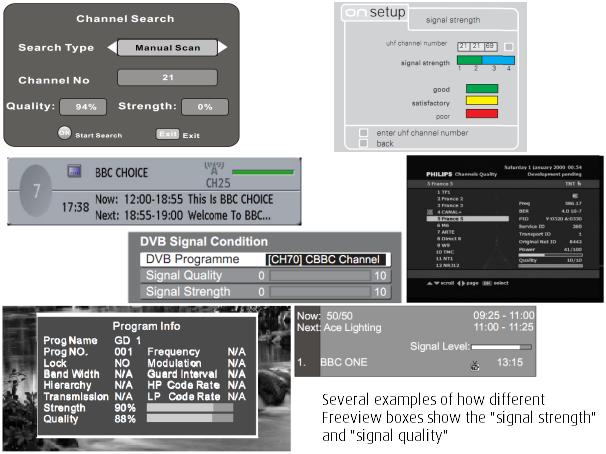 Speaking generally, there will be two indicators:
One is
signal strength
- this shows the power level of the signal entering the Freeview box. Often "0" is the lowest and "10" the highest, but sometimes it can be a percentage, sometimes coloured boxes and so on.
The signal strength should be around 75% - more than this indicates too much signal.
The other measure is the
signal quality
and this is much more important to high-quality Freeview viewing. Any measures that increase this to the maximum will provide for uninterrupted viewing, lower values will result in "bit errors" that cause the picture to freeze and the sound to mute out.
One problem with over powerful signals is the overload can sometimes show as a low signal because the receiver circuitry will enter a "blown fuse" state to protect itself.
How to deal with too much signal
First, if you have a booster or
amplifier
- remove it from your system. Don't just unplug the power, as this will result in
no signal
getting though the device.
If you can't just disconnect the
output
cable
and connect it to the input cable, you might need a coax female-female coupler to connect two male connectors together.

If you don't have a booster or amplifier, you might have to fit an attenuator onto the cable. They come in two types, either a "single attenuator", around five pounds, or a variable attenuator, for around ten pounds. The variable sort has a knob that can be turned to select the required level of signal dampening.
Comments
Wednesday, 29 October 2014
A
Alan Green
3:38 PM
Coventry

Alan
I have build in free view in my Sharp Aquos tv and when a message came on screen to retune the free view in September,the tv has never been the same again.The problem is the tv keeps breaking up,tiles on screen,distortion,I have also deleted the channel list manually and started again but the problem still remains.I have checked the signal strength which is on its max 99,but the quality bar bounces up and down from 0 to 36,46 50,62 and back down to 0.The frequency is always different most the time it is 650mh,sometimes 642.0mh and the highest i have seen it 674.0mh.I have tried to find the answer on line but to no avail.When i look on line its always poor signal good quality and not the other way round.I would be very grateful if someone could advice on how i could fix this problem. Thanks

Alan Green's 1 post

Alan Green: Indications are that Sutton Coldfield is the only station providing good signal coverage in your location. The figures you mentioned of 650 / 642 / and 674 correspond to the multiplex channel numbers of BBC1 / SDN ITV3 etc / and ITV1 respectively, and if you select BBC1 (EPG1) and go into the signal check screen, the Mux channel number should "always" be C43 / 650.00 Mhz, likewise (EPG3) ITV1 being C46 / 674.00Mhz, and with (EPG10) ITV3 being C42 / 642.00Mhz.

Are you using any form of booster? because if your are try bypassing it by connecting the aerial directly into the TV.

jb38's 7,179 posts

Alan Green : Further to that said, a Google Earth check on your location would suggest that you "might" be connected into a communal aerial system? should this be the case, then its always the best policy to check with someone else residing in the block just in case the problem is also being experienced by others, as the distribution amplifier that feeds the signals into the individual apartments could have developed a fault.

By the way, it might possibly be of assistance if you provide the model number of the Sharp Aquos TV.

jb38's 7,179 posts
A
Alan Green
5:09 PM
Coventry

Hi ,JB 38,
Thank you for replying to my question.The TV is connected to a communal aerial and i have asked numerous people who reside here if their TV is playing up and they all say no.Sutton Coldfield is providing the TV signal.The signal is on the max bar is on the max 99 and the quality is not as it bounces up and down and does not stay stable.I am not using a booster,the TV is connected to the wall socket that is connected to the aerial.The Sharp Aquos Model number is LC40LE831E,

KIND REGARDS
ALAN GREEN

Alan Green's 9 posts

Alan Green: Although the problem you are experiencing "is" symptomatic of the TV's tuner reacting to an excessive signal level being fed into the aerial socket, the fact of you stating that it was perfectly OK before the recent retune rather indicates that something other than an excessive signal level is responsible for the problem, at least that is based on the assumption that the company responsible for the maintenance of the communal aerial system did not make any adjustments to distribution amplifiers at the time of the retune.

However, although you may have manually deleted various channels, its really better to carry out a first time installation (or reset) on the TV, as this completely deletes anything stored in the tuners memory including any corrupt data that may have been picked up, but though I cant see a reset facility mentioned in the manual for this model, therefore you will have to resort to the second best.

This involves carrying out an auto tune "but" with the aerial connector having been removed beforehand, as this procedure will (or should) scrub everything in the tuners memory ready for the aerial being reconnected and a normal auto-tune being carried out, although in your particular model, after the aforementioned retune minus the aerial, its best to first of all switch the set completely off (from mains supply) for about 30 seconds or so before powering it up again, then carrying out the initial installation.

By the way, all said is based on your reception being from Sutton Coldfield, which on checking does indicate this being the case, albeit that the local (2,5 miles) Allesley Park transmitter is indicated as being possible to receive but on the basis of being variable, its BBC being on Mux C25, ITV on Mux C22.


jb38's 7,179 posts
Friday, 31 October 2014
A
Alan Green
2:16 PM
Coventry

Hi JB38,
i have done what you said but there is no change,but i watched the tv in the early hours of the morning and all the problems i am having did not occur,that seems strange and the Signal bar was on max 99 and so was the quality bar.Just one last thing when the tv is been retuned the signal source is as follows, DTV-T channel 01 is 570 ,02- 618, 03,-626, 04- 642, 05,-650, 06- 666, 07-674, and the last channel is 08-866.Is it normal for the last signal source channel to be so far away from channel 07-674.

KIND REGARDS
ALAN GREEN

Alan Green's 9 posts

Alan Green: Remember that your TV might have just been on the tipping point when you watched it, and being in the middle of the night, there might be a slight difference in atmospheric conditions, hence a slightly lower signal level. Why not use an attenuator (they are just £1.59 each from Amazon), and see if it makes a difference?

Different tuners react in different ways, and they might not have a problem, whereas yours might be a tad sensitive.

MikeB's 2,579 posts

Alan Green: The frequency of 866.00Mhz would, if it existed, correspond to Ch70, and the fact that your TV is indicating this channel does point to some other factor coming into the equation as the highest frequency used for Freeview transmissions is 786.00Mhz / Ch60.

Purely for test purposes, whilst you are viewing 866 on the signal check screen, remove the TV's aerial plug and connect a short piece of wire (about 2 feet or so) into the socket, as I am curious if 866 is still seen or not, as it might be originating from some source in the block.

Another thing I wondered about is, as your reception would appear to be OK in the early hours of the morning, is 866.00Mhz still being indicated on a signal check screen? or does it only appear at the same times as you are having problems?

jb38's 7,179 posts
A
Alan Green
8:21 PM
Coventry

Hi jb38.
The frequency 886.00Mhz is still the same all the time,the reason i mentioned it was because i was trying everything from factory settings, deleted all channels manually,but i did do a manual search and that is when the signal source went to 886.00Mhz in the last signal source box 08-.I do remember that it was 7- -Mhz before and don't know how to make it the way it was before,as i thought when i manually deleted all programmes then the signal source would of reverted back to the original signal source settings.

KIND REGARDS
ALAN GREEN

Alan Green's 9 posts
A
Alan Green
9:01 PM
Coventry

jb38:
I just went back into the Channel settings,programme setup,digital setting,additional search,execute additional search yes-no clicked on yes then yes on Manual search clicked on yes,and when i do this it says ENTER FREQUENCY BAND FOR DIGITAL SERVICE SEARCH and there is a blue box with 0.0Mhz and it much be asking for me to insert numbers and i did try 786.0Mhz but to no avail,do you have any idea what i should put in this box,thanks

Alan Green's 9 posts
Select more comments
Your comment please