Tacolneston (East Anglia) transmitter Freeview retune

Brian Butterworth published on UK Free TV
If you live in East Anglia and use Freeview from the Tacolneston transmitter, you will need to perform a retune on Wednesday 17th August 2011.

At around midnight, multiplex B (BBC Four, CBeebies, BBC Parliament, 303, BBC Radio 1, BBC 1Xtra, BBC Radio 2, BBC Radio 3, BBC Radio 4, BBC Radio 5 Live, BBC Radio 5 Live Sports Extra, BBC 6 Music, BBC Radio 4 Extra, BBC Asian Network, and BBC World Service) moves from C58 moves to C66, and Multiplex C (PICK TV, Dave, Really, E4+1, Big Deal, Create and Craft, Price Drop TV, Gems TV 1, PICK TV +1, Daystar TV, Food Network and Sky News) from C61 to C68.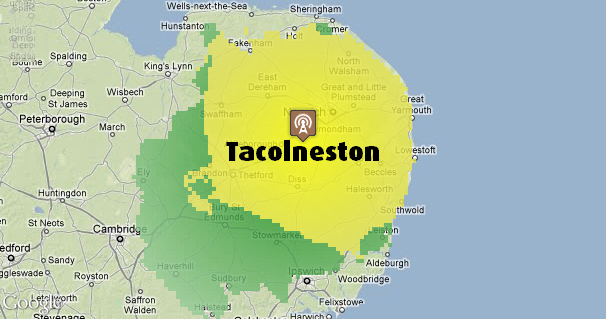 From 6am Wednesday 17 August 2011, you must to a perform a "first time installation" retune (sometimes "Factory Reset" or "Shipping Condition") on your Freeview box or television set

This is NOT the digital switchover for Tacolneston - that starts on Wednesday 9th November 2011 and completes on Wednesday 23rd November 2011.

These changes are required to protect the BBC multiplexes on the Waltham transmitter.
Comments
Tuesday, 16 August 2011

My mum-in-law lives in Hatfield Peverel, and recieves her new freview from London. or so I thought,she mentioned about a notice on her scree last week about the change, but did not press the blue button.
Would she come under the Tacolneston transmittor. I checked her regional news on BBCi and it reads East like we are. Will she change tomorrow?

Jenny Andrews's 1 post

Jenny Andrews: Can't be sure without a postcode, but if the news on BBC One and ITV-1 is "East" and you have seen the message, then it is more likely than not.

Briantist's 38,844 posts
Wednesday, 17 August 2011
A
ALIB
12:50 AM
King's Lynn

I live in PE316wp, North Norfolk and receive my news program from Calendar in Hull, i.e. not the Tacolneston transmitter.
This is totally irrelevant to me as I wish Norfolk news, not Yorkshire. Can I change this with my freeview? Thanks. Al.

ALIB's 1 post

ALIB: Yes, you can. You would need to point your aerial to Tacolneston then retune your box. If it's a roof aerial, getting a professional to move it is recommended.

You may find that reception of multiplex 2, which carries ITV1, is unreliable until switchover in November.

For now, retune your box after 6am, as Belmont completes switchover tonight.

You might also find that once the Kings Lynn transmitter switches over in November, you can tune into that without moving the aerial. However, Tacolneston is expected to be more reliable in the long run.

Mike Dimmick's 2,486 posts

Do you have 2 aerials on your roof like many in North Norfolk - one horizontal pointing to Belmont and one vertial pointing to a local transmitter?

If so use analogue for BBC 1 East until the switchover (Tacolneston group) and then retune when TAC switches over. Didn't you get the Digital UK leaflet through your door that explains this?

If not follow Mike's recommendations.

James C's 26 posts

I have retuned my three TV,s and I no longer have Sky news. However I retuned a friends TV and hey presto there was Sky news! I have since tried a manual retune but no succes.

Mike Kew's 5 posts
H
Helen
5:51 PM
Bridlington

I have lost 5USA, 5*, film four and others- they were all perfect before the switchover.
Why?

Helen's 1 post

Helen: You are not predicted to be in a good Freeview reception area, and you are not expected to even have "marginal" reception of the ArqA and ArqB multiplexes until 2012.

You would probably be best advised to switch to Freesat if you want more channels - see Compare Freeview Light and Freesat TV | ukfree.tv - independent free digital TV advice .

Briantist's 38,844 posts

See my earlier post. I do miss Sky News! can anyone help PLEASE? Mike

Mike Kew's 5 posts
Select more comments
Your comment please