DAB transmitters, multiplexes and radio stations

Brian Butterworth published on UK Free TV
The information is taken from Ofcom, and is displayed in what I hope you will find a useful way.

There are six types of page shown:


Map of all DAB transmitters
On this map you can click a
transmitter
symbol to get more information about the selected transmitter.
Maps of each DAB transmitter with indoor coverage for each map shown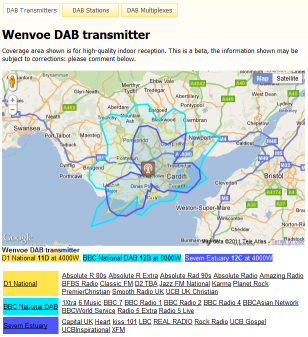 These pages show the indoor coverage area for each
multiplex
on the transmitter, listing of the
power
for each multiplex, and the stations provided.
List of all the DAB multiplexes
You can click on any multiplex name to see its details.
Lists of the stations on each DAB multiplex and the transmitters carrying the multiplex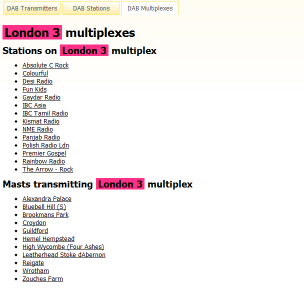 Click on a
station
name to find details of the station.
A list of all the DAB radio stations
For each
DAB
radio station, a list is shown of the multiplexes that carry the station and the transmitters for each.
Comments
Thursday, 21 July 2011

Looks like pretty decent DAB coverage to me. The DAB transmitters that are on the south coast, are they restricted in which direction they broadcast in? It just seems like you could easily recieve the DAB signals in Belgium, The Netherlands and the northern part of France!

Josh's 97 posts
Friday, 22 July 2011

Josh: They look quite restricted...


Briantist's 38,844 posts

For comparison here is NOW Digital's Sussex Coast coverage map: http://www.localdigitalradio.co.uk/SussexTX.jpg

Ash's 27 posts
Saturday, 23 July 2011

Comparing the Sussex coast maps with South Wales coast maps and de-facto reception, I could well imagine that reception would be possible way out into the Channel, possibly beyond from a directional DAB aerial. Reports from a boat would be most interesting!

michael's 857 posts

Braintist: OK, so what about if there was a "weather lift" period? Would that mean there would be more chance of the DAB radio stations being picked up in France?

Josh's 97 posts

Briantist:
A quick look at your post on 22/07/2011 at 8:16am.
Looks like very few places will get anything more than the BBC multiplex
and big towns like Eastbourne, Worthing and Selsey near Bognor Regis won't get any stations.
Just hope they don't close FM analogue before everybody can get digital.

Mark A.'s 373 posts

Good work Braintist
Just browsing through the ofcom pages on radio DAB switchover information, looks like (for my region anyway) in Manchester/North West that there may be plans for new DAB transmitters (Glossop, Warrington, Saddleworth, Beech Hill, Romiley too name a few).

Harry's 10 posts
Sunday, 24 July 2011

Mark A: DAB reception is fine in Eastbourne, Worthing and Selsey accross all three multiplexes.

Ash's 27 posts

Well done Brian,worth waiting for!!

Des Collier's 171 posts

Ash:
I was just going by the maps above.
But thinking about it, all the places I have mentioned are in direct line of Brighton over the sea.
Unless there are any mountines made of sea water I can't see why they won't get a siginal from Brighton.

Mark A.'s 373 posts
Select more comments
Your comment please