Sudbury transmitter group switchover begins

Brian Butterworth published on UK Free TV
This week sees the first stage of the digital television switchover for 460,700 homes in Essex and parts of Suffolk.

From 6am Wednesday 6th July 2011, you must to a perform a "first time installation" retune (sometimes "Factory Reset" or "Shipping Condition") on your Freeview box or television set if you use the Sudbury full service Freeview transmitter. This is because the "multiplex 1" BBC service will be replaced by the BBCA multiplex on a different frequency. Update: And, in the instance of Sudbury, multiplex A/SDN also moves at the first stage.

If you use Felixstowe, Ipswich Stoke, Somersham, Wivenhoe Park or Woodbridge relay transmitter, from Wednesday 6th July 2011 you will be able to receive the BBC Freeview services (with the exception of HD) for the first time, and you will no longer be able to view BBC TWO on analogue.

In addition there are three new transmitters at Burnham on Crouch (new), Clacton (new), Rouncefall (new). From Wednesday 6th July 2011 these three transmitters will start transmitting the BBC multiplex, with the normal (limited Freeview Light) service starting on 20th July 2011.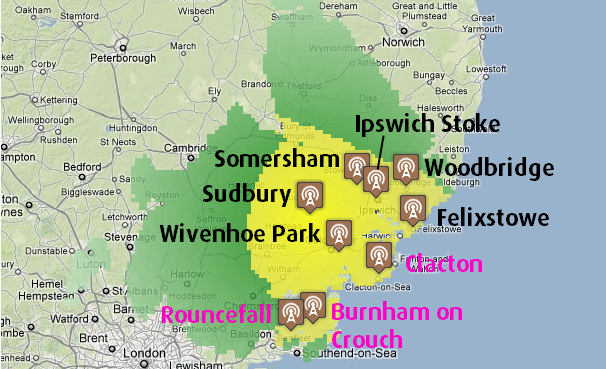 You MAY find that old equipment will no longer work - see TVs and boxes that do not support the 8k-mode




The University of Essex is also located in Wivenhoe Park.

On Wednesday 20th July 2011 will see the second stage of switchover, which provides the final Freeview configuration, including Freeview HD for all transmitters in this region.

On this date, you will need, once again, to do a "first time installation" as indicated above.
Comments
Thursday, 7 July 2011

Kim Lay:
Sudbury is a main transmitter that transmits Channel 5.
If you can't get Channel 5 analogue you are getting your TV from a relay.

Sudbury transmitter = horizontal polarization.
Sudbury relays = vertical polarization. (Bars on aerial go up and down)

ITV1 will start on the final stage when all analogue ends with relays.
Film4 will not be transmitted from the relays.

Mark A.'s 373 posts

Mark A.: While Sudbury does transmit Channel 5 analogue, it is at one-fifth the power of the other analogue channels and from aerial panels mounted half-way down one side of the mast. It's not a good indicator of whether you're using Sudbury itself, or another transmitter.

Kim Lay: Looking at your previous posts, in June 2007, you said that your aerial pointed to the 'Kent' transmitter. I assume you meant Dover. If that's still the case, yesterday's changes shouldn't have had much effect on your reception - although some boxes might store off-beam reception from Sudbury rather than the direct beam from Dover. That might cause unexpected picture break-ups on BBC channels now, and ITV1/C4/C5 if you retune in two weeks. See Digital Region Overlap for some ideas on selecting the versions you want.

You're ultimately expected to have the best chance of reliable reception from Sudbury, and once the other PSB multiplexes power up in two weeks, it will be your best option for those channels. However, the commercial multiplexes C and D are expected to be better from Dover until November. After that, Tacolneston's switchover will cause more interference to the Dover signals and it's a toss-up between Sudbury and Dover for these services.

Mike Dimmick's 2,486 posts

Thanks to everyone. All is explained and so we will try further retunes up until the 20th. You are a very helpful bunch and thanks again.

Kim Lay's 14 posts
Friday, 8 July 2011
P
paul
1:39 PM
Clacton-on-sea

Hi i live in clacton and my free view is built in but i can't get itv , itv2 , chan4 , chan5 but i can get itv2+1 itv3 itv4 5* and citv any idea whats wrong . paul

paul's 4 posts
D
Dave E
3:20 PM
Colchester

Paul in Clacton

Were you able to get any of these channels before the start of Digital Switchover?

The multiplex that carries ITV3 (SDN) has had a modest power increase and a change of channel, which probably explains why you are now getting it on Channel 49.

ITV1 is on another multiplex (PSB1) and it is soon to have a major power increase and a change in channel to ch 41. I suggest you wait until July 20 when you should rescan your box

Dave E's 5 posts
D
Dave E
3:25 PM
Colchester

Dave E message of 3:20pm 8/7/2011

Correction: ITV1 is on multiplex PSB2

Dave E's 5 posts
P
paul
3:59 PM
Clacton-on-sea

to Dave E in Colchester ,Cheer's Mate , had the channels listed before the switch over but the normal 3 base channel av never got. i'll wait till the 20th and try again .
whats the PSB2 ? i only the basic .
Paul

paul's 4 posts
D
Dave E
4:43 PM
Colchester

Paul in Clacton

PSB2 carries the main commercial stations such as ITV1, Channel5, More4, ITV2, Channel4 , etc

There is going to be a local relay transmitter in Clacton after July 20 to carry PSB1 (BBC ) and PSB2 (major commercial stations)

Dave E's 5 posts
P
paul
5:29 PM
Clacton-on-sea

Cheer's Dave E from Colchester , i'll only use it when it's raining as sky is still crap in the rain after all these years of running

paul's 4 posts
Sunday, 10 July 2011

my mother has a tv with built in freeview in one room and a phillips set top box in her other room for the other tv. The tv with built in freeview is still picking up ITV but the set top box will not along with some other channels.
reading some of the other comments already posted it seems that ITV should work from 20th July but I'm confused why one seems to still be working but the other is not ?? just wanted to see if the potential problem is with the set top box and needs replacing ? Its not particularly old as far as I know.

Any help appreciated.

Sean's 1 post
Select more comments
Your comment please