Compare the free TV channels on the different systems.

Brian Butterworth published on UK Free TV
If you visit Compare Freeview and Freesat TV there are three pages that show the channel logos and names for each channel that is exclusive to the first and then the second system, plus those television channels common to both.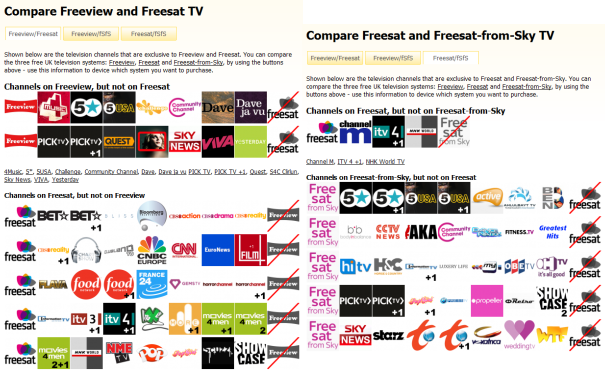 Comments
Wednesday, 1 June 2011

Very useful - but doesn't "Freesat from Sky" have dofferent channels still?

There used? to be a page showing them in a list?

Steve's 1,173 posts

Steve: Freesat, Freeview and fSfS are all listed and All free-to-watch channels | ukfree.tv - independent free digital TV advice is still there.

Briantist's 38,844 posts
Sunday, 5 June 2011
A
Anthony Clapinson
9:45 AM

What is the future for 3D tv for freeview/freesat.

Anthony Clapinson's 1 post

Anthony Clapinson: The same as for everywhere else, a gimmick with no consumer demand that will be forgotten about.

Briantist's 38,844 posts
S
Steve
2:26 PM
Peterborough

As I lack binocular vision I cannot have 3d TV, but surely anything like a real 3d effect would be highy desirable?

Steve's 1,173 posts

Steve: I think I heard it summarized as "anything that requires you wear glasses to watch TV is never going to catch on".

And it's not 3D, of course, it is stereoscopic. 3D television would allow you to move around and change your perspective on what you can see like you can with a hologram.

Briantist's 38,844 posts
Monday, 6 June 2011

My Telly has built in Freeview - like most TV's on sale now.Am I correct that I purchased Freesat I would still have the Freeview channels which aren't on Freesat? I guess the problem would be recording these channels.

Simon Richards's 20 posts

Simon Richards: Yes, having Freesat will not effect your Freeview equipment in the slightest.

Use Freesat+HD if you want to record/pause/play from Freesat.

Briantist's 38,844 posts
Wednesday, 8 June 2011

Hi. Most of the TVs in my house are connected to Freeview boxes and, for the most part, they perform quite well. The weather does seem to make a difference sometimes. I have a satellite dish left by the previous owners, who, I believe, subscribed to Sky. I purchased a Freesat Humax HD receiver, and my local engineer completed the installation. Until today, everything was working fine, but, suddenly we have a gentle female voice-over describing the scenes. I realise this is something to aid viewers with sight problems and we must have accidentally triggered something on the remote. I have mislaid my instruction manual and need to disable this facility. Can you advise please? It must be wonderful for people with sight difficulties, but for us, it is just too distracting.
Thanks for reading this.

Edwina Waters's 10 posts

Edwina Waters: You have enabled "audio description". Go into the set-up menu, and select Audio and turn it back to "English" (rather than "Audio Described").

Depending on the remote, there could be a button you can press there.

Briantist's 38,844 posts
Select more comments
Your comment please