Compare the free TV channels on the different systems.

Brian Butterworth published on UK Free TV
If you visit Compare Freeview and Freesat TV there are three pages that show the channel logos and names for each channel that is exclusive to the first and then the second system, plus those television channels common to both.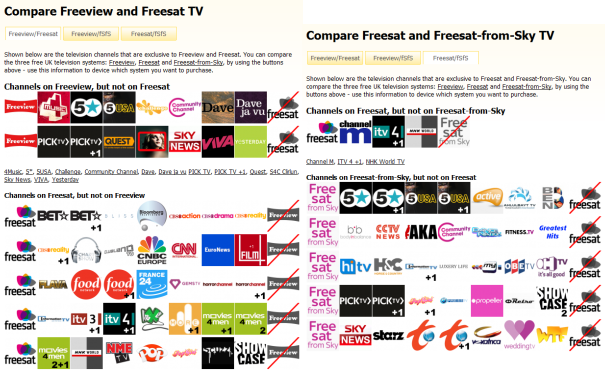 Comments
Wednesday, 29 June 2011

Ian McKie: If you look at the LNB on the end of the dish arm and only see one cable coming from it, then the chances are that its only a single LNB that's fitted.

An easy way to understand it is, a quad block fitted to a dish gives the same facilities as four separate dishes, but with only one aligning up process, although the latter wouldn't really apply in your case if the dish was aligned correctly before the previous occupier left.

You can get dual as well as quad blocks, but anyone that's updating is best to go for quad as the price difference is minimal, plus if all outputs aren't required they are always there as a spare in case a problem developed with the one in use, very convenient in "no signal received" cases where the box appears OK, as for a test the lead from it (the box) can be swapped onto a spare output on the LNB.

The quad block would "only" be required if you wanted to do as was suggested, that is two outputs for a Freesat PVR, one for the old Sky box you have, and the remaining one for possible use on a Freesat capable TV.

Hope this helps to clarify the subject a little!

jb38's 7,179 posts

Ian - to extend slightly on jb38's comment, I think Sky installers often did use a quad or double LNB with only a single cable. I just looked at a dish here which has one cable at the far left of a box with 4 outputs.

Basically, look where the cable goes in and see how many spare slots there are.

The LNB is a clever little thing

Low noise block-downconverter - Wikipedia, the free encyclopedia

Satellites use comparatively high radio frequencies (microwaves) to transmit their TV signals. As microwave satellite signals do not easily pass through walls, roofs, or even glass windows, satellite antennas are required to be outdoors, and the signal needs to be passed indoors via cables. When radio signals are sent through coaxial cables, the higher the frequency, the more losses occur in the cable per unit of length. The signals used for satellite are of such high frequency (in the multiple gigahertz range) that special (costly) cable types or waveguides would be required and any significant length of cable leaves very little signal at the receiving end.



Steve's 1,173 posts
Monday, 25 July 2011

Hi
I am a service engineer doing SMATV systems in Hotels,I am having a problem with ch22 CP transmitter, one hotel in Tower Bridge ( I have a clear view of the TX) another in Holborn, the bit error rate is very poor causing loss of picture (1 in 10 dropout)


Tony Johnson's 1 post
Mark Aberfan Aerials
3:34 PM

Hi Tony,

What aerial are you using ?

Mark Aberfan Aerials

Mark Aberfan Aerials's 1,059 posts
Monday, 8 October 2012

How can I disable the deaf aid assistant on my Panasonic TV please?

Sally's 1 post

Sally: If you are referring to the subtitles that appear at the bottom of the screen then they can be disabled using the "STTL" button on the remote control, this button usually positioned next to the one marked "Text" under the row of coloured buttons (red green yellow blue)

If though you are meaning something else then please clarify.

jb38's 7,179 posts
Select more comments
Your comment please