2011 switchover week two: The Wrekin and Ridge Hill transmitter groups

Brian Butterworth published on UK Free TV
Hardly a Wednesday from 30th March until 23rd November 2011 will not involve a step in the UK digital switchover, and this week sees the first stage of switchover for 632,000 homes in the West of Central England.

From 6am Wednesday, you will need to retune your Freeview box or television set if you use The Wrekin, Ridge Hill, Bromsgrove and Lark Stoke full service Freeview transmitters.

If you use a The Wrekin or Ridge Hill relay transmitters, from this date you will also be able to receive all the BBC Freeview services (except HD), and you will no longer be able to view BBC TWO on analogue.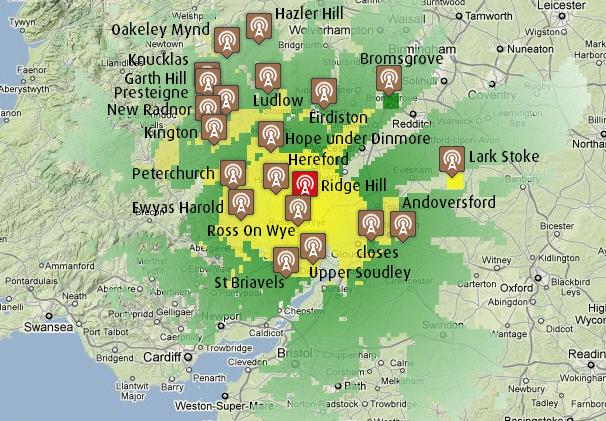 You MAY find that old equipment will no longer work - see TVs and boxes that do not support the 8k-mode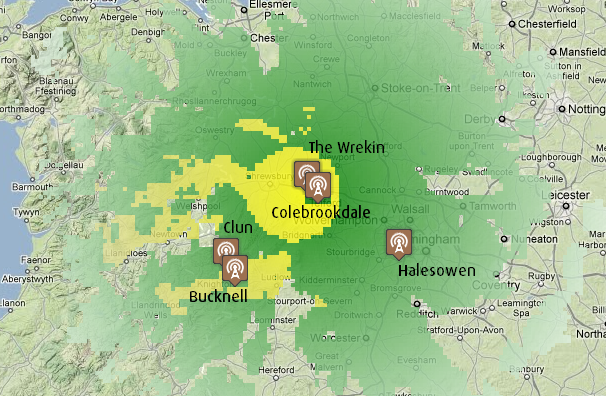 On Wednesday 20th April 2011 will see the second stage of switchover, which provide the final Freeview configuration, including Freeview HD for all transmitters in this region, except at The Wrekin where the commercial multiplexes will only be at their final output levels of 10kW in September 2011 - during this transition period the commercial multiplexes will use the following frequencies: SDN ch49 and ch31 (both 2kW), Arqiva A ch53 (1kW), Arqiva B ch57 (1kW).
Comments
Wednesday, 7 September 2011

Steve look again at the post bob says twisted together with Electrical tape

Mazbar's 384 posts

Steve sorry again but a tv 5v wont power a masthead as most need 12v if he uses his tv to power a masthead i could harm his tv

Mazbar's 384 posts

Mazbar - I took the tape to be holding the cables together - but your interpretation may well be correct.

As to the 12v/5v I bow to your expertise - but why would TV offer 5v if 12v needed?

Steve P's 1,173 posts

I dont think it is for our country i remember nokia digital boxs offering 5v outputs for there home market in norway i think. All the mastheads i have seen in uk work on 12v with different milli amps. The only other masthead that is different is fed by skys rf2.

Mazbar's 384 posts
Thursday, 8 September 2011

Hi Steve & Mazbar.
As you say, it a "Heath Robinson" job, no connectors, boxes ect, just twisted and covered with tape, one coax from aerial and four taped to it.
Obviously I need to sort this out, would you suggest fitting an internal standard 4 way splitter , or an amplified 4 way splitter .
I assume I would then need remove the booster connected to my new set altogether.
Is there any specification, make, model ect I should go for.I have 13amp power close to coax cables so no problem there.

bob plant's 18 posts

Source of all wisdom on amps and splitters

Television Aerial Boosters / Amplifiers, Splitters, Diplexers & Triplexers

bob - need to know your signal strength to be sure - put postcode into Television Aerial Boosters / Amplifiers, Splitters, Diplexers & Triplexers

As you clearly have been managing an unamplified 4 way split you may still be able to, but 4 way is generally pushing it for unpowered. Best to have any amp up at the splitter.

NB to use new type connectors not old coax plugs (assuming your old coax suitable!)

Mazbar - The link at top does have a few UK 5v amps. Should he get one or power externally?

Steve P's 1,173 posts

Before I replace the splitter connections. Having done a check on the channels I am missing, I find that I am missing MUX A. Mux B. and Mux D. on the new set, whilst all others are a good reception, will fitting a amplified splitter overload the signal to the ones I am receiving.

bob plant's 18 posts
Friday, 9 September 2011

The gain should be adjustable - but need your postcode to know what you are starting with.

Or plug it in HERE - sorry last link wrong!

UK digital TV reception predictor

I suggest you try connecting the ae to a single downlead and see what that does for you.

Steve P's 1,173 posts
B
bob plant
10:54 AM
Evesham

POST Code WR11 7HQ.
If I fit a 4 way amplified splitter, will the signal strength change depending on how many how many outputs I actually connect, that way I can connect them one at a time, with or without the power switched on.
Can you suggest an amplified splitter if thats what I need. ( is the gain adjustable separately for each output).

bob plant's 18 posts

bob p - are you using lark stoke or sutton c? (antenna vertical east or horizontal north)

Either way, you will probably find the signal OK powering one set (try it) but pushing it powering four.

That said, passive splitters are cheap enough to give it a go.

If you need a powered one it will make no (or at least little) difference how many outputs you use, and be sure to get one with adjustable gain. And 5v not 12v if you want to use your set power. I cannot reccomend which - maybe others more experienced will - or the people at the link above.

NB You old coax MIGHT be a problem, but unless easily replaced assume not!

Do you have wall sockets etc.? Best not to, but if you have you have. But they may or may not transmit the 5v DC up the coax.

Steve P's 1,173 posts
Select more comments
Your comment please