2011 switchover week two: The Wrekin and Ridge Hill transmitter groups

Brian Butterworth published on UK Free TV
Hardly a Wednesday from 30th March until 23rd November 2011 will not involve a step in the UK digital switchover, and this week sees the first stage of switchover for 632,000 homes in the West of Central England.

From 6am Wednesday, you will need to retune your Freeview box or television set if you use The Wrekin, Ridge Hill, Bromsgrove and Lark Stoke full service Freeview transmitters.

If you use a The Wrekin or Ridge Hill relay transmitters, from this date you will also be able to receive all the BBC Freeview services (except HD), and you will no longer be able to view BBC TWO on analogue.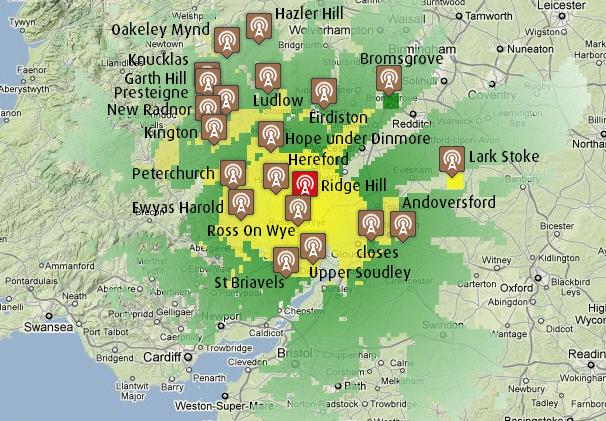 You MAY find that old equipment will no longer work - see TVs and boxes that do not support the 8k-mode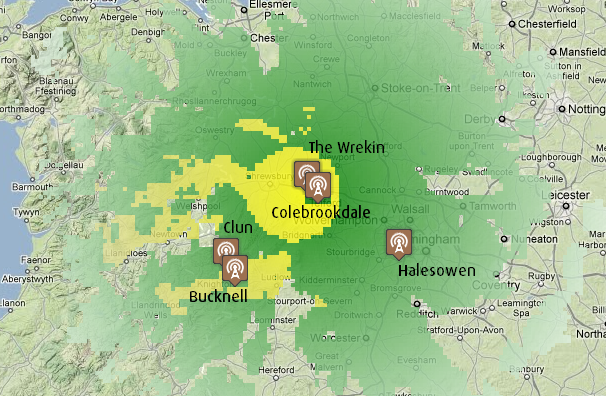 On Wednesday 20th April 2011 will see the second stage of switchover, which provide the final Freeview configuration, including Freeview HD for all transmitters in this region, except at The Wrekin where the commercial multiplexes will only be at their final output levels of 10kW in September 2011 - during this transition period the commercial multiplexes will use the following frequencies: SDN ch49 and ch31 (both 2kW), Arqiva A ch53 (1kW), Arqiva B ch57 (1kW).
Comments
Friday, 22 April 2011

PS They can have lots of transmitting aerials on a single mast. If you look at the Wolfbane data it shows grid ref and height of transmitter, often same place but different height.

Steve's 1,173 posts

PPS - I presume that you are not SDO aka "Sid"?

Steve's 1,173 posts

Hi Steve, I don't know who Sid is but I'm not him.
I am actually in a high part of Brymbo, the former Steel Works so can receive Winter Hill, The Wrekin and amazingly also, good signals from Sutton Coldfield and Lichfield.
Now The Wrekin has turned off it's analogue, also receiving weak signals from Fenton.

Just taken a look at one of my lists and see that some relays such as Garth Hill transmit both Vertical and Horizontal despite what you said about relays being Vertical. Why do they transmit both polarizations?

What I meant to say above is: Are these two different masts, one for HP and one for VP? Or are they both transmitted at the same mast, one set of aerials for HP and one set of aerials for VP? Would both sets of aerials point in the same direction on a compass or would they both be pointing different directions?

I wondered about this also on my 'home page' of this website on the top right:

Spare RF: C35 C34 C36.
Does that mean these channels can be used to tune in, say, a VCR or Sky box through the RF lead?

If that's the case, then for me: 21, 24, 27, 29, 32, 33, 35, 36, 38, 39, 56, 60, 63, 64, 65, 66, 67 and 68 would actually be available to tune in for something like a VCR. 34 wouldn't be spare though as it's BBCB Pre-DSO HD from Lichfield at the moment.

Stuart O.'s 156 posts

Hi Stuart O who is not my old mate "Sid"!

Height is alomst everything in TV signal reception. Direction being the rest! You could get a steerable aerial for your choices, though I would simply go for Winter Hill to get NW News. Can you not get any Welsh signals?

Don't know hy they would use both H and V at Garth Hill, but presumably it stops some conflicts with other signals in the areas served.

You can put H and V on the same mast; and have more or less any degree of directionality you want, from 360 degrees to a very narrow pointing. It all has to be jiggled to fit lots of conflicting signal round messy geography. N Wales must be awful - look at the cellphone coverage (lack of)

One point. IIUC, with digital transmission you can have multiple transmitters working together on a single frequency, and the clever electronics works out what is happening. I presume this will in time lead to less/no need for differing polarisations - but would welcome a more expert comment.

I think you are correct about "spare" and that the 34/35/36 is noted as a wider space. Whoever selected it probably did not think you could get Lichfield signals.

It reminds me of the introduction of C5 when they were going to use whatever was the then common VCR frequency, and sent teams of engineers to retune VCRs. But refused to do mine because I am 100m beyond their coverage line! But in a far better place to get the signal than the people lower down they were happy to deal with.

Instead they sent me an inline filter to STOP C5. So I retuned my VCR myself!



Steve's 1,173 posts

Steve, I failed to mention that I do of course receive Wrexham-Rhos. I can see the mast outside my flat as it's only 0.7 miles away, according to this site. I can also sometimes see the AWL's on Winter Hill at night.
I can't receive Moel-Y-Parc despite this website saying I can.

What I meant about H and V aerials on the compass, say for example the H aerials are pointing on a bearing of 90 degrees, would the V aerials also be pointing on a bearing of 90 degrees? Or any other direction?

If say H was on 90 deg. and V was on 270 deg., people East of the mast would need to point their aerials Horizontally and people West of the mast would need to point their aerials Vertically.

Stuart O.'s 156 posts

UK digital TV reception predictor

may interest you. NB I have given you a 100m high aerial!

Your actual postcode seems not to be listed on Wolfbane or on Digital TV Tradeview. I think that is because you are in a dip between hills.

UK digital TV reception predictor

is more realistic. Field strength below 30 is very iffy.

http://www.wolfbane.com/ukdtt.htm

shows Tx at different heights (mAOD) eg Winter Hill 734/712/682/650

103.00 + Winter Hill 62 100k 734 59 100k 712 58 100k 712 54 100k 682 61 100k 650 55 12k5 650 CD H SD660144 438*
(LL145HD)

Steve's 1,173 posts

It's a funny thing with Digital UK.
They used to have my address in their database but now they haven't.
My street shows up as LL11 5FN on their site but they don't have any numbers past 105 so if you just used that address, that would do though it seems to think my 'Most Likely Transmitter' is Long Mountain which I definitely can't receive.

I don't have any problems with TV reception. Strength and Quality between the 4 freeview transmitters I can receive are all quite high, at least 95%+ for Strength and Quality except SDN, ARQA & B from The Wrekin which is about 55% due to the lower transmission powers until 28 Sept. (I have a roof aerial pointing to Winter Hill which also picks up strong signals from Wrexham-Rhos despite wrong polarity and a good loft aerial pointing to The Wrekin/Sutton Coldfield).

I would be more interested in having my questions I originally posted answered but thanks for the Wolfbane link.

Stuart O.'s 156 posts

If you are close enough - and you are - you will get a usable signal with a bent nail. Or even without one.

I have a house in London. I had been abroad for some time when a new tenant asked me where the TV Aerial sockets were. It took me some time to realise that there were none. 2 miles from the hugely powerful Crystal Palace TV's just worked. Presumably the "Antenna" was the internal lead from the back of the ae socket to the circuitboard!

Afraid I have no idea of the detailed considerations of transmission you first asked about. I suspect only a few people involved in planning it will know at that level of detail, though when Brian returns he will know far more than I do!

Steve's 1,173 posts
Saturday, 23 April 2011

Stuart O.: Some answers

1) As stated above HP and VP are Horizontal Polorization and Vertical Polorization. A very small number of transmitter broadcast both ways. This is usually to provide a standard service area at "normal power" and a link to a relay transmitter in a restricted direction. However, after switchover Rowridge is going to do this at quite high power.

2) The mast are the same, just two transmitter element on the same mast set in different polorisations.

3A) Fenton is a relay of Sutton Coldfield in the analogue plan, but all the 81 Freeview transmitters are directly fed with their services using the fibreoptic network, so in effect it is not a relay in the digital network. The equipment at Fenton is able to take second- and third- feeds as backups for analogue services, so it can use the fibreoptic delivered Freeview to provide the analogue if the main feed is damaged, and can revert to a satellite-based backup as a backup-backup.

3B) Nottingham, Fenton, Bromsgrove and Lark Stoke were all relays themselves in the analogue plan, but as I said above the 81 full-Freeview transmitters are fed by the fibreoptic network so are not digital relays.

4) Sutton Coldfield was the original transmitter in the "Central" area when 405-line VHF television could cover a very large area. When UHF was introdued colour 625-line services, the signals do not travel over the horizon in the same way, and additional masts were required at The Wrekin and Ridge Hill to provide service in these areas. The "Central" area originally went as far south as Oxford, and as far east as Nottingham. TV regions shapes are function of the landscape, not "political borders".

5) The relays were historically provided to fill in coverage holes as they were discovered. When they were provided, the current prevaling "correct region" was used. This has led to some strange things happening over time.

6) It is easier to build a second relay than to make and existing one taller.

Briantist's 38,844 posts

Thanks for the replies, Brian.
So what you are saying basically is that for exaple Clun and Bucknell are relays of The Wrekin as due to the terrain, the signal from The Wrekin travels better to those relays compared to them receiving their relay signal from Ridge Hill? Likewise for Halesowen receiving its signal from The Wrekin and not Sutton Coldfield etc?

And was I correct in thinking that the Spare RF thing is to do with spare channels to tune external equipment to your TV?

Why does my page only mention C34, 35 & 36?
It should say: 21, 24, 27, 29, 32, 33, 35, 36, 38, 39, 56, 60, 63, 64, 65, 66, 67 and 68 would actually be available to tune in for something like a VCR. 34 wouldn't be spare though as it's BBCB Pre-DSO HD from Lichfield at the moment.
Although nothing in my area is transmitted on those numbers above, even some of them can't be used as a VCR/Sky box could interfere with analogue/digital signals on neighbouring frequencies.

Stuart O.'s 156 posts
Select more comments
Your comment please