2011 switchover week two: The Wrekin and Ridge Hill transmitter groups

Brian Butterworth published on UK Free TV
Hardly a Wednesday from 30th March until 23rd November 2011 will not involve a step in the UK digital switchover, and this week sees the first stage of switchover for 632,000 homes in the West of Central England.

From 6am Wednesday, you will need to retune your Freeview box or television set if you use The Wrekin, Ridge Hill, Bromsgrove and Lark Stoke full service Freeview transmitters.

If you use a The Wrekin or Ridge Hill relay transmitters, from this date you will also be able to receive all the BBC Freeview services (except HD), and you will no longer be able to view BBC TWO on analogue.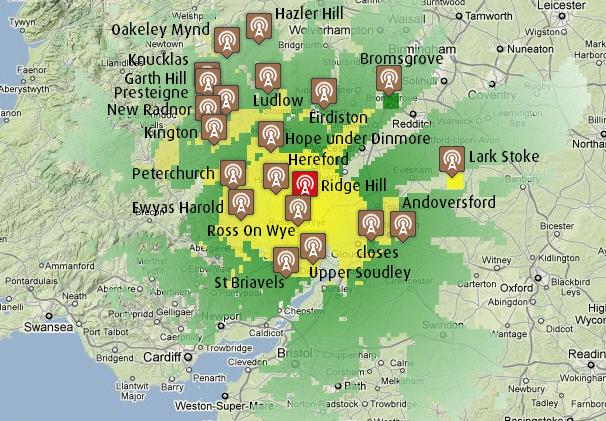 You MAY find that old equipment will no longer work - see TVs and boxes that do not support the 8k-mode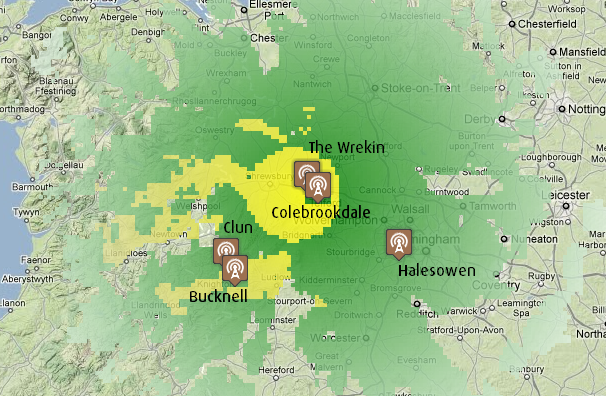 On Wednesday 20th April 2011 will see the second stage of switchover, which provide the final Freeview configuration, including Freeview HD for all transmitters in this region, except at The Wrekin where the commercial multiplexes will only be at their final output levels of 10kW in September 2011 - during this transition period the commercial multiplexes will use the following frequencies: SDN ch49 and ch31 (both 2kW), Arqiva A ch53 (1kW), Arqiva B ch57 (1kW).
Comments
Tuesday, 5 April 2011

Lark Stoke and Bromsgrove,3 com's muxes will not transmit on full powers and final allocated channels until the 28th Sept 2011,as well as The Wrekin,
Following Sutton Coldfield switch over on 21st Sept.

Will be interesting to gauge how robust the digital signal will become with 3 transmitters acting as a signal frequency network SFN

Aerialman's 139 posts

A bit of good news,is that Arqiva A and Arqiva B will double in power to 2kw between the 2nd stage of switch over(April 20th)and post- switchover retune(sept 28th)on the Wrekin.
This may give the Bridgnorth area of south-east shropshire a sniff of a chance of receiving all 6 muxes.Mux C and D have been severely nulled,since inception.

Aerialman's 139 posts
M
Mike Dimmick
10:47 PM
Reading

Aerialman: they double in power, but go back into 64QAM 2/3 mode, from 16QAM 3/4. The higher-capacity mode requires *at least* 3 dB more signal-to-noise ratio. Basically the power increase is to offset some of the loss of coverage due to the mode change.

The simulation results in the DVB-T spec are, by the type of simulated noise:

Gaussian (pure white noise)

16QAM 3/4: 12.6 dB C/N required
64QAM 2/3: 16.7 dB
Difference: 4.1 dB

Ricean fading (some reflections, but dominated by line-of-sight path)

16QAM 3/4: 13.4 dB
64QAM 2/3: 17.3 dB
Difference: 3.9 dB

Rayleigh fading (multiple strong reflections, no line-of-sight)

16QAM 3/4: 18.1 dB
64QAM 2/3: 20.3 dB
Difference: 2.2 dB

Mike Dimmick's 2,486 posts
Wednesday, 6 April 2011

Aerialman: There's more at BBC - R&D - Publications - WHP056 .

Briantist's 38,844 posts

April 6 - I would prefer to just do a manual retune rather than a full retune as where I am I get inundated with WElsh channels as well as my 'real' tx Ridge Hill. Any information available as to which mux/channels only need retuning today? Thanks

RS's 4 posts
M
Mike Dimmick
12:54 PM
Reading

RS: For people who already have Freeview, multiplex 1 is turned off and BBC A starts up in place of BBC Two analogue (usually, though at some sites it uses a different frequency and whatever channel was using that frequency replaces BBC Two).

It's recommended that you do a full reset on DSO days, because some information could still be cached.

If you want to try a manual retune, delete the following:

1 BBC ONE
2 BBC TWO
7 BBC THREE
9 BBC FOUR
70 CBBC Channel
71 CBeebies
80 BBC NEWS
81 BBC Parliament
105 BBC Red Button
301 301
700 BBC Radio 1
701 BBC R1X
702 BBC Radio 2
703 BBC Radio 3
704 BBC Radio 4
705 BBC R5L
706 BBC R5SX
707 BBC 6 Music
708 BBC Radio 4 Ex
709 BBC Asian Net.
710 BBC World Sv.

(This is the content of the BBC A mux post-DSO. Some are still on Mux B until the 20th.)

Then do a manual scan on the frequency for BBC A. At Ridge Hill this is C28, 530 MHz.

For other thoughts on avoiding Welsh services, see Digital Region Overlap.

Mike Dimmick's 2,486 posts

That worked - thanks. Somehow we have acquired four Freeview recorders and so a manual retune much preferred.

RS's 4 posts

My Freeview box has been retuned but BBC 2, 3 and 4 are all blank although the box says is has a strong signal. The main TV has all the channels

Pam's 1 post

Mike Dimmick,thank you for that explanation,most informative.
Incidentally,i have carried out Aerial installations in 3 different areas of The Wrekin service area,today.Signal strength's on BBC A(ch 26)are similar to the 4 remaining analogue channels,which i did'nt expect.Very pleasing indeed.

Aerialman's 139 posts
Thursday, 7 April 2011
Select more comments
Your comment please