Interleaved Frequencies maps (old ones)

Brian Butterworth published on UK Free TV
These are the maps, supplied by Ofcom, showing the coverage areas for the "Interleaved Frequencies" than can be used for the Freeview Local TV service.

The green areas have good predicted coverage for the "Interleaved Frequencies", yellow is possible coverage.

Note: these areas are considerably different from the normal Freeview coverage for each transmitter.

Update: Ofcom introductory comments

The study considered frequency channels -5 below and +2 above the receive aerial group for the station. Though for the 10 largest stations all channels were considered.

The ERP of main stations has been set at 10kW and relay stations at 1kW. It should be noted that in several cases these powers result in a higher ERP than allocated to the main multiplexes.

Coverage of the chosen channel has been assessed on the basis of the derived template and the use of a 64QAM 2/3 modulation scheme. Availability of mast aperture, mast loading and building space to support the required antennas and house transmitters was not investigated.

Coverage calculations are based on existing broadcast stations and reception via fixed roof top aerials.

The derived UK median templates are designed to protect populated coverage derived by the median method. The derived UK continental templates include Irish and Continental restrictions based on 23dB?V/m at the border.

The exercise has been based on version 5.51 of the UK digital plan and an interpretation of the GE-06 frequency plan for Europe. Coverage of each interleaved channel is quoted in isolation, i.e. only that channel and the v5.5 plan have been considered.

As coverage is based on the template at the planned height and at the maximum ERP, coverage using implemented antennas, heights and actual ERP will be lower.

Crystal Palace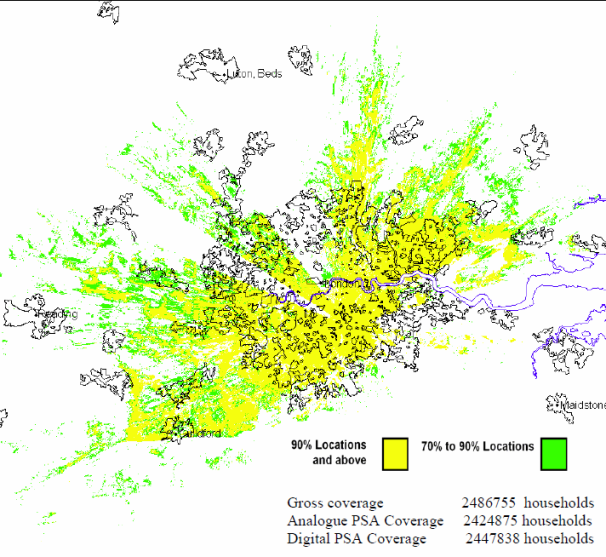 The Interleaved Map for the transmitter is created from three elements. The left circular image shows the UK post-switchover use of the same frequency, the central circular image is the Continental use of the same frequency. These are subtracted from the "normal" coverage area for the transmitter, the right hand image, to create the "Interleaved Frequency" coverage area.



Winter Hill




Black Hill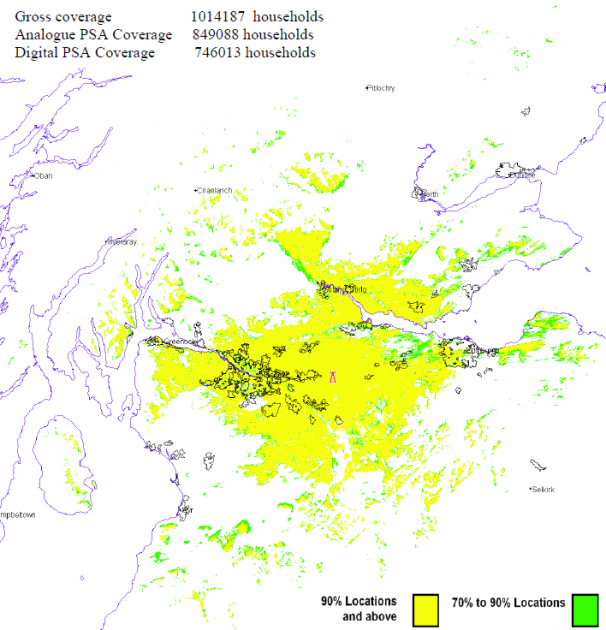 Sutton Coldfield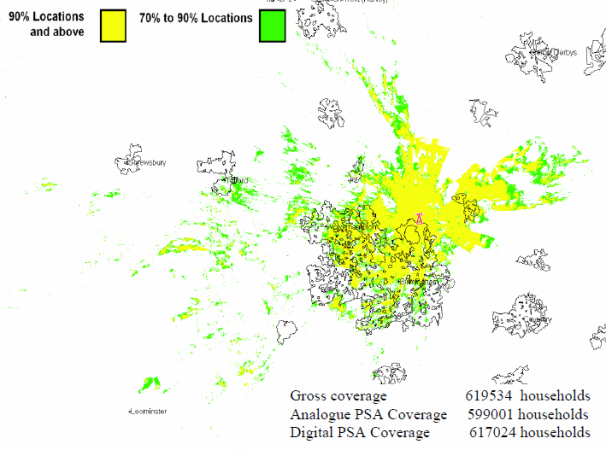 Pontop Pike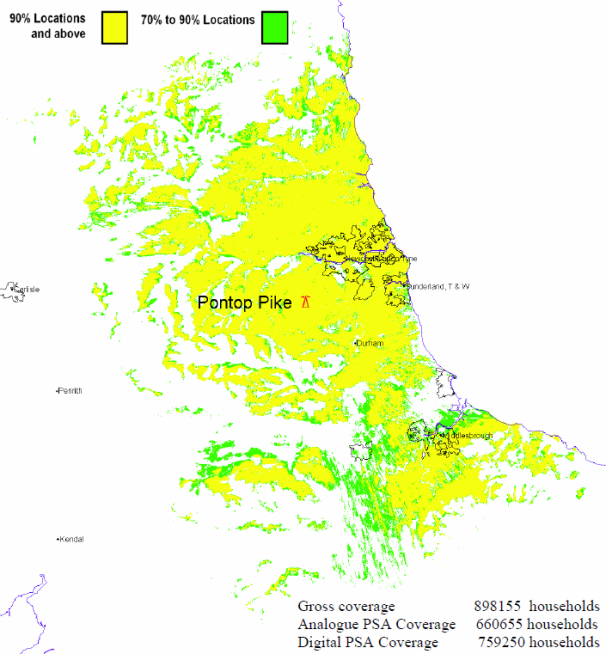 Emley Moor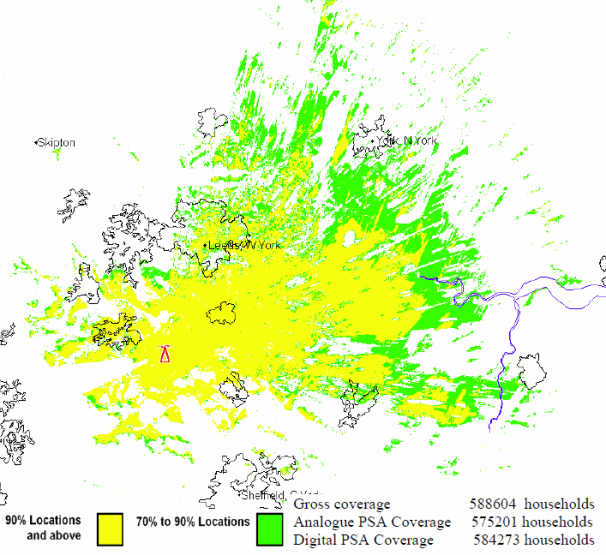 Bilsdale




Rowridge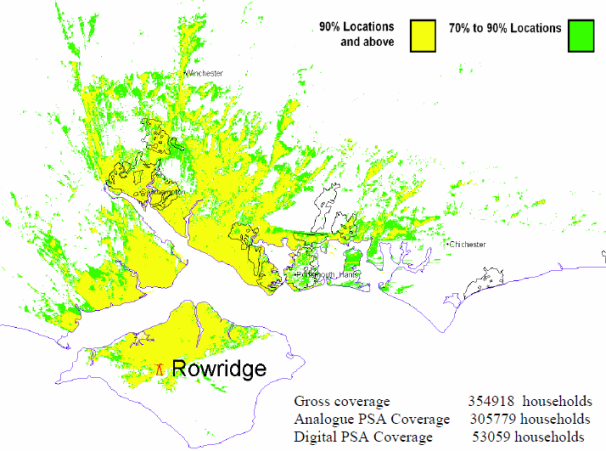 Waltham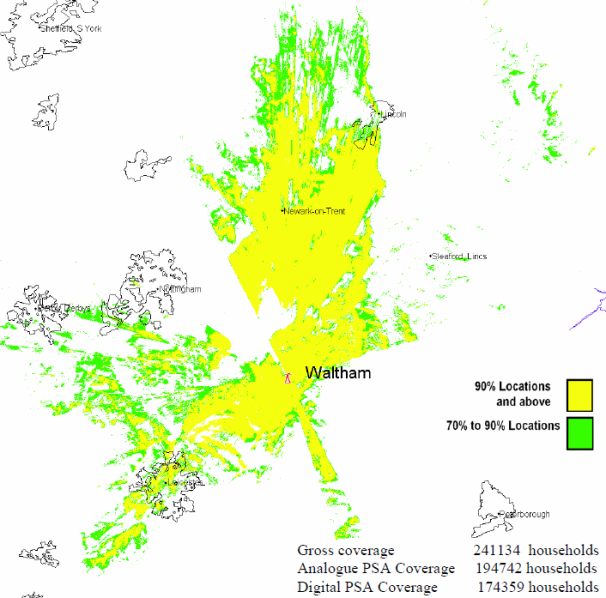 Craigkelly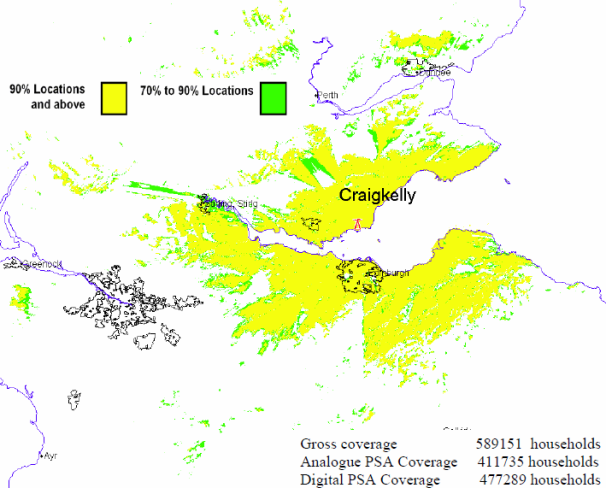 Wenvoe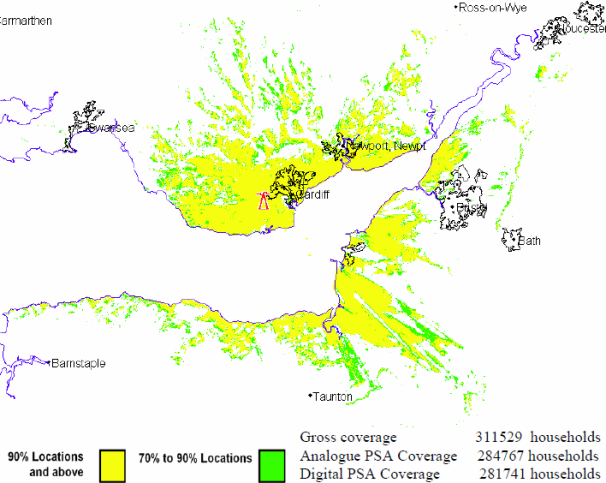 Belmont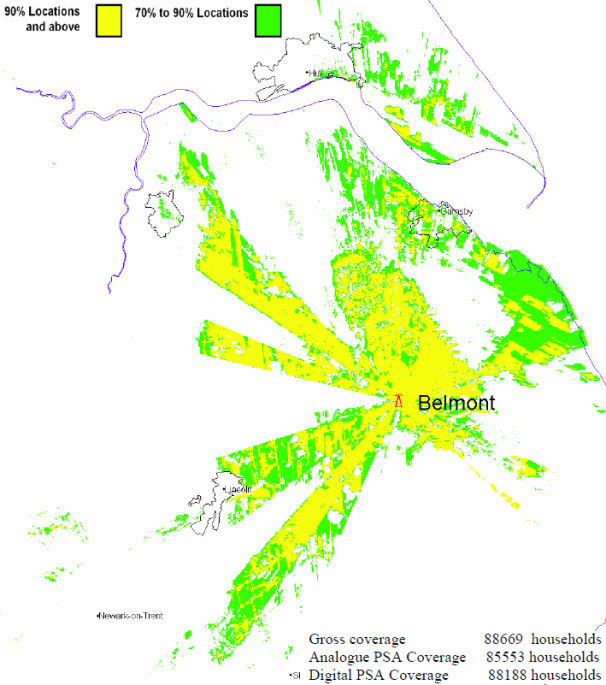 Hannington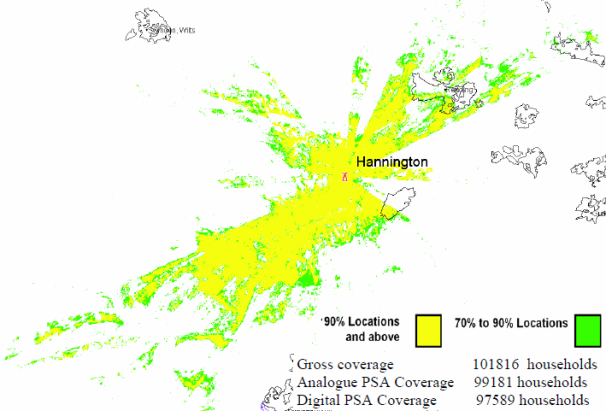 Divis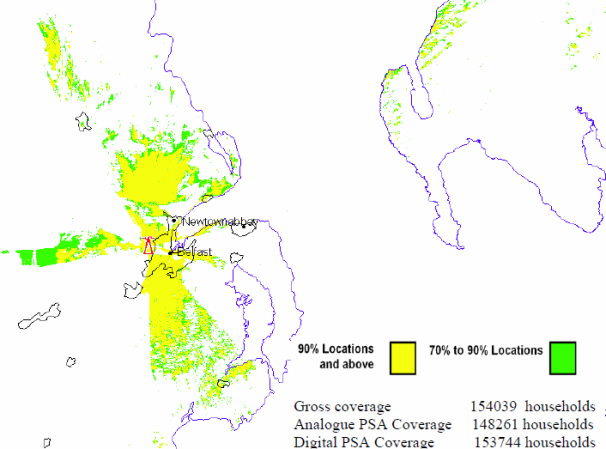 Tacolneston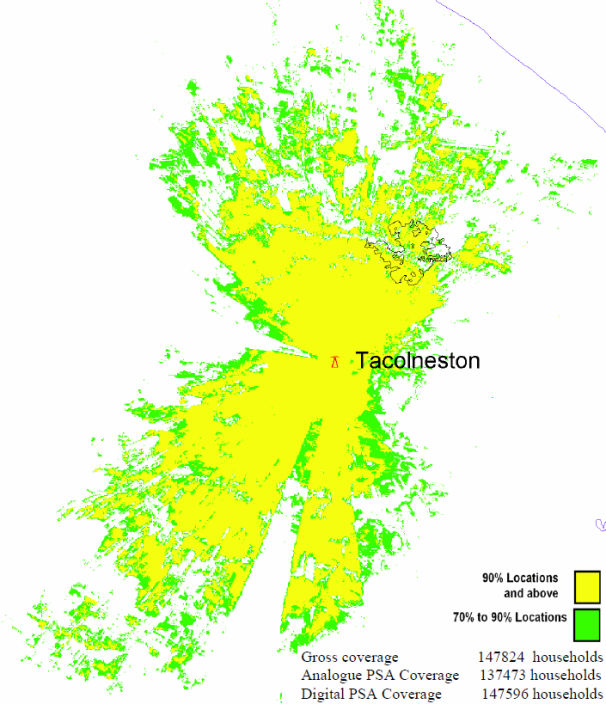 Sandy Heath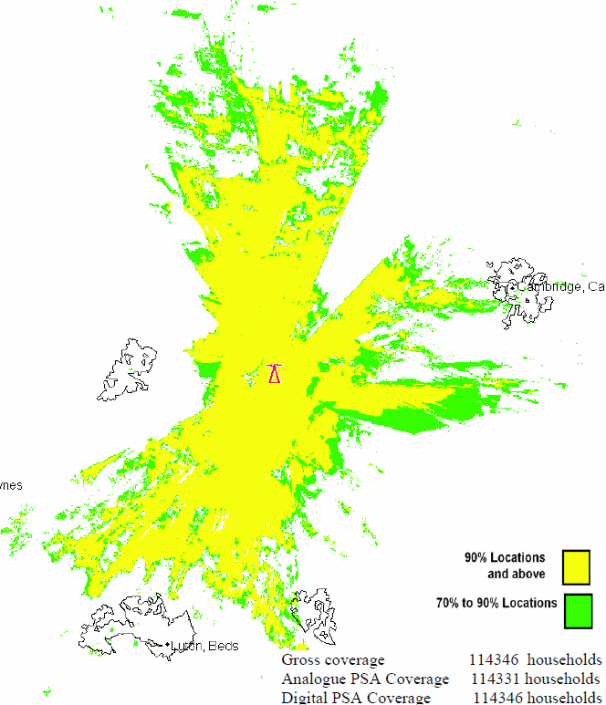 Mendip




Sudbury




Oxford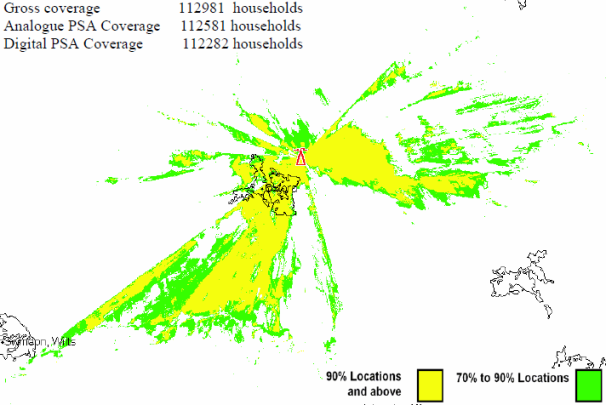 The Wrekin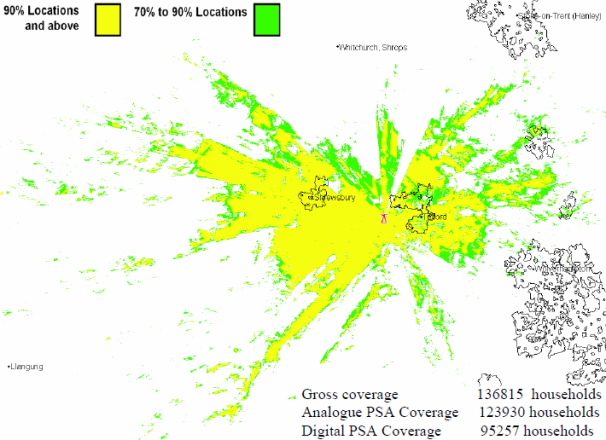 Dover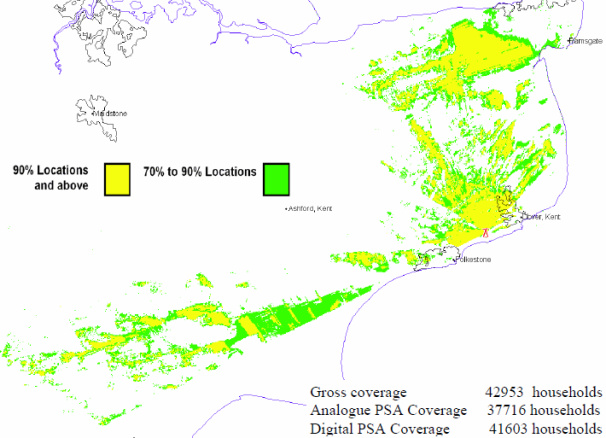 Ridge Hill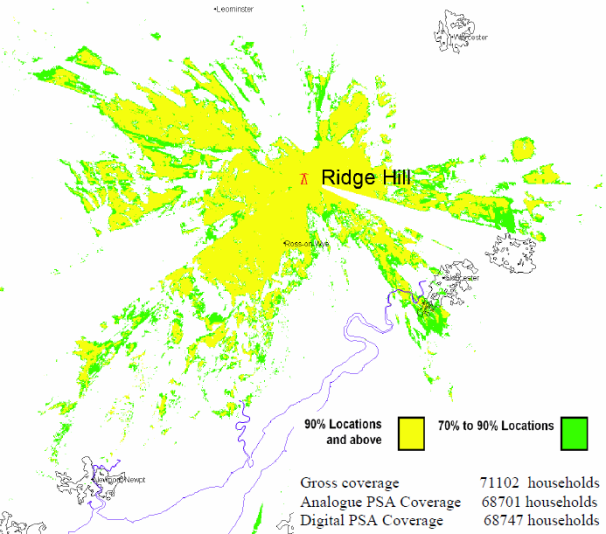 Caldbeck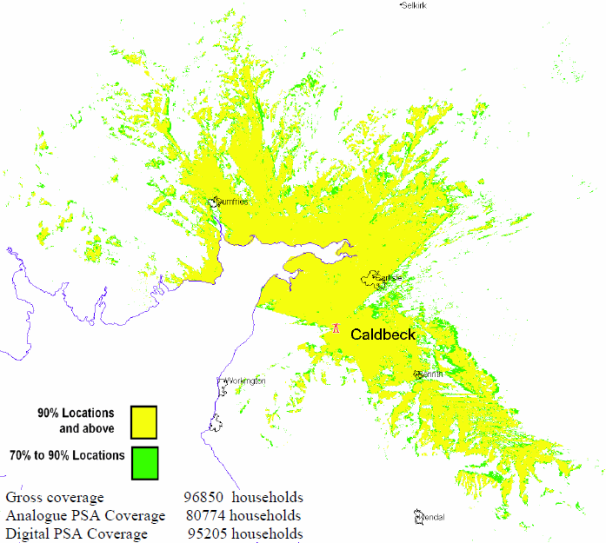 Durris




Angus




Limavady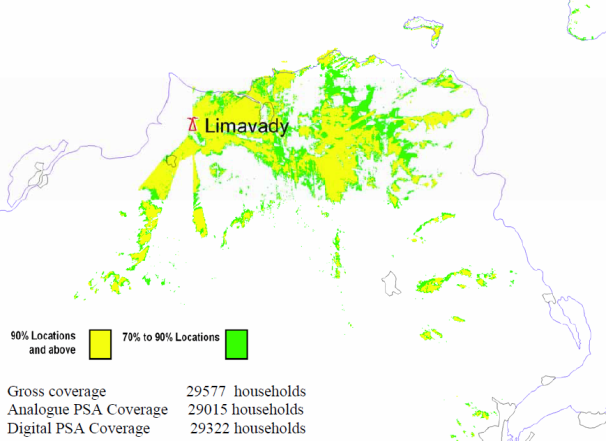 Knockmore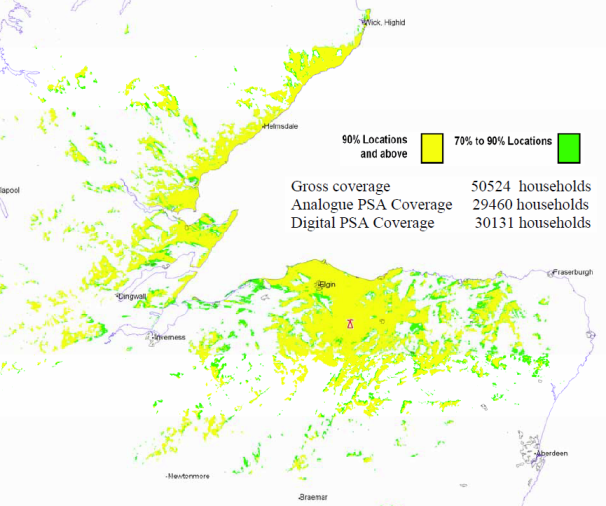 Rosemarkie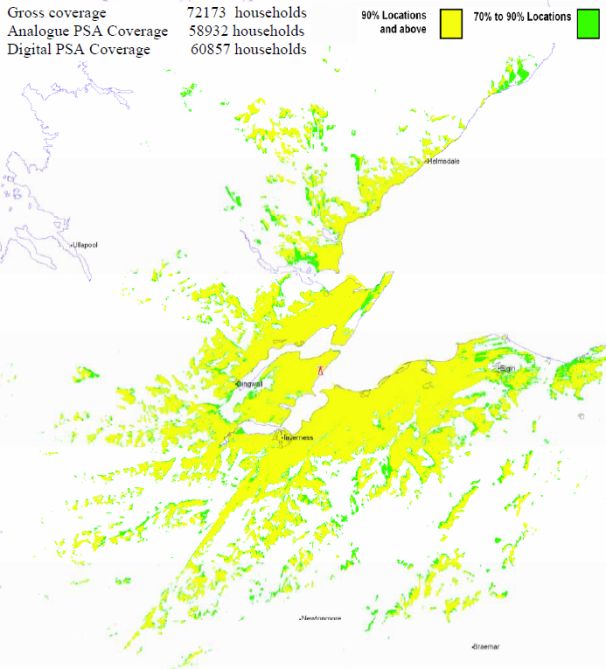 Hemel Hempstead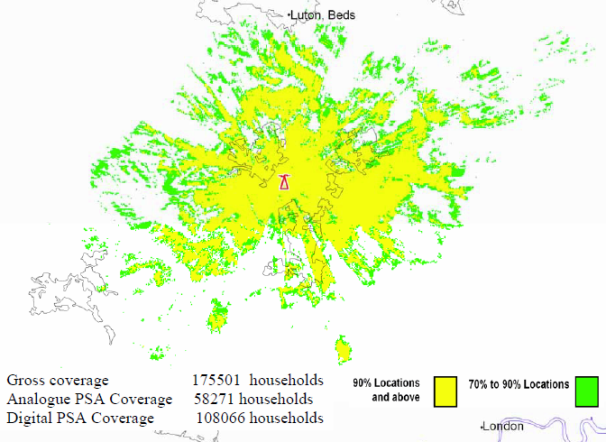 Brierley Hill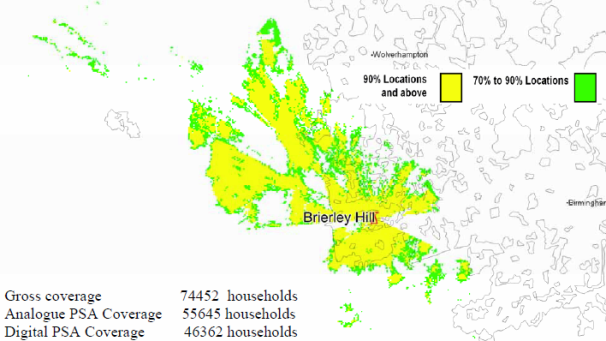 Bromsgrove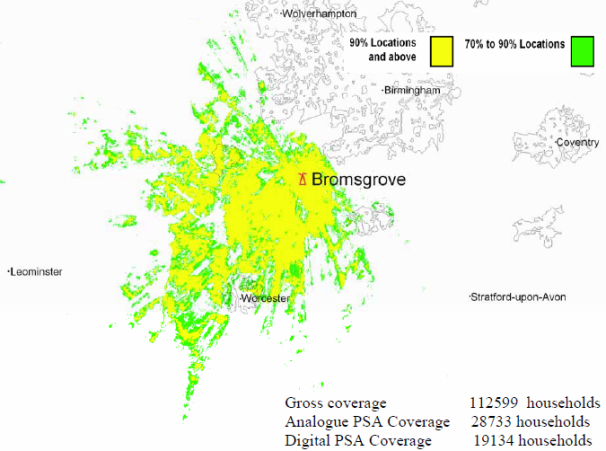 Kidderminster




Storeton




Sheffield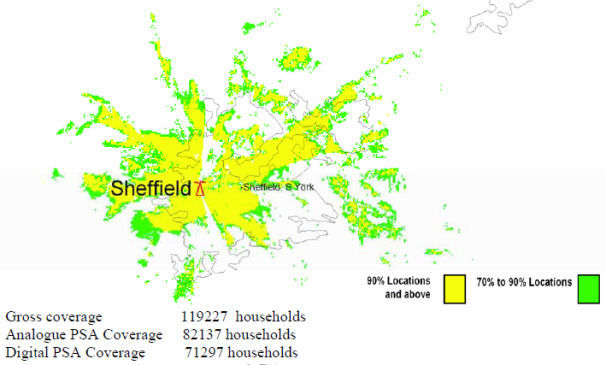 Guildford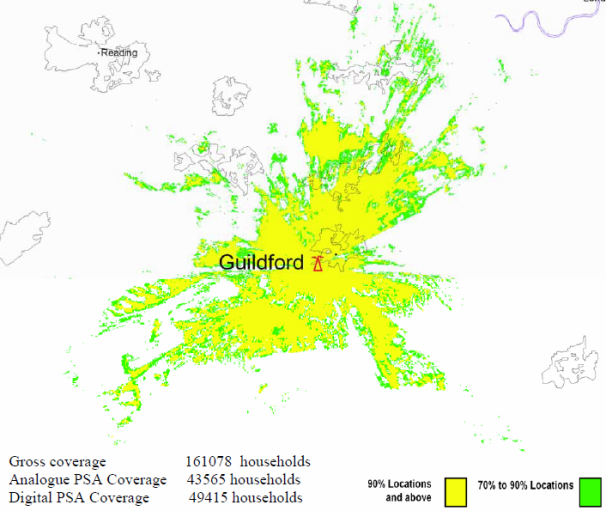 Reigate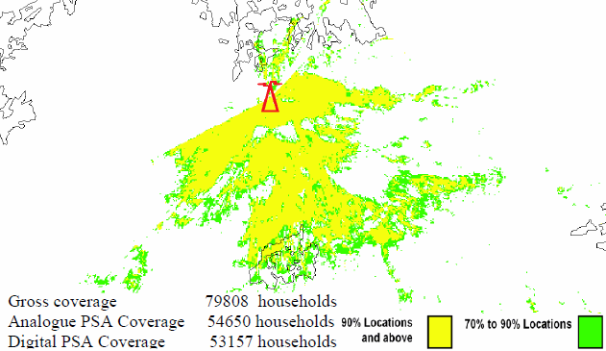 Tunbridge Wells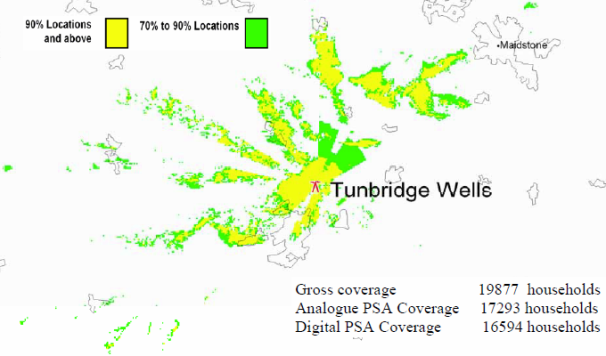 Malvern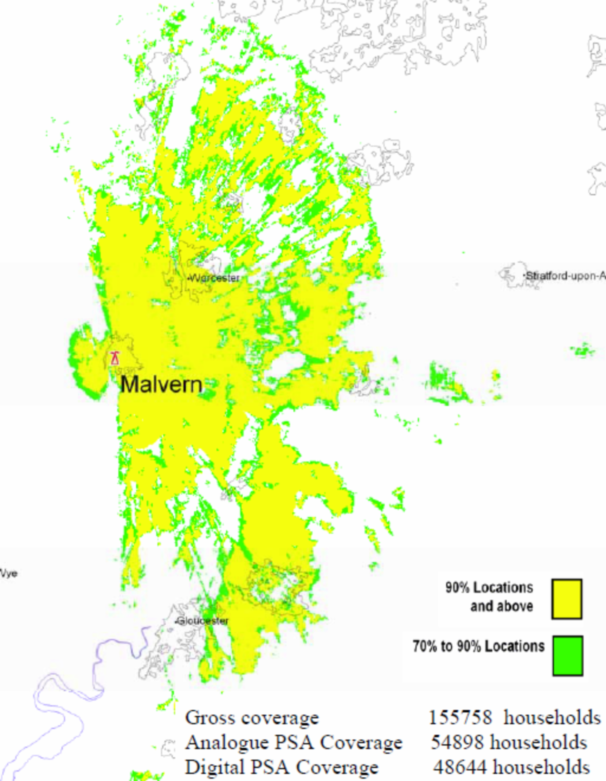 Lark Stoke




Fenton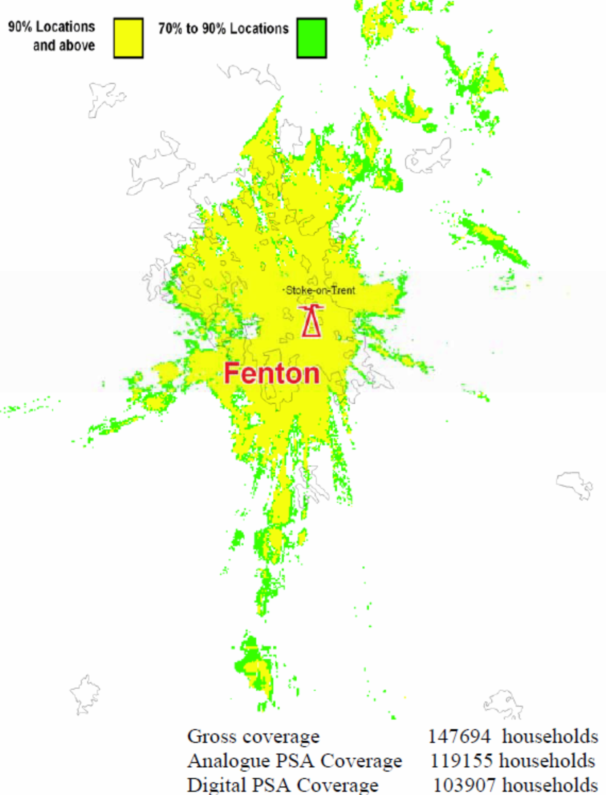 Pendle Forest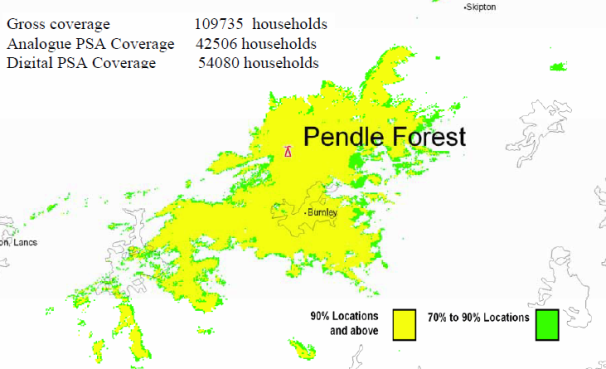 Saddleworth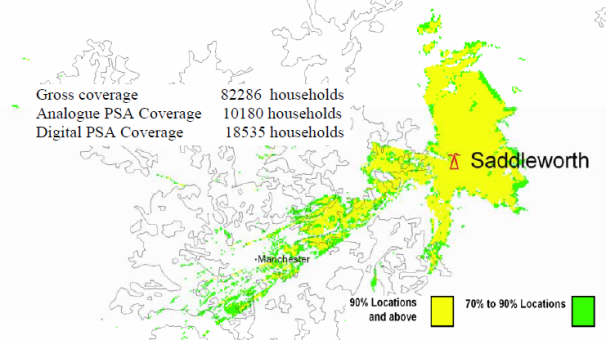 Lancaster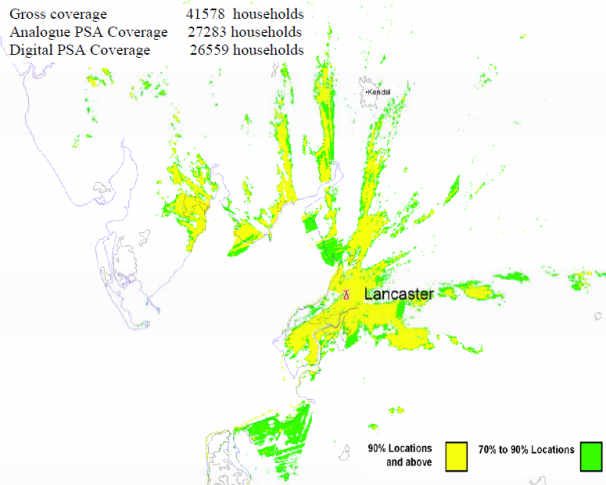 Keighley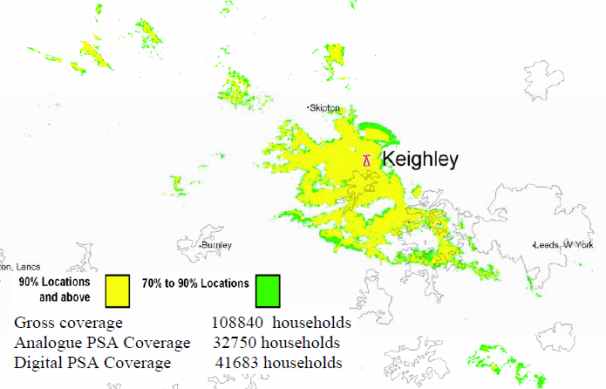 Kilvey Hill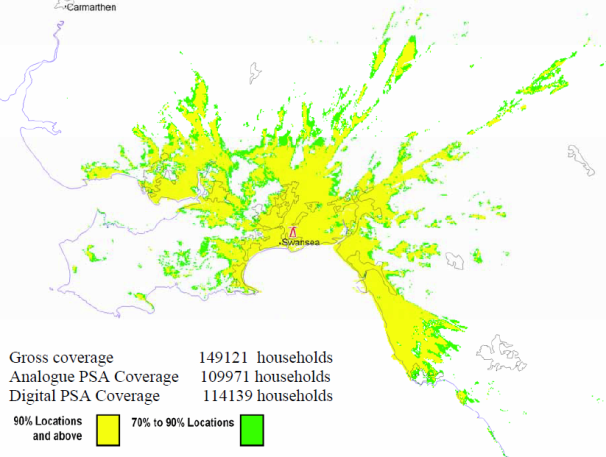 Salisbury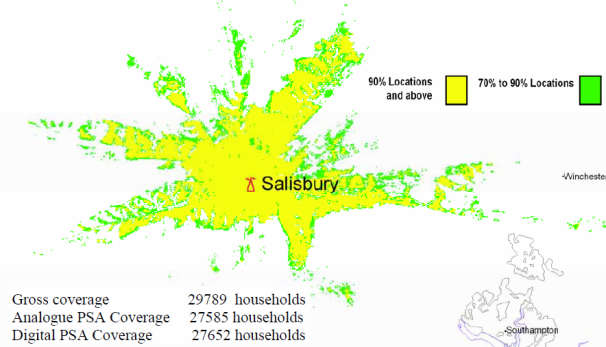 Poole




Whitehawk Hill




Fenham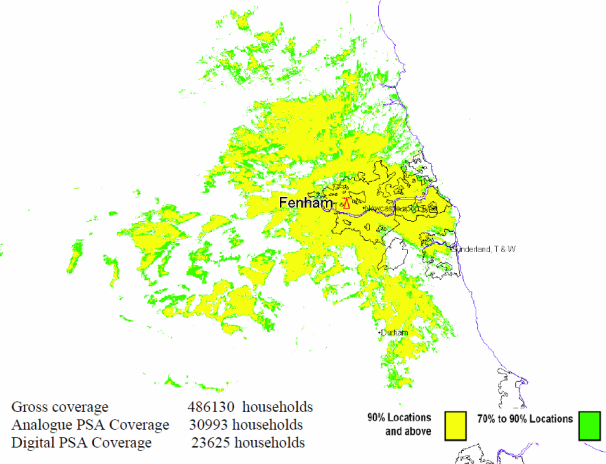 Bristol Kings Weston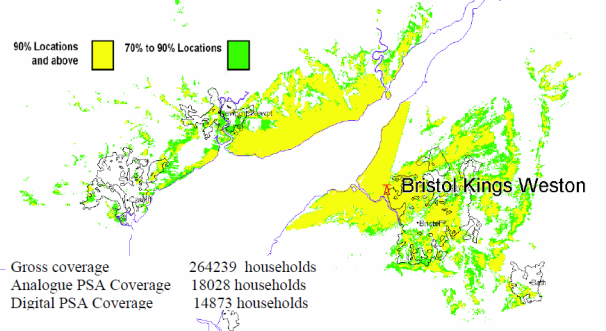 Bristol Ilchester Crescent




Nottingham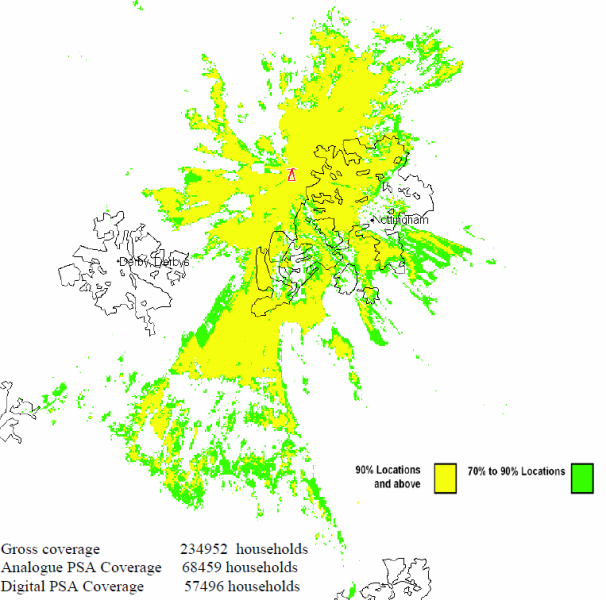 Llanddona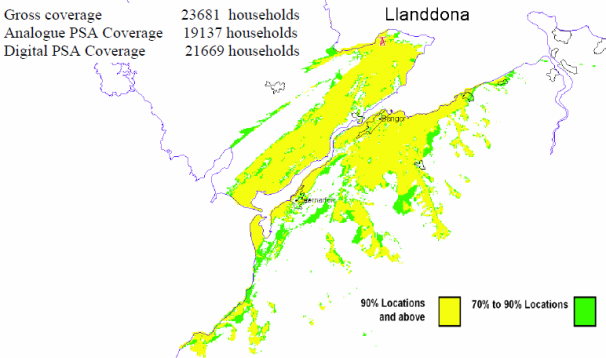 Carmel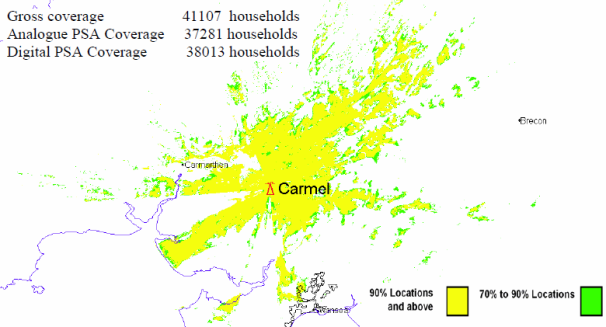 Olivers Mount




Luton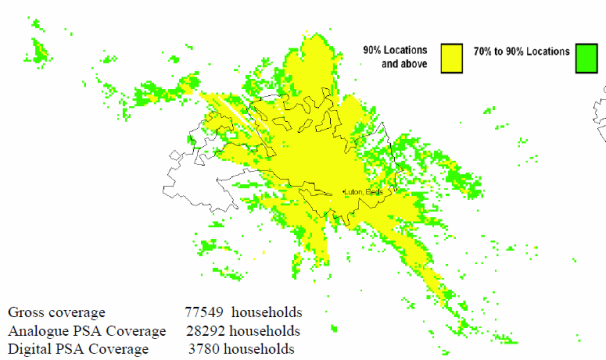 Midhurst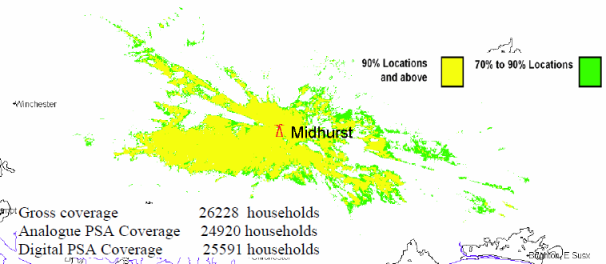 Preseli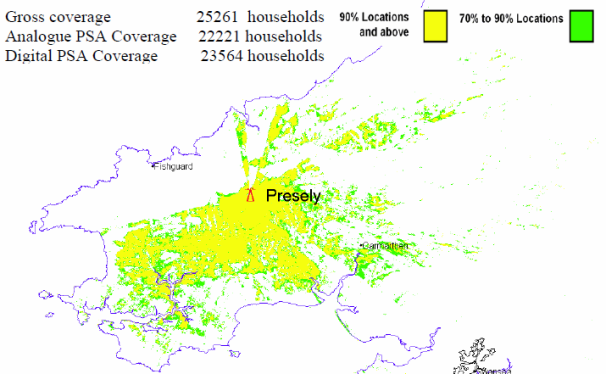 Caradon Hill




Plympton




Stockland Hill




Beacon Hill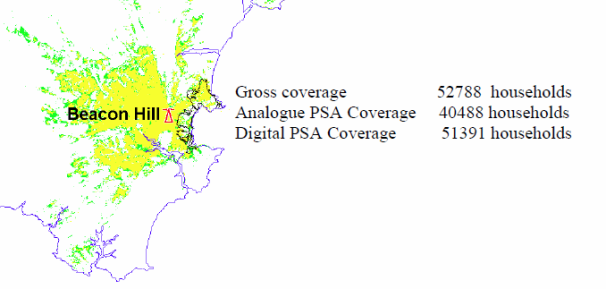 Huntshaw Cross




Redruth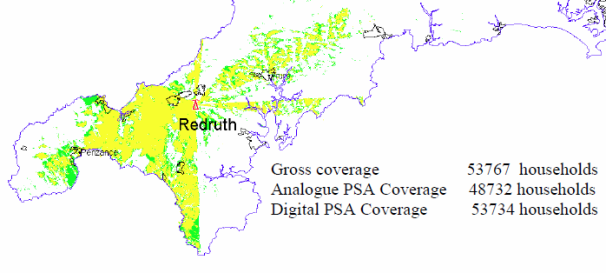 Moel Y Parc




Brougher Mountain




Darvel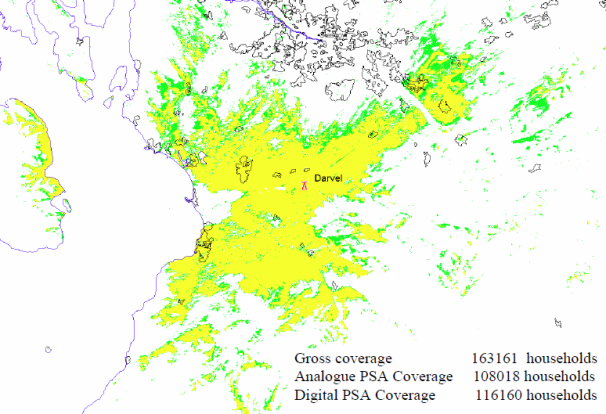 Rosneath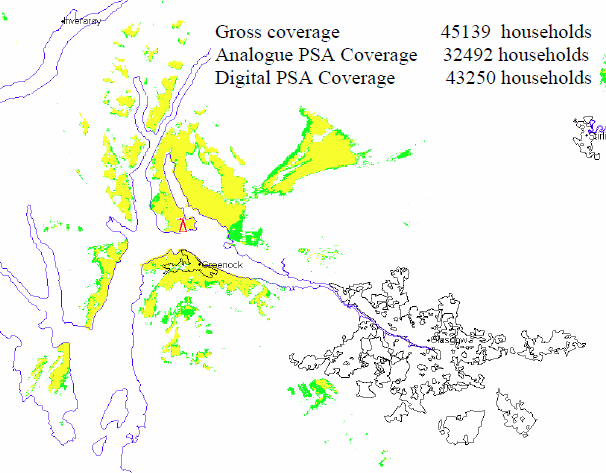 Bluebell Hill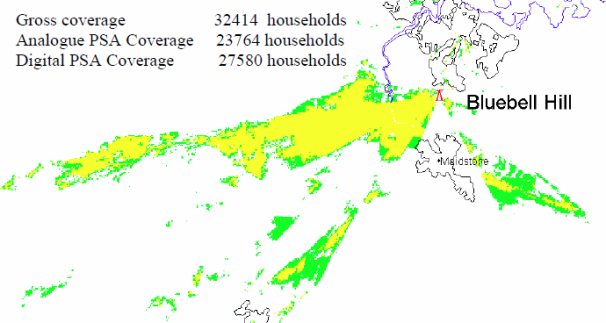 Londonderry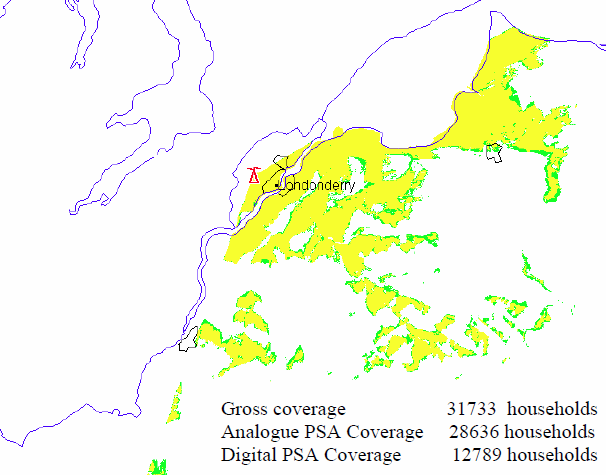 Heathfield




Selkirk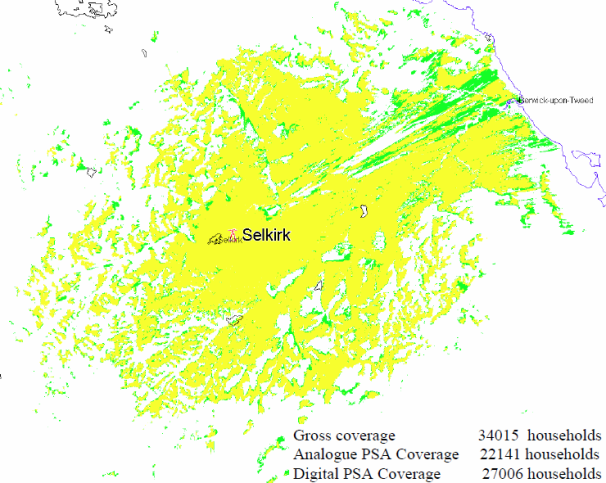 Bressay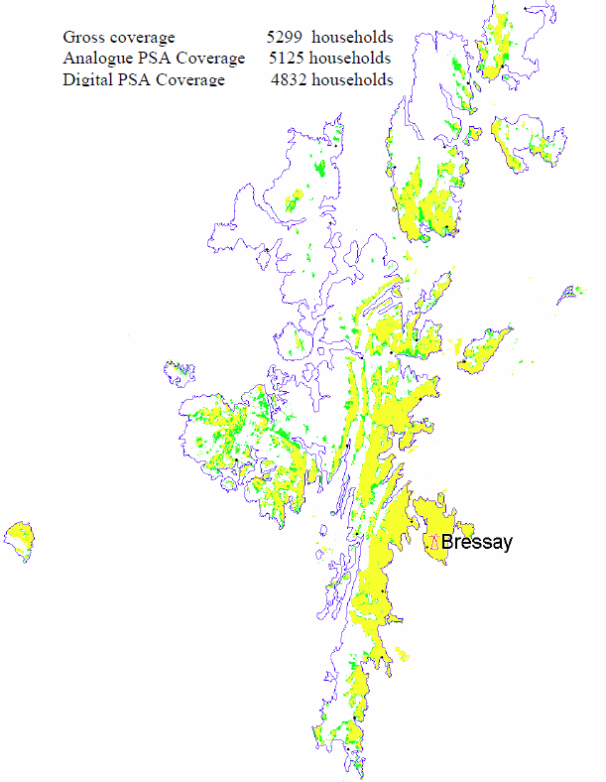 Torosay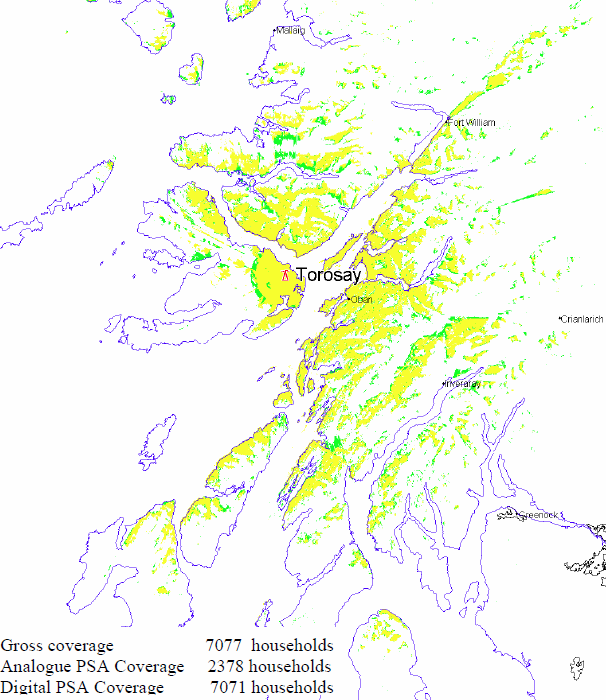 Perth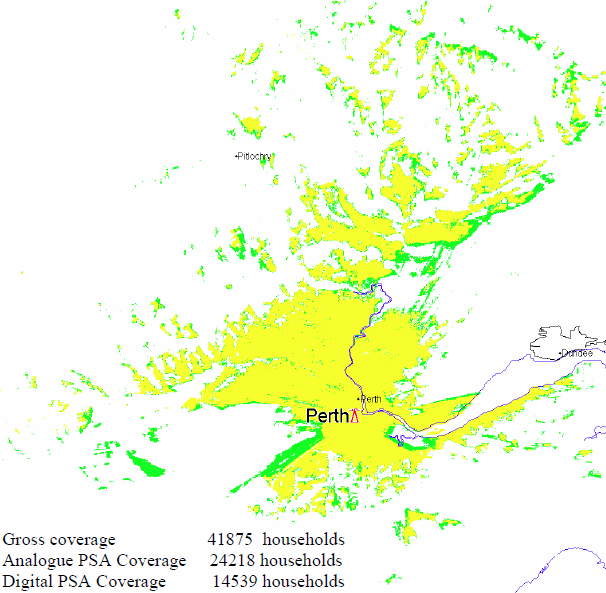 Tay Bridge




Keelylang Hill




Rumster Forest




Eitshal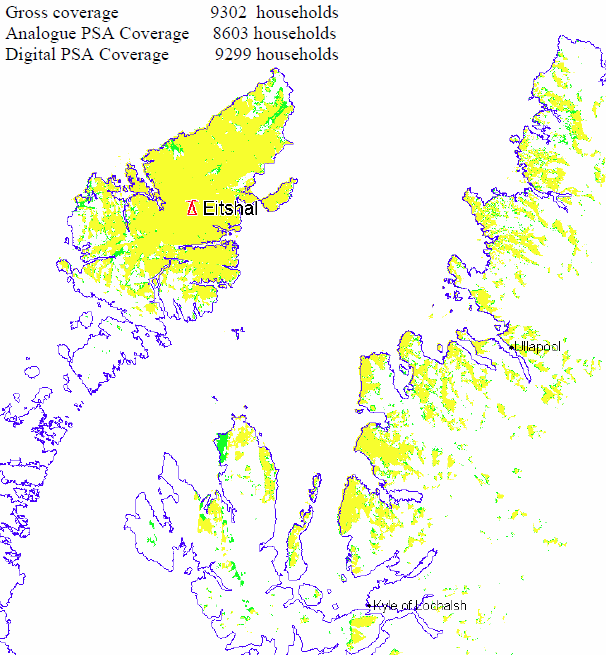 Balgownie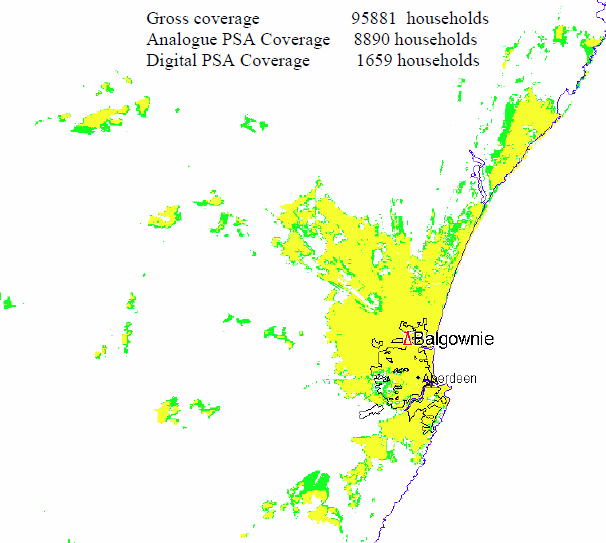 Comments
Tuesday, 8 March 2011
Ash
9:06 AM
Kingston Upon Thames

Hi there, out of interest what software do you use to map those maps?

Ash's 1 post

Ash: As above, they are from Ofcom, provided to them by NGW, now part of Arqiva.

The transmission companies employ a "standard model" which they use, it it isn't a package you can buy.

You can always write your own, as I have done.

Briantist's 38,844 posts
A
AncientFootsteps
12:40 PM

Are you sure about your interpretation of Yellow and Green coverage?
Yellow = good
Green = possible
PS Many thanks for all your sterling efforts here (and elsewhere)

AncientFootsteps's 3 posts

AncientFootsteps: Yes, I think that a good summary of 90%+ and 70%+ .

Briantist's 38,844 posts
M
Mike Dimmick
5:30 PM
Reading

Hmm - maybe that's why Reading/Hannington wasn't on your original list! The coverage area manages to miss Reading, Basingstoke, Wokingham, Bracknell - basically all the large towns. They haven't plotted Newbury's borders, but I think it would fall short of covering the whole town.

It's pretty good for Andover, but that's not very big.

Mike Dimmick's 2,486 posts

@Briantist I should have read your first paragraph, doh!

PS: I know about the transmission companies standard model, just wasn't familiar with the old NGW plots :-)

Ash's 6 posts

Fascinating. Them thar hills can really cause some huge blind spots. Some main stations only seem to serve a fraction of the 360 degrees around them. (Though doubtless that's intentional in some cases).

Nice to compare these figures with the reception predictor at Digital UK - When do I switch?

In the box on the right, ensure you tick the tiny box "I am in the aerial installation trade". Enter the postcode for anywhere you're interested in - not just your home.

The tables show detailed estimates of your chances of seeing distant tx / neighbouring TV regions, now and at the various stages of switchover.

I still have hopes of seeing Moel-Y Parc and Emley Moor here in Granadaland.

Hover your mouse over the column headings for definitions of reception quality.

woodface's 39 posts

Do we have any rough ERP's to go on?... If the information is taken at face value in the NGW pdf's.

Then for example Brougher is set for 30dBw, i wouldn't think the gain figures are published anywhere but if a dipole antenna with a minimum gain of 2.15 dBi that would provide a rough ERP of 1100 watts.

Take Divis at 40 dBw we would be looking 10000 watts which is vast;y under powered compared with initial estimates based on 30Kw. Some of the radiation patterns look very restricted...

Jordy's 1,827 posts
Wednesday, 9 March 2011

Jordy: I've changed the top article to reflect the information provided by Ofcom.

The radiation patterns are intentionality restricted, that's why they are "Interleaved Frequencies". I've posted the example of the Crystal Palace at the top of the article too.

BROUGHER MOUNTAIN and DIVIS - Max ERP: 40 dBW

Briantist's 38,844 posts

woodface: It's not the hill, these are Interleaved Frequencies so the restrictions are to prevent interference with UK and Continental transmitters using the same frequencies.

Do not confuse these with the normal multiplex radiation patterns.

Briantist's 38,844 posts
Select more comments
Your comment please