Upgrading from Sky+HD to Freesat+HD

Brian Butterworth published on UK Free TV
You might get a glossy magazine every month, but what do Sky really think of your custom?

"Give me a f**king name on a direct debit and it's mine for life,"
- Sam Chisholm, former boss of BSkyB.

Perhaps you responded to an offer like the one blow that promised a gratis Sky+HD box (for new customers taking their first Sky+HD package) with free standard set-up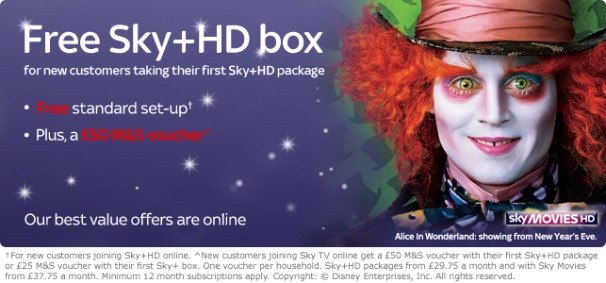 But you were so excited with the thought of a £50 M&S voucher that you didn't think to follow each of the little daggers and little stars to quite read all the terms and conditions:




So, your twelve months of commitment are over and, for reasons of budget (or politics) you have decided you want to keep all the features of Sky+ - live pause, high definition, extended electronic programme guide, series record, and recording two programmes at once whilst you watch another - but don't want to fork out every month on top of your TV Licence - and you still get hundreds of free TV channels

Here's what you can do.

First you need to buy a Freesat+HD box. There are many on the market, and can be bought from Argos, Currys DIGITAL, John Lewis, Comet and online at Amazon, as well as other stores.

When you use a Freesat+HD box NO SUBSCRIPTION HAS TO BE PAID. NONE. NOT A PENNY TO ANYONE.


Installing
This will take no more than ten minutes. First you will need to disconnect the Sky+HD box
mains
from the wall socket.
Then you will need to disconnect the cables from the back of the Sky+HD box.
Pull out the mains
power
connection (1), carefully unscrew the
satellite
dish
links (2) and (3), and then take out the HDMI lead (4) to your HDTV. If you have an "
surround sound
"
amplifier
, you may also have a
digital
audio connection (5).
Remove the Sky+HD box and put the Freesat+HD box back in the same position.
Then reconnect the cables: the mains power
cable
(1) - but not to the wall just yet, screw the two satellite dish links (2) and (3) and connect the HDMI cable (4) to your HDTV. If you had one, reconnect the digital audio connection (5).
If you have an Ethernet router, you can connect it to the Freesat+HD box at this point (5).
With everything in place, turn on the mains power and power up the Freesat+HD box.
The TV screen first displays
the box
's logo
The first set-up screen allows you to select the TV type, widescreen
mode
and resolution:
Next the box checks for the satellite
signal
:
Then there is a check for updated software:
Then you enter your postcode and the box checks it:
The next step is a
scan
for
channels
. This takes about 30 seconds:
And that's it. You can now view
channels
, like 108 for
BBC HD
:
Or press the GUIDE button for the EPG:
And that's it.
Comments
Tuesday, 31 May 2011

Hi there.
I currently have no arial and am so reliant on my sat dish.
I'm currently considering buying a freesat TV (not a freesat box) and was wondering if the same cable and connector is used from the sky dish LNB to the TV as I currently have to my sky box?

Thanks for the site - i've learned a couple of things already (and i've researched this topic for my father in law previously).

David's 1 post
Wednesday, 1 June 2011

hi, i'm thinking about not using my Sky+HD box anymore and to use (freesat built in on my tv). How can i still use the same LNB & the two core cable, (to one Core Connector on the tv). Is it a case of you only need to use one side for this to work..??

lee's 2 posts

lee: Yes, just attach one of the two cables to the TV.

Briantist's 38,844 posts

David: Yes, it is the same connection.

Briantist's 38,844 posts

I have sky+ at the moment and pay my subscription to sky. I want to cancel this and go with freesat but need a box that still records (I cant live without recording. How do I do this?

PamF's 1 post
Thursday, 2 June 2011

PamF: Just buy a Freesat+HD box and replace it for your Sky+ box, as detailed at the top of the page.

Briantist's 38,844 posts

PamF:
Or.... give 31 days notice to Sky to terminate your TV contract with them, and pay £10 each month thereafter to receive FreeSat from Sky with a FreeSat EPG and recording facility on your Sky+ box - with no Contract commitment.

If you also have Skytalk telephone line and Sky Broadband you can keep this and continue to pay the subscriptions for these services in addition to the £10pm. If you don't have them then you may have to pay a one-off £25 fee for a FreeSat viewing card.

SKY will probably offer - as an alternative, and to keep you as a Sky customer - to remove your other Sky HD channels, leaving you with the 5 FreeSat HD free to air channels and reduce your other TV pack[s] subscription down to around £10/£11pm in total, for six months, again without a Contract commitment.... This will let you keep the Sky EPG in addition to the Sky+ recording facility. And allow you to easily switch back to Sky if you should wish. You decide.....?

Neil Etherington's 2 posts
Friday, 3 June 2011

I just want to thank Briantist for his nice and simple schematic of the various connections between my HD TV, the Freesat box and DVD and Video player. Most useful for an electrical idiot like me.

technophobe's 6 posts

Hi! Can I connect more than one freesat box to my sat dish? to enable me to have a box in each room. Hope this isnt a daft question I havn't the slightest about these tech things.

Bill's 2 posts

technophobe: Always happy to help.

Briantist's 38,844 posts
Select more comments
Your comment please