The new Freeview prediction system - includes Freeview HD

Brian Butterworth published on UK Free TV
The new Freeview prediction system - beta - is here. Finally!

If you visit Freeview reception - UK Free prediction you now get a much more detailed page to help you with any reception issues.

As before you can see this page with a postcode, the system will shortly also allow the input of national grid references, or latitude/longitude references.

Firstly, you can get a prediction for any number of dates by selecting the appropriate tab at the top.


Five different views
There are five different views
By direction: this will show the various directions your aerial might point and the services you can receive from the transmitters in that direction.
Received signal strength: this shows the information ordered by signal strength, to help you find the strongest signals.
By frequency: this lists broadcast frequencies from C21 to C68, showing the services on each. This view can be used to find potential interference or to help with digital region overlap areas.
Service names: this lists the services that you can receive, each ordered by the strongest signal.
Transmitter names: and finally an alphabetical list of the transmitters with the services listed by broadcast frequency.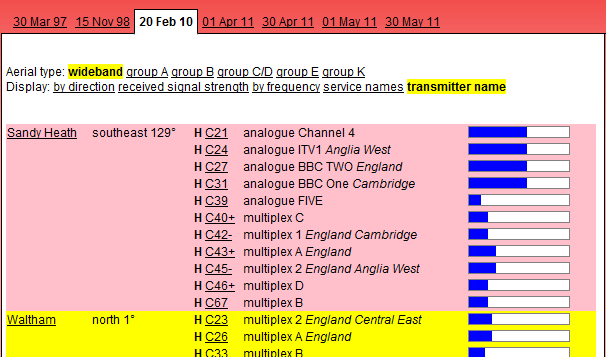 Aerial group choice
When you first visit the page you will see the services received by a "
wideband
" aerial, now you can also select the other aerial groups to see how that will effect reception.
Issues
For the moment it is not possible to resolve postcodes in Northern
Ireland
(BT) or the Isle of Man.
Apologies
for that.
Try it now
Try the new UK Free TV Freeview reception - prediction system now
.
Comments
Thursday, 28 April 2011

i'm checking to find out why i am unable to get freeview tv on my pc. Your post code checker simply tells me where i live which i already know. No further information is given. Can you please advise on where either i am going wrong or where the site is failing me.

Clare's 1 post
Friday, 29 April 2011

Clare: You need

1) A rooftop aerial pointing at a Freeview transmitter;

2) A DVB-T or DVB-T2 card or USB adaptor for your PC

3) Suitable software, such as Windows 7 Media Center.

Briantist's 38,844 posts
D
D BRANCH
7:16 PM
Llantwit Major

Cf61 1tu phone x--lots of comment, but i cannot find how/what i should be doing to
regain programs, with nil transmission, or
will it happen automatically, albeit slowly.

D BRANCH's 1 post
Saturday, 30 April 2011

Hello,

Ive put my post code in PO5 2HX and it shows my location fine BUT the map just shows a mass of green and yellow around High Wycombe heading east?? Also these radiation patterns, are they working yet? I cant seem to get them to do anything? What am I doing wrong.
Thanks,great site!

Karl's 1 post
Sunday, 1 May 2011

I have always used the Wenvoe transmitter with few problems and can actually see it from my house . Since 27th april I have to run EPG update every time I switch on even though the Bush freeview box is left in standby. Any ideas as this is real pain?

Gareth's 5 posts
Wednesday, 4 May 2011

Karl: You should get a perfect service from Rowridge at your location.

Briantist's 38,844 posts
Thursday, 5 May 2011
D
Dan Whitehouse
7:09 PM
London

Im based in Woolwich South East London.
I use Crystal Palace.
I'm using a Hauppage DVB card under Ubuntu Linux. Up until about a year ago it worked perfectly. Now I can only rely on good reception for BBC channels. Everything else is extremely unreliable and can go from perfect to breaking up and digital noise at any moment.

Dan Whitehouse's 1 post
Friday, 6 May 2011

Dan Whitehouse: Please see Freeview reception has changed? | ukfree.tv - independent free digital TV advice .

Briantist's 38,844 posts
Select more comments
Your comment please