The new Freeview prediction system - includes Freeview HD

Brian Butterworth published on UK Free TV
The new Freeview prediction system - beta - is here. Finally!

If you visit Freeview reception - UK Free prediction you now get a much more detailed page to help you with any reception issues.

As before you can see this page with a postcode, the system will shortly also allow the input of national grid references, or latitude/longitude references.

Firstly, you can get a prediction for any number of dates by selecting the appropriate tab at the top.


Five different views
There are five different views
By direction: this will show the various directions your aerial might point and the services you can receive from the transmitters in that direction.
Received signal strength: this shows the information ordered by signal strength, to help you find the strongest signals.
By frequency: this lists broadcast frequencies from C21 to C68, showing the services on each. This view can be used to find potential interference or to help with digital region overlap areas.
Service names: this lists the services that you can receive, each ordered by the strongest signal.
Transmitter names: and finally an alphabetical list of the transmitters with the services listed by broadcast frequency.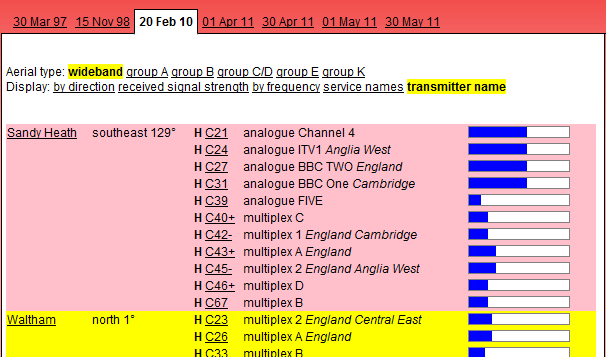 Aerial group choice
When you first visit the page you will see the services received by a "
wideband
" aerial, now you can also select the other aerial groups to see how that will effect reception.
Issues
For the moment it is not possible to resolve postcodes in Northern
Ireland
(BT) or the Isle of Man.
Apologies
for that.
Try it now
Try the new UK Free TV Freeview reception - prediction system now
.
Comments
Tuesday, 19 April 2011

I have always received excellent reception on all channels from the Waltham transmitter( I live in PE13 5LF,Tydd st giles, near wisbech). Reception was still good after initially retuning on1st April- I even gained Fil 4 which I had not had for ages. On 13 th April, I retuned again and lost most ITV channels, Itv1,2,channel 4,5 etc..Film 4 again. Looking at the map, it appears that I am no longer in the Waltham transmitter area, am outside the Sandyheath area and wil have to change aerial direction to the Northwest to pick uip the Lincs area TV, where much of the output is below average. Is this correct? If so, it looks like I may now have to shell out on Freesat, which is a farce(an expensive one at that)

Phil A's 2 posts
Wednesday, 20 April 2011

Phil A: The map clearly shows you in the Waltham transmitter area.

Did you do this last week - My Freeview box has no EPG, is blank on FIVE, ITV3, ITV4, ITV2+1, has no sound or the channel line up is wrong | ukfree.tv - independent free digital TV advice ?

If so, see Single frequency interference | ukfree.tv - independent free digital TV advice to fix the problem.

Briantist's 38,844 posts

Thanks Briantist for your help.Unfortunately any link I click on to see how to resolve single freq interference is just returning me to a summary page. How do you actually cure it please?
regards Phil

Phil A's 2 posts

Phil A: As per the instructions, look for other devices that might be causing interference. Typically it is a Sky box or games console.

Briantist's 38,844 posts
Thursday, 21 April 2011
M
m hughes
9:25 PM
Cheltenham

we have no signal strength at all and no channels

m hughes's 2 posts
M
m hughes
9:39 PM
Cheltenham

the transmitter is far away is that the problem thanks

m hughes's 2 posts
Friday, 22 April 2011

m hughes: You may be using Ridge Hill, which completed switchover on Wednesday morning. You would need to retune the box. Do a 'first time installation', 'factory reset' or 'default setting'.

However, you're predicted to get better results from Sutton Coldfield, both now and after switchover. Although Ridge Hill is closer, line-of-sight is blocked by Oxenton Hill to your west.

I'm not aware of any work at Sutton Coldfield, so if you are using that transmitter, check whether analogue is also poor. If it is, a cable has probably broken or become disconnected.

Mike Dimmick's 2,486 posts

m hughes: Note that if the aerial is pointing to Sutton Coldfield and you did retune, it's possible that your box has stored the weakly-detected signals from Ridge Hill rather than the stronger ones from Sutton Coldfield - many boxes just store the first version they find.

Somewhere in the box's menu system it should show you the RF channels being used. If BBC One is shown as being on C28, it's tuned in Ridge Hill. You should delete all the channels, then manually tune in the frequencies from Sutton Coldfield - see that page for details. See Digital Region Overlap for other suggestions.

You may find that Mux D on C29 doesn't work very well - Ridge Hill transmits a special ITV1 West service on this frequency.

Mike Dimmick's 2,486 posts
Monday, 25 April 2011
L
linda watson
3:33 PM
Northallerton

why have i lost chaannel 4 ,6and the more 4 channels when all the others work fine

linda watson's 2 posts

linda watson: Please see Single frequency interference | ukfree.tv - independent free digital TV advice .

Briantist's 38,844 posts
Select more comments
Your comment please