The new Freeview prediction system - includes Freeview HD

Brian Butterworth published on UK Free TV
The new Freeview prediction system - beta - is here. Finally!

If you visit Freeview reception - UK Free prediction you now get a much more detailed page to help you with any reception issues.

As before you can see this page with a postcode, the system will shortly also allow the input of national grid references, or latitude/longitude references.

Firstly, you can get a prediction for any number of dates by selecting the appropriate tab at the top.


Five different views
There are five different views
By direction: this will show the various directions your aerial might point and the services you can receive from the transmitters in that direction.
Received signal strength: this shows the information ordered by signal strength, to help you find the strongest signals.
By frequency: this lists broadcast frequencies from C21 to C68, showing the services on each. This view can be used to find potential interference or to help with digital region overlap areas.
Service names: this lists the services that you can receive, each ordered by the strongest signal.
Transmitter names: and finally an alphabetical list of the transmitters with the services listed by broadcast frequency.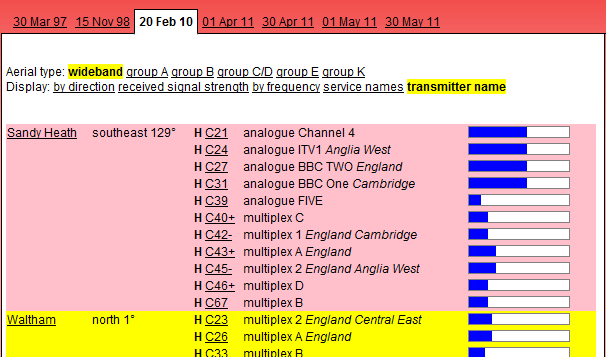 Aerial group choice
When you first visit the page you will see the services received by a "
wideband
" aerial, now you can also select the other aerial groups to see how that will effect reception.
Issues
For the moment it is not possible to resolve postcodes in Northern
Ireland
(BT) or the Isle of Man.
Apologies
for that.
Try it now
Try the new UK Free TV Freeview reception - prediction system now
.
Comments
Sunday, 29 January 2012

PostCode GL2 4PX - My Blind Mother in Law has had a FreeSat box fitted but the AD doesnt always work - The AD is ON but very intermittent

JoeB's 2 posts
Monday, 30 January 2012

JoeB: Only selected pre-recorded programmes on public service channels have audio description. Look for "[AD]" in the Freesat EPG.

Briantist's 38,844 posts
Thursday, 2 February 2012
M
Mike Clarke
11:52 PM
Leighton Buzzard

We have freeview freeze and audio stoccato on channels 10;16;23;27;31;38;39;44;93 & 194. We have had this very occasionally in the past but of late has been constant these last 14 days or so. We are tuned to London not Anglia and get all BBC channels OK. We have re-programmed to no avail. Do the above all come from the same transmitter? I think our signal comes from Oxford ?

Mike Clarke's 1 post
Friday, 3 February 2012

Mike Clarke: Please can you see the Freeview intermittent interference | ukfree.tv - independent free digital TV advice page?

Briantist's 38,844 posts

Mike Clarke: Freeview services are broadcast as part of multiplexes or baskets that carry a number of services. So if, for example, BBC One is poor, then it would be expected that BBC Two is exactly the same. There are six multiplexes (including the HD one) and the services you have referred to all come from the same multiplex: SDN.

Oxford transmits Central programming. If you are receiving from Oxford, then you should be aware that its commercial multiplexes, which includes SDN, are on low power until 18th April.

If, one the other hand, you are receiving London programming, then it must be coming from Crystal Palace which is in the opposite direction to Oxford. The predictor does suggest that SDN from Crystal Palace might not be as good as the others, so perhaps that explains it.

Either way, the strength of the signal is not as great as it will be when everything has switched over, so it is worth bearing in mind that this could be the source of your problem.

Dave Lindsay's 5,724 posts
Saturday, 4 February 2012
R
Richard Walker
10:18 AM
Coulsdon

Looking at the Cane hill transmitter coverage, there is no yellow area on the map! Only green. Does this mean that for everyone that is within reach of the Cane hill transmitter, there is a stronger signal from a different transmitter? If so, what's the point of Cane hill?

Richard Walker's 1 post
D
david dry
8:07 PM
Peterborough

dave dry hi is sandy transmiter working ok we have loss of and low signal onmost channels because it would be nice to let us know regards dave.

david dry's 1 post

david dry: The BBC reception report states that there are no reported problems on Sandy Heath at present. Do you have a build up of snow on your aerial, or on the roof if using a loft aerial? If so, this could be causing your low signal strength.

KMJ,Derby's 1,811 posts

david dry: And just to confirm what KMJ, Derby has said, I have just checked BBC / ITV / HD / SDN from Sandy and they are at normal strength up in the Stamford area.

jb38's 7,179 posts
Thursday, 23 February 2012
T
Tom Gardner
12:13 PM
Bristol

I (currently) receive a good signal at BS41 9EA from the Mendip transmitter. On the "terrain" page the Mendip tx is shown whereas on all the others it is not shown - only four tx are shown.

Please update your system so that I can find info about the Mendip tx when looking at the received signal strength views etc.

Tom Gardner's 1 post
Select more comments
Your comment please