The new Freeview prediction system - includes Freeview HD

Brian Butterworth published on UK Free TV
The new Freeview prediction system - beta - is here. Finally!

If you visit Freeview reception - UK Free prediction you now get a much more detailed page to help you with any reception issues.

As before you can see this page with a postcode, the system will shortly also allow the input of national grid references, or latitude/longitude references.

Firstly, you can get a prediction for any number of dates by selecting the appropriate tab at the top.


Five different views
There are five different views
By direction: this will show the various directions your aerial might point and the services you can receive from the transmitters in that direction.
Received signal strength: this shows the information ordered by signal strength, to help you find the strongest signals.
By frequency: this lists broadcast frequencies from C21 to C68, showing the services on each. This view can be used to find potential interference or to help with digital region overlap areas.
Service names: this lists the services that you can receive, each ordered by the strongest signal.
Transmitter names: and finally an alphabetical list of the transmitters with the services listed by broadcast frequency.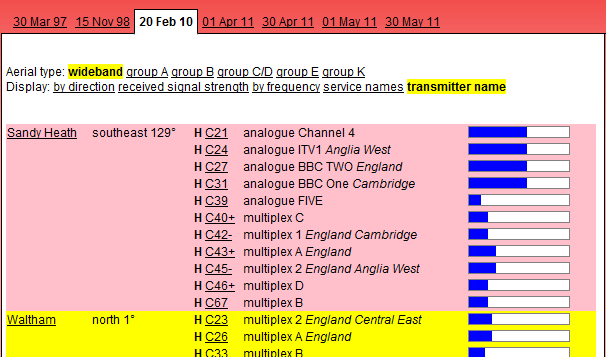 Aerial group choice
When you first visit the page you will see the services received by a "
wideband
" aerial, now you can also select the other aerial groups to see how that will effect reception.
Issues
For the moment it is not possible to resolve postcodes in Northern
Ireland
(BT) or the Isle of Man.
Apologies
for that.
Try it now
Try the new UK Free TV Freeview reception - prediction system now
.
Comments
Monday, 19 December 2011
J
John E Miller
1:19 PM
Harwich

I live at CO12 5BW, 18 miles from the Sudbury transmitter. I have an older loft aerial and until recently received good reception on a range of Freeview channels. Now one of my favourites FILM4 has disappeared and frequent retuning does not pick it up. What is the reason for this? Many thanks, John

John E Miller's 1 post

John E Miller: Loads of people have the same issue and it appears to be caused by lower transmission power on that multiplex:

Sudbury Arqiva multiplex B changes 16 November - retune required | ukfree.tv - independent free digital TV advice

Dave Lindsay's 5,724 posts
Friday, 30 December 2011

I live at CB9 7GE and since the modifications in November I can no longer get SKY News, plus several other programmes. This problem has affected all properties in the area, reception is worse now then since digital first started, I am totally fed up with Freeview, and intend to switch to Freesat.

Brian's 2 posts

Brian: Lots of people have had the same issue with lack of reception of Arqiva B multiplex from Sudbury. See here:

Sudbury Arqiva multiplex B changes 16 November - retune required | ukfree.tv - independent free digital TV advice

You will have to wait until 27th June 2012 before it comes back again.

In the mean time, I suggest trying manually tuning to see if the programmes can be picked up that way. Sky News is carried on Arqiva A which will also not change to full power until 27th June.

For Arqiva A (Sky News etc) try manually tuning to Ch54 and for Arqiva B (Yesterday, Film4 etc) try manually tuning to Ch63.

Dave Lindsay's 5,724 posts
Saturday, 31 December 2011
R
Rebecca
10:19 AM
Camborne

Hi there i live at TR14 and cant get ITV4 or Film4 can you help. I have had them a while ago but reception was poor using Humax 750

Rebecca's 1 post

do television signals bend as well as they used to . where I am I'm over 50ft below the crest of the hill between me and the brighton transmitter. i dont think somehow this advice has been properly thought out. Pleased to hear different as newhaven again looks a pretty poor transmitter to recieve from : again :

Emma's 1 post
Monday, 2 January 2012

We can receive "Yesterday" TV on our TV, but not via our Skybox. Any suggestions?

Mike's 1 post

Mike: Yesterday is encrypted on satellite, so viewing is only possible with the appropriate Sky subscription in place.

KMJ,Derby's 1,811 posts
Monday, 16 January 2012

i live at warsash my tv is in the kitchen and i have a new digi box andi have bought 2 new aerials but i cant get any signal on either. the signal was poor before. but what can i do.

jan's 1 post

jan: You are predicted to be able to have good reception of all multiplexes used by Rowridge at roughly 12 miles away, although local conditions will always dictate what in real terms is actually possible, and when you say that you purchased some new aerials, you aren't by any chance indicating "same room" indoor types are you?

jb38's 7,179 posts
Select more comments
Your comment please