The new Freeview prediction system - includes Freeview HD

Brian Butterworth published on UK Free TV
The new Freeview prediction system - beta - is here. Finally!

If you visit Freeview reception - UK Free prediction you now get a much more detailed page to help you with any reception issues.

As before you can see this page with a postcode, the system will shortly also allow the input of national grid references, or latitude/longitude references.

Firstly, you can get a prediction for any number of dates by selecting the appropriate tab at the top.


Five different views
There are five different views
By direction: this will show the various directions your aerial might point and the services you can receive from the transmitters in that direction.
Received signal strength: this shows the information ordered by signal strength, to help you find the strongest signals.
By frequency: this lists broadcast frequencies from C21 to C68, showing the services on each. This view can be used to find potential interference or to help with digital region overlap areas.
Service names: this lists the services that you can receive, each ordered by the strongest signal.
Transmitter names: and finally an alphabetical list of the transmitters with the services listed by broadcast frequency.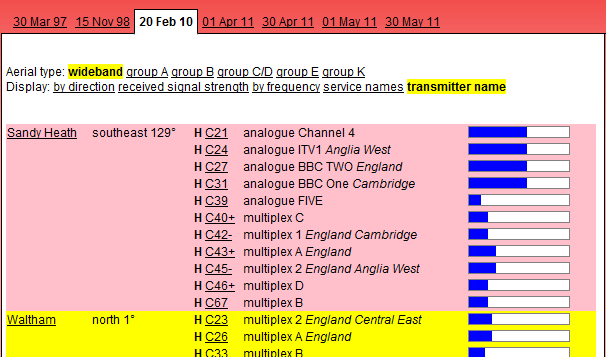 Aerial group choice
When you first visit the page you will see the services received by a "
wideband
" aerial, now you can also select the other aerial groups to see how that will effect reception.
Issues
For the moment it is not possible to resolve postcodes in Northern
Ireland
(BT) or the Isle of Man.
Apologies
for that.
Try it now
Try the new UK Free TV Freeview reception - prediction system now
.
Comments
Thursday, 3 November 2011

Anne : Can you please see Freeview reception has changed? | ukfree.tv - independent free digital TV advice ?

Briantist's 38,844 posts
Thursday, 10 November 2011
M
Mrs Mary Heron
2:52 PM
Burton-on-trent

Please explain if you can why so many of us are experiencing 'picture freeze' since the change over.I have asked many people in my area DE13 8QE because I thought it could be just my problem.The sound remains but the picture freezes for up to 5secs. A bit annoying, so would love an answer. Thanks.

Mrs Mary Heron's 1 post

Mrs Mary Heron: Please can you see Freeview signals: too much of a good thing is bad for you | ukfree.tv - independent free digital TV advice ?

Briantist's 38,844 posts
T
trev white
8:14 PM
Ashbourne

very good i use it when i go out in my caravan saves alot of time used a finder not very good. this is a better idea thanks

trev white's 1 post

trev white: Thanks.

Briantist's 38,844 posts
Tuesday, 15 November 2011
M
mrs cooper
8:21 PM
Ellesmere Port

can't get any BBC channels winter hill area.Every other channel is working.Occasionally get BBC Wales but does not lastwithout breaking up.Any help would be great thanks.

mrs cooper's 1 post

mrs cooper: You mention that BBC Wales comes up. This suggests that your TV/box has tuned to another transmitter rather than Winter Hill, which would explain the break-up.

See this page for a fuller explanation:

Digital Region Overlap | ukfree.tv - independent free digital TV advice (DN31NJ)

Dave Lindsay's 5,724 posts
Saturday, 19 November 2011

we have lost our music channels and film 4 and few others this week and cant get them back with tuning on autostore? what can we do to get them back?

linda's 2 posts

linda:

linda's 2 posts
Tuesday, 22 November 2011

Im in Bingley, West Yorkshire and am having problems with the picture breaking up into squares and picture freezing on the ITV channels especially but occasionally BBC1. Checked all wires and plugs are OK and have re-tuned TV lots of times. This is on Freeview aerial. All was OK before the region went totally digital in September. Thanks if you can answer question.

Julie's 2 posts
Select more comments
Your comment please