The new Freeview prediction system - includes Freeview HD

Brian Butterworth published on UK Free TV
The new Freeview prediction system - beta - is here. Finally!

If you visit Freeview reception - UK Free prediction you now get a much more detailed page to help you with any reception issues.

As before you can see this page with a postcode, the system will shortly also allow the input of national grid references, or latitude/longitude references.

Firstly, you can get a prediction for any number of dates by selecting the appropriate tab at the top.


Five different views
There are five different views
By direction: this will show the various directions your aerial might point and the services you can receive from the transmitters in that direction.
Received signal strength: this shows the information ordered by signal strength, to help you find the strongest signals.
By frequency: this lists broadcast frequencies from C21 to C68, showing the services on each. This view can be used to find potential interference or to help with digital region overlap areas.
Service names: this lists the services that you can receive, each ordered by the strongest signal.
Transmitter names: and finally an alphabetical list of the transmitters with the services listed by broadcast frequency.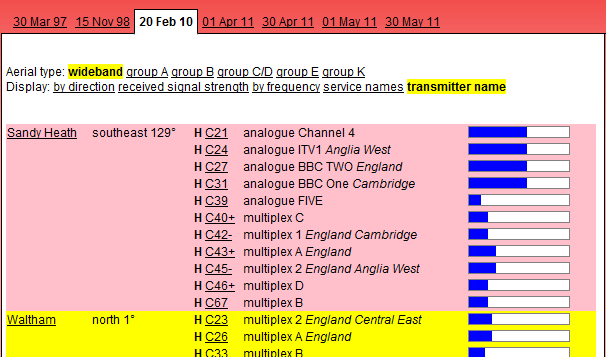 Aerial group choice
When you first visit the page you will see the services received by a "
wideband
" aerial, now you can also select the other aerial groups to see how that will effect reception.
Issues
For the moment it is not possible to resolve postcodes in Northern
Ireland
(BT) or the Isle of Man.
Apologies
for that.
Try it now
Try the new UK Free TV Freeview reception - prediction system now
.
Comments
Wednesday, 17 August 2011

pridgeon: Yes, this is because switchover is completing tonight at the Belmont transmitter and its relays. Retune your box after 6am.

If you're using East Midlands services, Waltham is also off-air at the moment as this is its first stage of switchover. Again, retune after 6am.

Mike Dimmick's 2,486 posts
M
Malcolm Precious
8:22 PM
Hull

Why Have I lost Film 4 off the Freeview when I retuned?

Malcolm Precious's 1 post
M
Malcolm Precious
8:25 PM
Hull

Why did I loss Film 4 off freeview when I retuned today

Malcolm Precious's 1 post
Thursday, 18 August 2011

Malcolm Precious: Assuming you are using the Belmont transmitter, you should have all services. I would try doing this My Freeview box has no EPG, is blank on FIVE, ITV3, ITV4, ITV2+1, has no sound or the channel line up is wrong | ukfree.tv - independent free digital TV advice .

Briantist's 38,844 posts
Sunday, 21 August 2011

Since the re-tune of Freeview channels during the week, I've now lost several BBC stations, in particular BBC4, BBC Parliament, etc., but continue to get 1,2 and 3 well enough. I notice ALL the BBC radio stations through Freeview have disappeared also. The transmitter serving Norwich - which is where I am of course - is Tacolneston. Anyone tell me what is going on - and will I be able to get these BBC stations back?

Graham's 1 post
Monday, 22 August 2011
T
tim harrison
9:50 AM
Ashbourne

I have always recieved east midland news but since work has been carried out I am recieving look north with good reception and dont seem to beable to change this to east midland at all ,I rang the call station help line they said go on manual change to 41 meg and it will be on this is rubbish and I still cannot get the programme I require I have a slimline hd ready tv and digital arialand fed up at 72 running up and down ladders, because the bbc cant get it right

tim harrison's 2 posts
Wednesday, 24 August 2011

tim harrison: Please see Digital Region Overlap | ukfree.tv - independent free digital TV advice .

Briantist's 38,844 posts
Thursday, 25 August 2011

Graham: Please can you try My Freeview box has no EPG, is blank on FIVE, ITV3, ITV4, ITV2+1, has no sound or the channel line up is wrong | ukfree.tv - independent free digital TV advice and if that doesn't fix it, see Single frequency interference | ukfree.tv - independent free digital TV advice ?

Briantist's 38,844 posts

tim harrison: For Waltham, *East* Midlands news, you need to tune into C61, 794 MHz, not C41. C41 is Sutton Coldfield.

There is a large overlap between Belmont (the Look North service) and Waltham. Older boxes and TVs were often not designed to handle receiving signals from more than one transmitter, and they often store the first version found at the advertised channel numbers, rather than the best quality version (which should be the one your aerial is pointing at).

Mike Dimmick's 2,486 posts

Graham: The Tacolneston retune affected Mux B and C, which moved to new frequencies - C66 and C68 respectively. BBC Four, CBeebies and the radio channels are on Mux B. Check whether you have any equipment, such as a Sky box or VCR, that outputs on C66, C67 or C68, and if so, retune it to another location.

You do need to do a 'first time installation'/default setting/full retune when these retunes occur, because some receivers will not store channels that they think they already know about.

There is a possibility that your box might store channels from Sudbury/Rouncefall if you do a full retune - Digital UK's postcode checker (trade view) shows that they should be strong enough for reliable reception if the aerial is pointed in that direction, which means it could store them even though the aerial points in a different direction. If you find that the BBC channels have all become unreliable after you do a full retune, see Digital Region Overlap.

Mike Dimmick's 2,486 posts
Select more comments
Your comment please